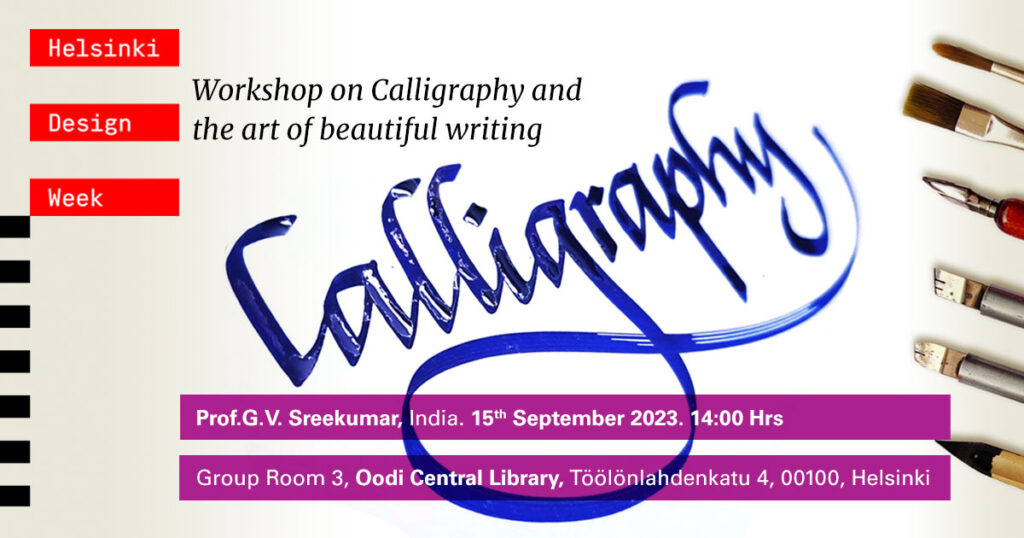 Calligraphy Workshop
Time
2:00pm to 3:00pm (14:00 Hrs to 15:00 Hrs)
Where
Group Room 3, Oodi Library, Töölönlahdenkatu 4, 00099, Helsinki
This Workshop, aimed at teaching basics of calligraphy- the art of beautiful writing, will provide children with an opportunity to explore and learn the fine art of calligraphy and develop their own skills in this beautiful and expressive art form. The workshop is led by Prof G V Sreekumar, from IDC School of Design, Indian Institute of Technology (IIT), Mumbai, India, an expert practicing professional who has a deep understanding and passion for calligraphy with special interest in sharing knowledge with children.
There will be a live demonstration of different tools and writing styles, which will explain the infinite possibilities of Calligraphy as an art form.
Main motivation behind this workshop is the belief that calligraphy is not just a form of artistic expression, but also a powerful tool for motivating young minds in opening the doors to the beautiful world of creativity.
The workshop will focus on hands-on learning and practical exercises, to create a friendly learning environment for children.