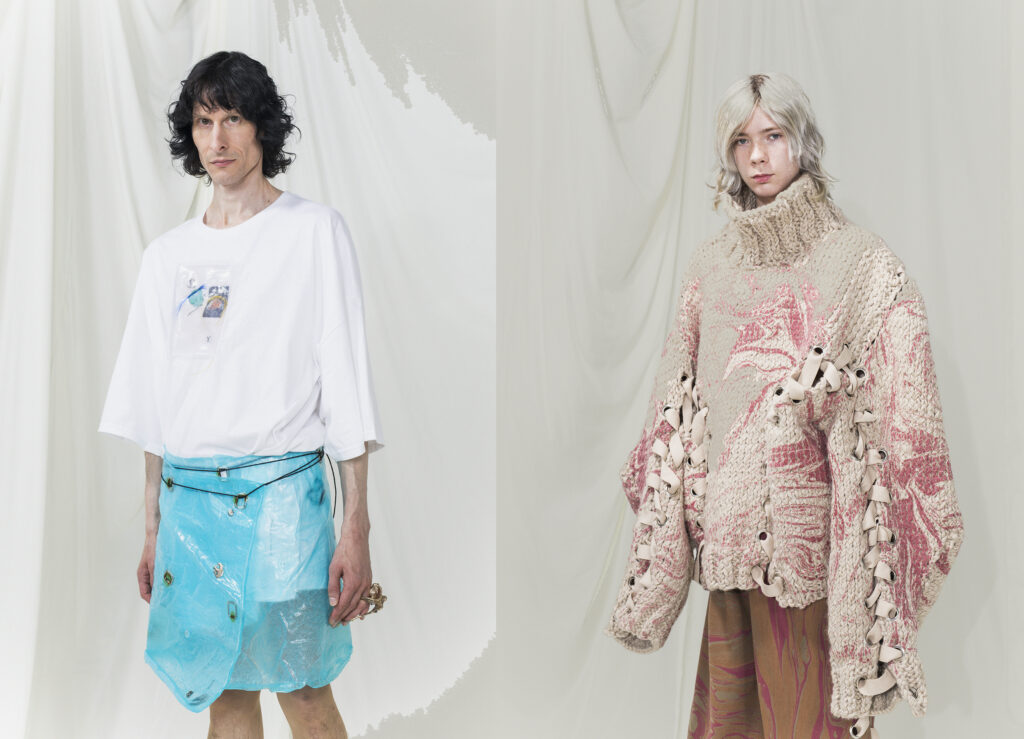 Elina Heilanen ja Susanna Saarikko & Petra Lehtinen @Liike Showroom
When
Fri 17.09.2021 - Sat 18.09.2021
Time
Friday open from 12pm until 7pm.
Saturday open from 11am until 4pm.
Where
Fredrikinkatu 24, 00120, Helsinki
Liike was founded in Helsinki in 2000. Liike's offerings are carefully curated from new movements in style and the modern flow of fashion. During Helsinki Design Week we present graduates from Aalto University. This year we have invited Elina Heilanen and Susanna Saarikko & Petra Lehtinen to show their collections.
ELINA HEILANEN: Inspired by the works of Henry David Thoreau, the collection "No Man's Garden" depicts a character at odds with society becoming one with nature and landscape, part of the wilderness and of the unmoving time – not to escape, but to find reality. Made from deadstock and surplus materials, the collection combines elements from Renaissance garments with outerwear aesthetics. All garments are handprinted using water-marbling and screen printing methods.
SUSANNA SAARIKKO & PETRA LEHTINEN: Our collaborative collection is an artistic view towards understanding the concept of continuity. In our work we were affected by the principles and imagery of a field of mathematical study, topology, as a method for pattern design. The way of working with this method unfolded exciting dimensions for a garment. Topological pattern methods give these clothes a sense of weight, mass and feel of continuity as they wrap around the body. Continuous forms and soft materials free the body from the squeeze and discomfort. Additionally, from self-casted metal pieces to cellulose biomaterial formulated in Aalto CHEMARTS, the collection underlines the shared curiosity towards science, intuitive design perspectives and collaborative ways to work.