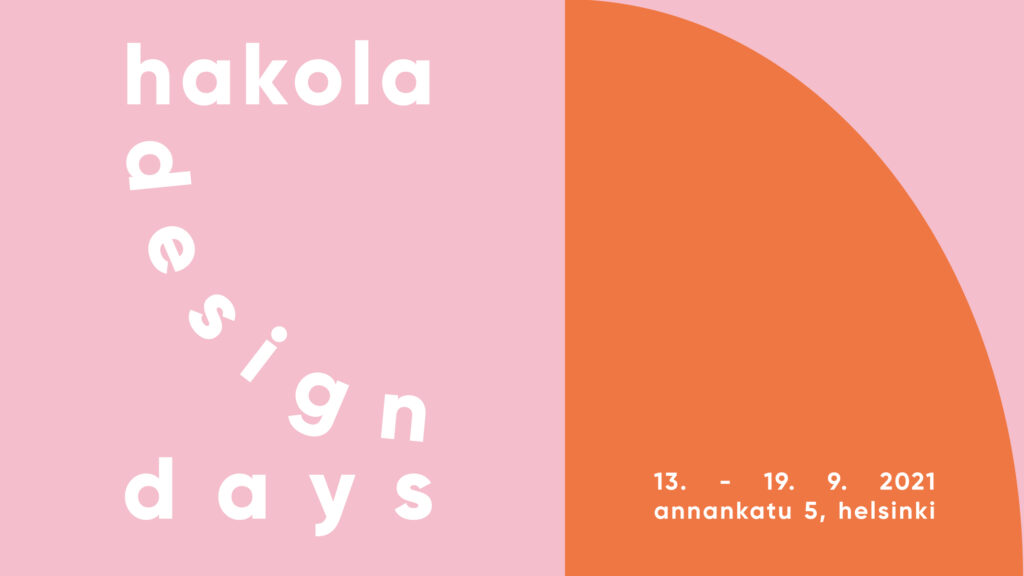 Hakola Design Days
When
Mon 13.09.2021 - Sun 19.09.2021
Time
Hakola Shop, ground floor
Mon-Sat 10-18 / Sun 10-16

Hakola Studio, 2nd floor
Thurs-Sat 12-18 / Sun 12-16

Hakola Home, 4th floor
Thurs-Sat 12-18 / Sun 12-16
Where
Annankatu 5, 00120, Helsinki
Hakola Design Days is an homage to cheerful design, the joy of colors, handcraft and modern art. Design Days is all about inspiration and creativity.
When and where?
Annankatu 5.
Hakola Shop, ground floor
Mon-Sat 10-18 / Sun 10-16
Hakola Studio, 2nd floor
Thurs-Sat 12-18 / Sun 12-16
Hakola Home, 4th floor
Thurs-Sat 12-18 / Sun 12-16
What?
Inside Hakola Shop you'll get to see Hakola's new, delicious collection, which will be launched during Design Days.
At Hakola Studio you'll have the chance to see inside the soul of Hakola and the history of the brand.
Hakola Studio also showcases a modern art exhibition "For the Love of" curated by the talented Antonia Hamberg.
Hakola Home is the inspiring, colorful home of Hakola's CEO Annaleena Hakola. Inside Hakola Home you'll get to see the new collection in a homelike environment and maybe after feel the courage to use more bright colors in your own home as well.
Additionally during Design Days, Hakola will organize fun workshops for both adults and kids. Hakola will publish a more detailed schedule in their Instagram and on their webpage on the 7th of September. Some of the events require signing up.
Hope to see you in Annankatu!