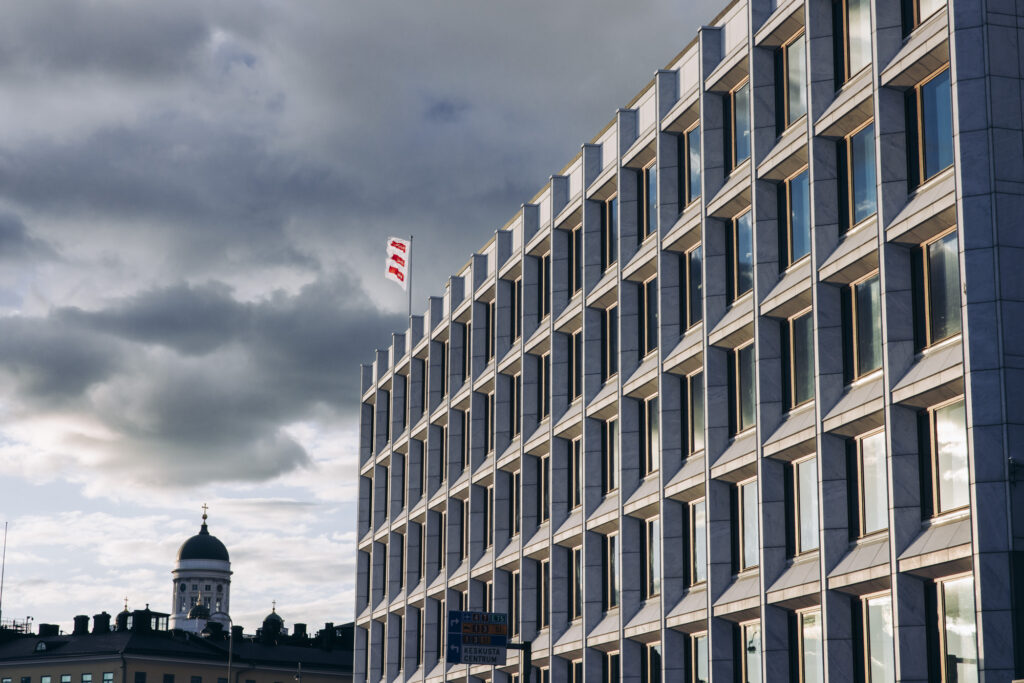 HDW Main venue: Kanavaranta 1
When
Thu 01.09.2022 - Sat 10.09.2022
Helsinki Design Week's main venue changes annually. For the ten days, this year's location will be at Kanavaranta 1. This iconic building, known as "The Sugar Cube" was designed by Alvar Aalto and completed in 1962. During Helsinki Design Week, it will be open to the public for the first time.
There are no exhibitions at the main venue this year – the top floors of the building will be dedicated to brainstorming and exchange of ideas. Restaurant Kuurna has been invited to cater on the top floor, and visitors can expect delicious dinners in intimate cabinets with the best views to the city. Located on Meritullinkatu since 2005, Kuurna is known for its high quality offering regarding both food and beverages as well as service. In "The Sugar Cube", you will be dining in big shared tables.
At the moment the restaurant is full booked. 
Next to the restaurant, there will be Artek wine bar where a series of Weekly Talks will address interesting design and architectural topics.
Weekly Talks at HDW 2022
All talks take place on the Weekly Talks stage of the Artek wine bar on the sixth floor, unless otherwise noted. Most of the discussions do not require registration, and all are free to enter. The duration of the discussions is about 40 minutes, unless otherwise stated.
Friday, 2 September
At 4 pm Helsinki Design Award 2022.
The winner of the Helsinki Design Award is designer Päivi Raivio. In an interview with HDW programme director Anni Korkman, Raivio was asked what "placemaking" is, what play can bring to an adult's everyday life, and what the best designed place is in Helsinki. You can also get to know Päivi here. 
Tuesday, 6 September NB! This event will be held on the fifth floor.
7 pm–8.30 pm House by an Architect evening
The House by an Architect is a concept that aims to increase literacy in architecture. At the heart of the concept are homes, which because they touch every person, are our most valuable asset, and their quality has caused great concern in recent years. Five well-known architects have been invited to the evening to share what kinds of residential buildings have impressed them, inspired them and possibly even influenced their own design work. The time for each presentation is about ten minutes, after which there will be time for free discussion, questions and comments. Register here. 
Wednesday, 7 September
At 5 pm Design Talks Over Drinks: "Finnish Design – a Brand of the Past or for the Future?"
The panelists are Laura Kamras, Director for Public Diplomacy, Ministry for Foreign Affairs Finland; Sebastian Jansson, Designer & Founding Partner, Made by Choice; and Anna Moilanen, Open Flower, MSc Econ, entrepreneur. The talk is hosted by Katja Lindroos, Project Manager of Finnish Design Info. The conversation is in English.
(CANCELED) At 6 pm Open Studios: What Kind of City is Helsinki for Creatives? The speakers will be announced soon. The discussion will be moderated by Inari Virkkala.
Thursday, 8 September
At 4 pm Spirituality in design. Spirituality is one of the central concepts of being human. Therefore, the absence of spirituality in western design during the past decades is is quite astonishing. Design with spiritual values ​​opens up to external and internal changes, new possibilities and human emotions. When design adapts to changes, it is no longer a predictable technical performance, from which feeling and intuition have almost completely vanished. Part of spiritual design is openness through which change can enter. Designers Susan Elo and Piia Jalkanen are in conversation.
At 6 pm Open Studios: The Future. ​​In times of anxiety, uncertainty and wicked problems, each of us needs hope and optimism. Can design be used to build a better future? Nordkapp's Sami Niemelä in an interview with HDW programme director Anni Korkman.
Friday, 9 September
5 pm
Fashion talk! The modern uniform. Guests are Anniina Koivu (Koivu), Jonathan Ingberg (ByHinders) and Ervin Latimer (Latimmier).
At the end of the week, Weekly Talks moves to Kaiku! NB! This event will take place at the Kaiku club at Kaikukatu 4.

8 pm. The HDW in Kammari club night starts with a panel discussion at 8 pm and continues with a party with interesting visuals and DJs curated by designer Maria Korkeila (emkay). Post Bar's Joni Stanley, interior architect Joanna Laajisto, graphic designer Leo Karhunen, and Salla Vallius, who has worked as a Helsinki night pilot, discuss what kind of night city Helsinki is. The moderator is Anni Korkman. 
Guided tours at Kanavaranta 1 are full booked and the registration is closed.
GENERAL INFORMATION
Opening hours

Helsinki Design Week's main venue is open from 2 to 10 September from 16 to 22 hours at Kanavaranta 1.
Artek Wine bar is open 16–22 and 4 September at 16-20
Kuurna x HDW restaurant is open 18–22. Restaurant Kuurna is closed 4 September.
Table booking to the restaurant via booking calendar here. No table reservations are required for the wine bar.
How to reach the main venue

You can reach Kanavaranta 1 located very close to the market square, the Presidential Palace and the Uspenski Cathedral by the sea in the district of Katajanokka by foot or by trams number 4 (Ritarihuone), 2 (Senate Square) and 7 (Hallituskatu). The nearest city bike terminal is at Kanavaranta and the nearest parking facility in Kluuvi.