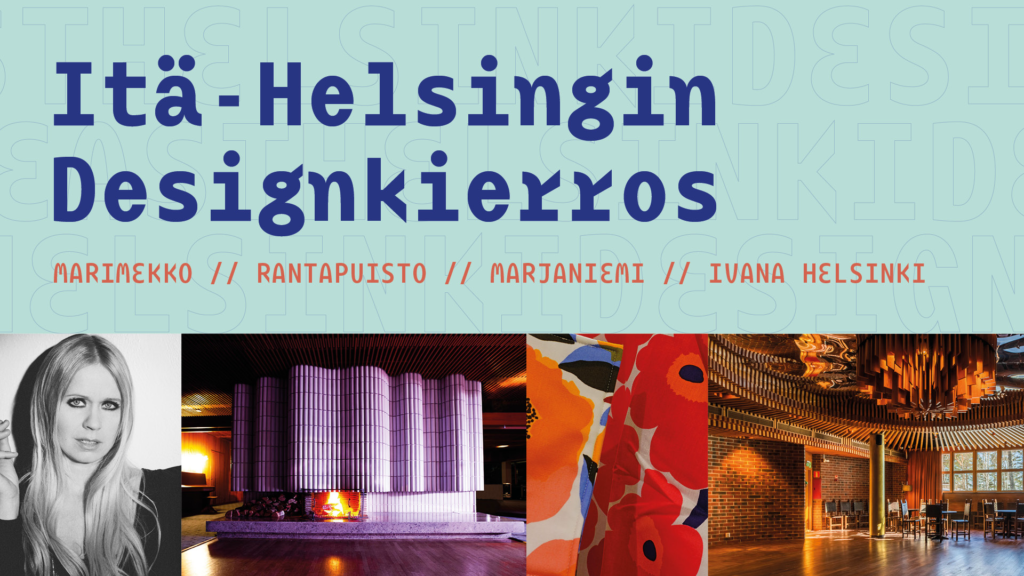 Itä-Helsingin Designkierros
Time
The tour starts in front of Kiasma at 10:00 a.m. and ends at the same place at 5:00 p.m. The tour is done with a charter bus.
Where
Kiasma, Mannerheiminaukio 2, 00100, Helsinki
Tickets
Tapahtumaan voi ilmoittautua Aarrematkojen verkkosivuilla. Lähetämme laskun sekä matkasaatteen lähempänä matkan ajankohtaa.
Accessible
No
Kierros sisältää kävelyä, bussiin nousua ja sieltä laskeutumista. Kaikissa vierailukohteissa ei ole Inva-Wc tiloja ja niissä saattaa olla kynnyksiä sekä portaita.
In co-operation with
Aarrematkat
East Helsinki is a hidden gem full of treasures, design history and things to see! During the Design Tour we will discover a secret Japanese-style garden, enjoy lunch at the mid-century modern style Design Hotel Rantapuisto, meet and have a toast with the Finnish designer Paola Suhonen at her Fashion company's Ivana Helsinki's unique headquarters. Some shopping is also possible as we will be making a stop at Marimekko's factory shop and there's a shop at the Ivana Helsinki House.
Trip price: € 135 / person. The price of the trip includes:
-Lunch at the Design Hotel Rantapuisto
-A glass of sparkling wine at Ivana Helsinki House
– Private transportation according to the itinerary
– The services of the group's own guide throughout the trip
-Stops according to the program with guidance, e.g. A guided tour of the design hotel Rantapuisto, a visit to the Ivana Helsinki House including an artist meeting with Paola Suhonen, a stop in the Japanese garden and a visit to the Marimekko store
This event has been canceled. We apologize for any inconvenience this might have caused.