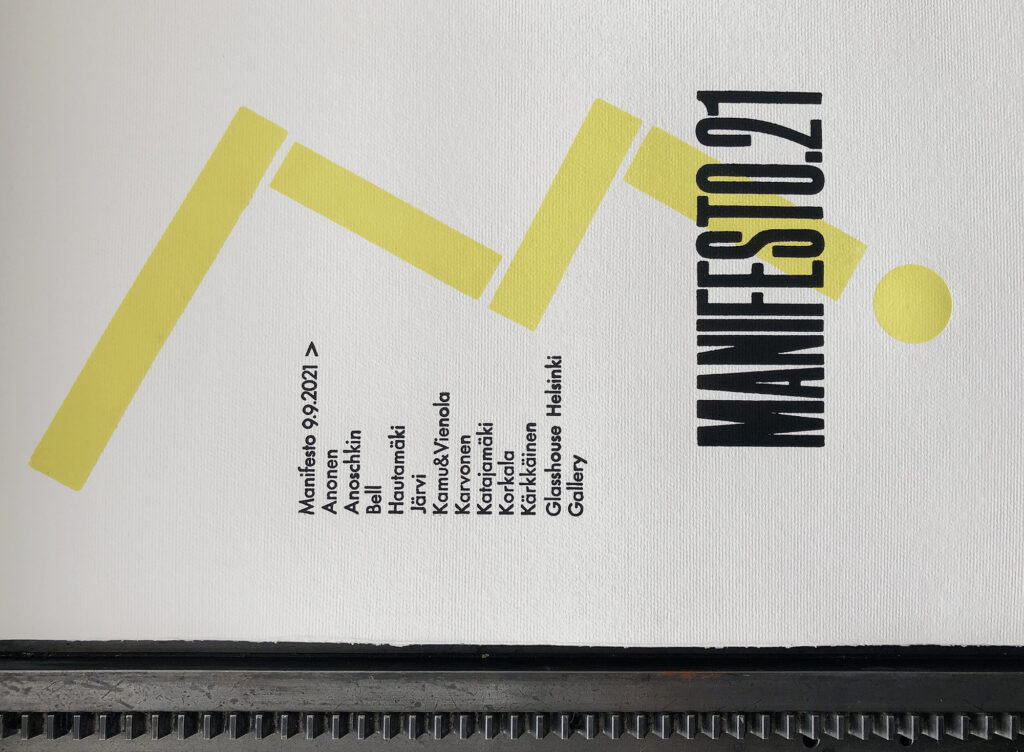 Manifesto 21
When
Sun 05.09.2021 - Thu 01.01.1970
Where
Glasshouse Helsinki, galleriatila, 2 krs. Aleksanterinkatu 13, 00100, Helsinki
Manifesto 21
9.9.-2.10.2021
Manifesto 21 is a statement for handicraft and analogical printing technology. The curator of the exhibition, so_helsinki collective invited 11 artist from different fields of art to the studio to explore traditional printing method. Inspired by the old letterpress machine artists created unique artworks illustrating and honouring the endangered tradition and the power of words.
Manifesto prints are created by using an old proofpress by letterpress printing – the same method once used to print avant-garde manifests. Throughout the time, artists have been pioneers standing in the forefront highlighting phenomena that are relevant in their time. The artists of Manifesto 21 show how the valuable tradition can become visible, be saved and even renewed.
Artists: Hanna Anonen, Jasmin Anoschkin, Inka Bell, Ilari Hautamäki, Teemu Järvi, Kaapo Kamu & Heikki Vienola, Otto Karvonen, Aimo Katajamäki, Eino Korkala, Ilkka Kärkkäinen.