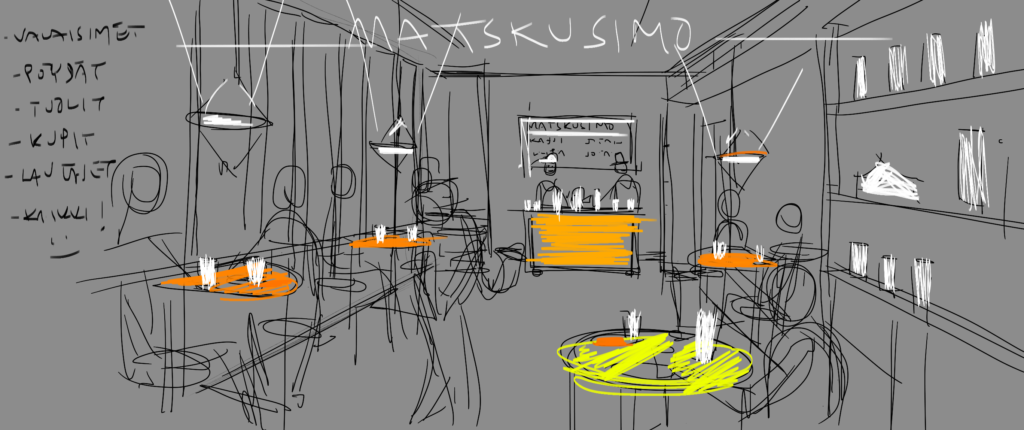 MATSKUSIMO – pop-up cafe-event-showroom
When
Fri 08.09.2023 - Sun 17.09.2023
Time
Open 8.9.-17.9.
weekdays 15:00-21:00
Saturdays 11:00-21:00
Sundays 12:00-20:00
Where
Kalastajanpolku 18, 00560 Helsinki, 00560, Helsinki
Language
Finnish / English
In co-operation with
SELKA, Silmusalaatti...
In the vicinity of Helsinki's Vanhankaupunginkoski, at Kalastajanpolku 18, the garage-workshop is transformed into a sympathetic small venue, where snacks and refreshments are served. The purpose is to enjoy live music, movies and, for example, design-related discussions in the evenings.
Matskusimo is a pop-up event conceived by industrial designer Simo Puintila in his workshop, where the furniture, dishes, lighting and some of the servings are designed by Puintila himself.
Open 8.9.-17.9.
weekdays 15:00-21:00
Saturdays 11:00-21:00
Sundays 12:00-20:00
A more detailed program will be published at the end of August at www.matskusimo.com
As partners: Selka, Silmusalaatti