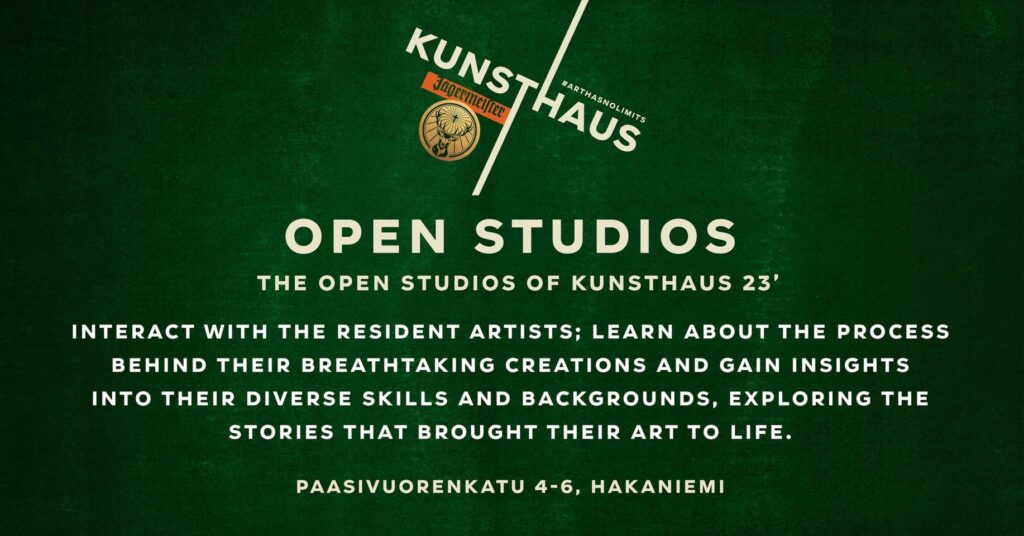 Meet The Artists- Kunsthaus 23
Time
Kunsthaus 2023 is taking place between 28.8. and 30.9. at Paasivuorenkatu 4-6, Helsinki.
Where
Paasivuorenkatu 4-6, 00530, Helsinki
Welcome to the open studio event at Kunsthaus 2023 on 16.9. between 14:00 – 18:00. During the day, you'll have the opportunity to interact with the resident artists; learn about the process behind their breathtaking creations and gain insights into their diverse skills and backgrounds, exploring the stories that brought their art to life.
During the event, our artist in residence Pola Laamanen will be doing embroidery on visitors' clothing. All together, there are 8 slots available for people to choose from. Each embroidery session with Pola lasts 15 min and it is open to the public. If interested, please contact kunsthausjagermeister@gmail.com and mention your preferred slot. Please note, some flexibility in making your appointment is expected.
Open slots: 14:15, 14:30, 15:00, 15:15, 15:30, 16:00, 16:15, 16:30.
In addition, Alex Markwith will spray paint on visitors' clothes (available upon walk-in). Bring a spray paint of your choice or let us use acrylic markers…just make sure you bring clothing that can be turned into a piece of art!
Kunsthaus artists 2023 are:
Kunsthaus Jägermeister is all about creating art without limits. The project is funded by Jägermeister. The goal of the project is to give artists a place to create art, make connections, experiment and gain a visible foothold in the Finnish art scene.