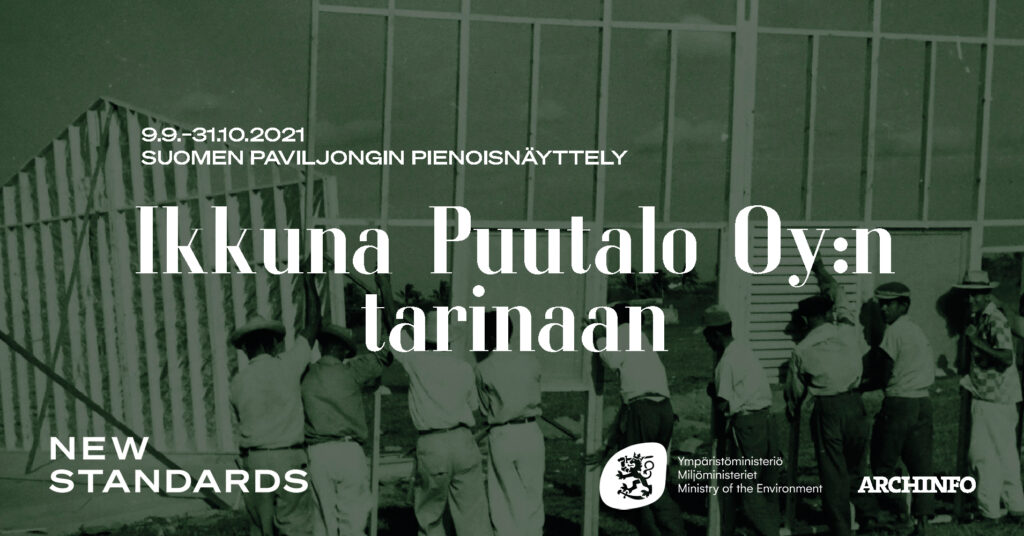 Ikkuna Puutalo Oy:n tarinaan
When
Thu 09.09.2021 - Sun 19.09.2021
Where
Aleksanterinkatu 7, 00100, Helsinki
The New Standards mini-exhibition tells the story of Puutalo Oy, presented at the 17t International Architecture Exhibition of La Biennale di Venezia 22.5.–21.11.2021. Puutalo Oy was founded in 1940 to help in the settlement of Karelian refugees after the Winter War, when nearly 420,000 people had to leave home. In a national emergency, industry,
decision-makers and architects joined forces and developed a new type of prefabricated wooden house.
The houses manufactured by the company were exported to more than 30 countries on all continents. These modest type houses are still found in thousands around the world, and they may be the most widespread Finnish architectural export product.
The exhibition is part of Archinfo's biennale side program and it has been curated by Laura Berger, Philip Tidwell and Kristo Vesikansa. Layout by graphic designer Päivi Häikiö.
The exhibition is on display at the corner of Aleksanterinkatu and Fabianinkatu in the windows of the Ministry of the Environment until the end of October, around the clock. The texts in the exhibition are in Finnish and in Swedish.