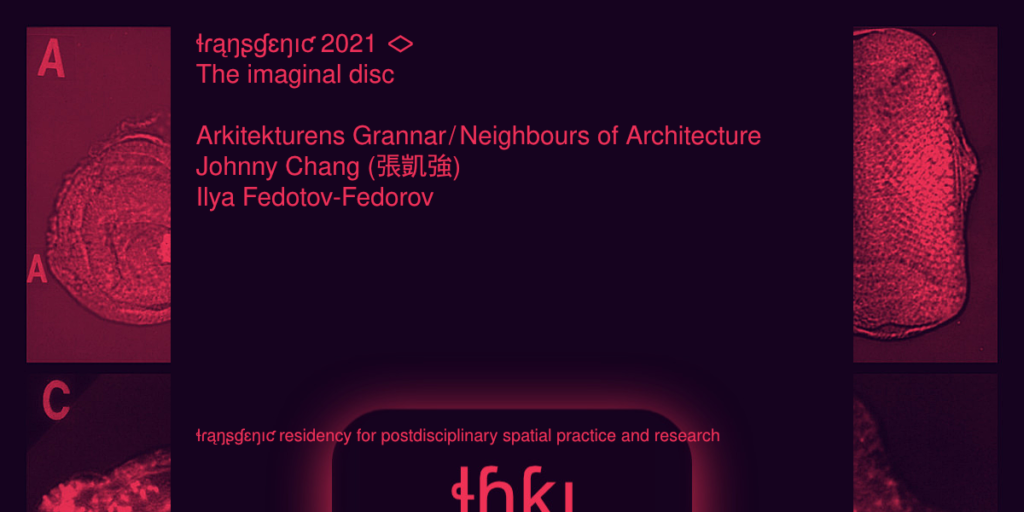 Online presentations: transgenic 2021 The imaginal disc / Residency project presentations
Time
From 12pm until 1.30pm.
Where
Korkeavuorenkatu 23, 00130, Helsinki
Online presentations: Transgenic 2021 <> The imaginal disc / Residency project presentations
Sep 15 at 12-1.30 pm, in English / Online
Register here
During this Lunch Talk, Johnny Chang (SE), Neighbours of Architecture (SE) and Ilya Fedotov-Fedorov (RU) present the research projects they have undertaken as fellows of this year's ɬɾąŋʂɠɛŋıƈ ɧƙı residency for post-disciplinary spatial practice and research.
Johnny Chang: "In the wake of ruin, and also love" — a diasporic reading of traces-afterlives following evershifting assemblages between sound, sight, and scent.
Neighbours of Architecture: "Time After Time" — research into ways of making the distant past and the distant future tangible in the present.
Ilya Fedotov-Fedorov: "The snake and the multiped remove a skin" — a three-channel video installation that explores the theme of the "Other," self-identity, ecology and foreignness in reflecting on the processes of distance production in society as well as in nature, gender, and body.
Learn more about the participants
Ilya Fedotov-Fedorov
"I work as an artist with a background in biology. My childhood had an important impact on me. When I was eight years old, I got serious health issues and spent a lot of time in hospitals – two to three weeks every two or three months, for ten years. Because my disease was rare, I became a kind of laboratory rat for the doctors, and they started to write research on me. It was a big issue about the objectification of the body when it is a health problem but also part of the scientific research. So during this process, I was curious and critical about science. I decided to study genetics at the university. And over a long, strange way I came to art. In my work, I use my background and explore the contemporary relationship between nature and scientific knowledge. At the moment I work a lot with the term "Others" in the context of the body, gender and classifications in general."
Johnny Chang
" I am a multidisciplinary designer and artist working between visual communication and artistic inquiry. Positioned in the hyphenated borderland of Taiwanese-American while elsewhere, I am interested in how circumstances of distance and diaspora effect/affect processes of sense-making through language and images. Individually and collaboratively/collectively I work across publishing, writing, video, sound, and visual culture to examine different ways of reading, listening, and voicing toward cultivating resilient capacities for sensing, feeling, and being in the present."
Neighbours of Architecture
"We've been working together for about ten years, combining our previous experiences – Carin has a background in curation, Björn in architecture. The practice is centered around research and exhibitions, whatever either of those categories might mean today? We see them both as formats to explore and experiment with, and the field of architecture as a stage where that can hopefully happen. Lately, the projects we have focused on a deal with inhabited exhibits, the site-specificity of archives and collections, art in public space, experimental cultural heritage, and a little bit of machine learning in architecture history. But there is also always some writing, some design, and some teaching going on in parallel."