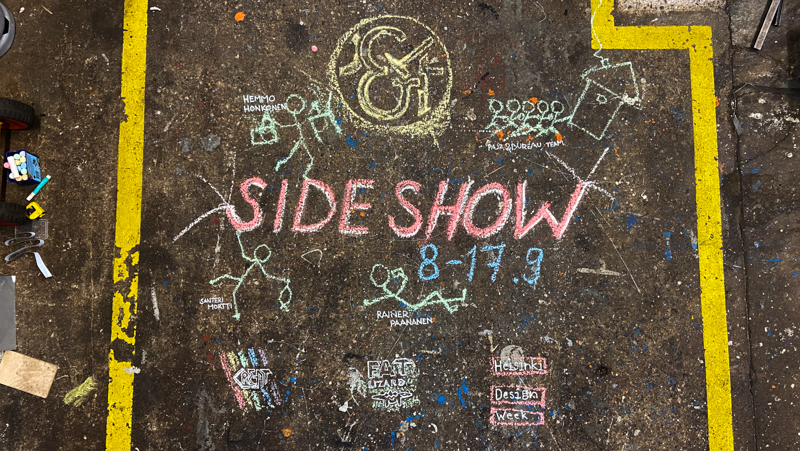 Paja&Bureau SIDE SHOW
When
Fri 08.09.2023
Sat 09.09.2023
Sun 10.09.2023
Mon 11.09.2023
Tue 12.09.2023
Wed 13.09.2023
Thu 14.09.2023
Fri 15.09.2023
Sat 16.09.2023
Sun 17.09.2023
Thu 01.01.1970
Thu 01.01.1970
Where
Korkeavuorenkatu 7, 00140, Helsinki
The multidisciplinary group exhibition Paja&Bureau SIDE SHOW returns to Ullanlinna!
Since 2017 SIDE SHOW has been an unprejudiced exhibition in the Paja&Bureau workshop gallery featuring works and makers from diverse fields on the peripheries and conjuctions between design and other creative media.
The show has annually brought a fascinating collection of experimental and provocative creative expression outside the tradition commercial design to the stage.
This year's theme is Homo ludens and features an awesome collection of playful and interactive works by fascinating artists and designers.
Participating artists this year are:
Hemmo Honkonen 
Santeri Mortti and Armi Teva
Rainer Paananen
Paja&Bureau
The show is open during Helsinki Design Week 8.-17.9. every day, week days 14-18 and weekends 12-16.
The exhibition party will be held on Wednesday 13.9. at 19. Refreshments are provided by Fat Lizard Brewing Company and the music by Creat #eroticlifestyledjs.