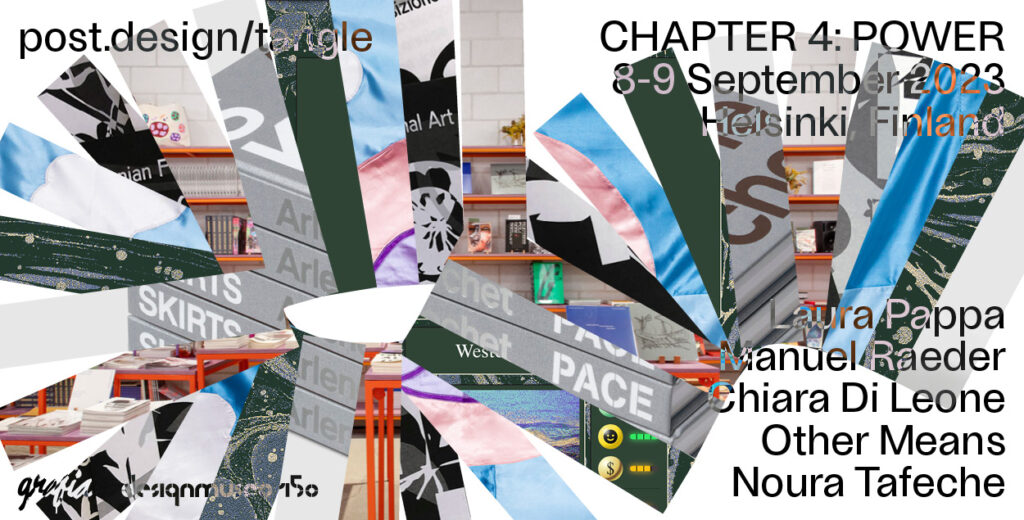 Post Design Tangle 4: POWER
Where
Designmuseo, Korkeavuorenkatu 23, 00130 Helsinki, 00130, Helsinki
Tickets
https://ti.to/postdesignfestival/tangle-chapter-4-power
Design often finds itself tasked with constructing an illusion of authority and control—tangible and intangible. What are the boundaries of our agency as visual makers? What forces are enmeshed in, and perpetuated by creative practices, creative work structures and the images we produce and consume?
The final chapter of the travelling two-year design festival, Post Design Tangle, will present a handful of the most interesting and progressive visual communicators in the world right now to tackle the entangled reality of design.
Saturday 10:30-18:00 at DESIGNMUSEO. LINE-UP: Noura Tafeche, Manuel Raeder, Chiara Di Leone, Other Means and Laura Pappa.
Friday, 17:00-19:30: Warm-up event hosted by Multipöly.
Saturday, 22:00-05:00: Afterparty by MYÖS Collective
The program seeks to understand design's many knotty problems and connective possibilities. Spanning two years, four locations, and a patchworked, online hub, the Post Design Tangle is a bind that ties together communities across the Nordics and the digital world; it's an informal circuit of flashing cables and intimate, in-person conversations.
The event is co-organised with Grafia.