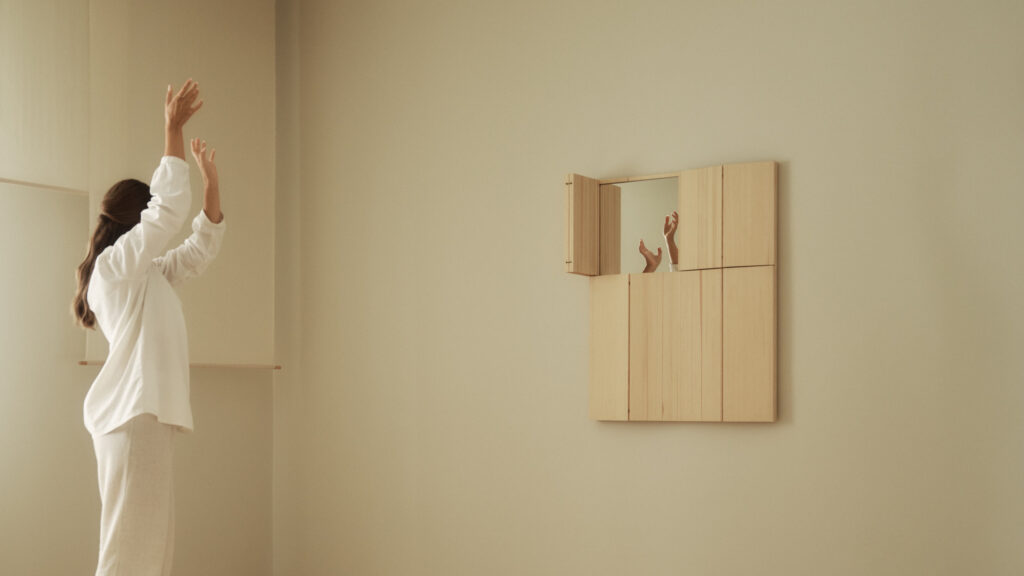 Mirroring – Product Launch by Iina Kettunen
When
Tue 12.09.2023 - Sat 16.09.2023
Time
From 12 am until 6 pm
Where
Kinaporinkatu 1 LH 3, 00500, Helsinki
A glimpse into a parallel world: like a window to somewhere similar, yet foreign. Mirroring enables illusions and various sorts of spatial alterations. A mirror responds before we even begin to ask. It reshapes the essence of space: at times, a mirror is a desired part of the whole, while in other moments it might even become a disturbance.
When a mirror is placed in a space, it influences our presence. It can invigorate the environment, but on the other hand, it can also divert our attention to the irrelevant in an instant. Kettunen's mirrors, crafted from solid pine, can be adjusted as needed. By opening and closing their doors, different-sized sections can be revealed and concealed. The mirrors study themes of function, presence, and ambiance. They present a choice: the window to the parallel world can also be intentionally closed.
These mirrors will be on display at the launch exhibition on Kinaporinkatu, as well as at the main exhibition of Helsinki Design Week at Merikortteli. In Kinaporinkatu, a video work will be showcased, featuring dance artist Soile Puumalainen. She explores the mirror's presence in space and its impact on humans through dance. Puumalainen has maintained a deep fascination with interdisciplinary work throughout her career, forging connections between different art forms. Puumalainen has examined the interplay between dance and architecture as art forms, as well as how architecture can be harnessed in dance.
Iina Kettunen is a concept-driven designer working in the field of product design, visual design, and set design. She firmly believes that the secret to lasting design lies in creating pieces that people can form emotional attachments to.