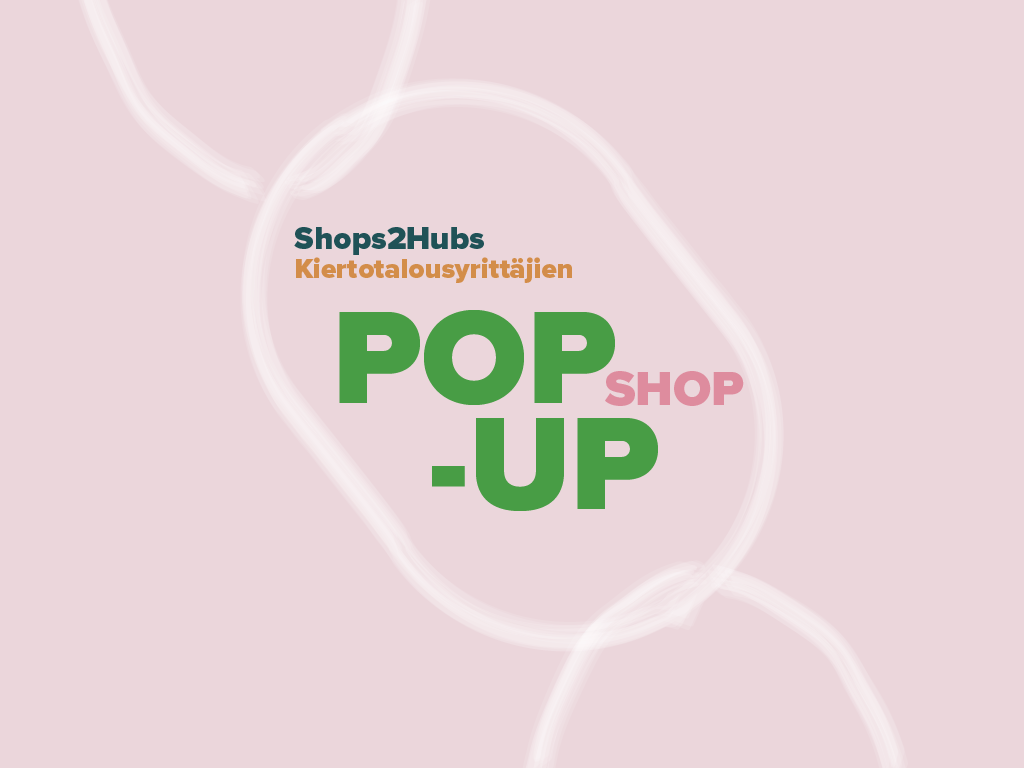 Shops2Hubs Kiertotalousyrittäjien Pop up – kurkista uusiotuotteiden maailmaan
When
Mon 13.09.2021 - Sat 18.09.2021
Time
13th Sept. 10:00-16:00 Sofia Helsinki,Sofiankatu 4,Helsinki
14th-17th Sept. 11:00-19:00 Kierrätyskeskus,Kutojantie 3,Espoo
18th Sept 11:00-16:00 Kierrätyskeskus,Kutojantie 3,Espoo
Where
Kutojantie 3, 02630 , Espoo
Material wise creation process – what on earth!
Come and have a look at all the amazing products and services that are created from discarded material by local entrepreneurs for our delight. At the Shops2Hubs – entrepreneur network's pop-up event you get to purchase their services and products in two different locations on two different days. The pop-up event is also a place to share experiences and ideas with the entrepreneurs.
Mon 13.9. at 10-16
Place: Sofia Helsinki, Torikorttelit, Sonckin sali, Sofiankatu 4 C, 00170 Helsinki
Help for your climate change anxiety offer following entrepreneurs Tuunaajamutsi, Fair.fi, Kammo Design, Marjut Kuopus, Today's Hustle for Tomorrow's Harmony, Upstitch Studio, My Message, Cactus Stories.
Tue-Fri 14.-17.9. at 11-19, Sat 18.9. at 11-16

Place: Kierrätyskeskus/Reuse Centre shop, Kutojantie 3, Nihtisilta, 02630 Espoo
During the event following entrepreneurs offer mending services, design- and handicraft products as well as DIY-workshops: Ambito Finland, Fair.fi, Tuunaajamutsi, Kammo Design, Upstitch Studio, Lalola Anastasia, Studio Pomsi, MoltteVoltte, Cactus Stories.
In addition to the pop-up event, on Tuesday and Wednesday at klo 15-16 ja klo 17-18 a visit behind the scenes of Finland's biggest recycling centre and the circular business Hub in Nihtisilta is offered for a small group of people. Max. participant per visit: 10 persons. Sign up for the visit here
—
SHOPS2HUBS – Reuse Center 2.0 project develops new circular economy HUBs to selected target areas at Uusimaa region in Finland. The circular economy HUB is an element which enhances co-operation and networking of entrepreneurs and craftsmen and enables reprocessing of existing used goods and materials of the recycling center.
The HUBs enable and promote generation of new innovations and business in the field of circular economy. One additional focus area of the project is to advance the demand for the circular economy prodcuts and the utilization of the used products.
The selected target areas in the project are Nihtisilta Recycling Centre of Helsinki Metropolitan Area Reuse Centre Ltd at Espoo and a selected target area in Helsinki. The HUB concepts are developed and experimentally tested in the projects.
More information about the project in Finnish language here:
https://www.kierratyskeskus.fi/tietoa_meista/hankkeet/shops2hubs