Todist-H
When
Thu 09.09.2021 - Sun 19.09.2021
Where
Vapaakaupunki, REDI shopping center, toisessa kerroksessa/2nd floor, 00580, Helsinki
Language
Finnish / English
Todist-H, architecture installation by PlusCollective ry. Vapaakaupunki 2.9-26.9.
In this installation, PlusCollective puts together 3 extremely valuable projects which all have the common purpose of raising awareness of the ever-important topic of domestic and gender-based violence.
The first one is Todist-H, by inTra collective, which gives the name to the entire installation. Todist-H is the representation of a house as the place where violence is often present. The installation aims to collect testimonies, thoughts, suggestions, in order to bring attention to a topic that is still taboo for many. Victims of violence often know there are ways and tools to break free from these situations, but once trapped it is really hard to scream for help. Todist-H wants to encourage people to read the signs of violence they might see and help people out of it, to create awareness around voices that must not remain silent.
We encourage people to write about it, to share experiences, to help other people understand what violence is about.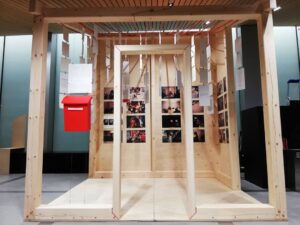 The texts you'll be seeing displayed hanging by red threads are the result of Rajat, the workshop organized in October 2020 by the art therapists Aija Salovaara and Jenni Hurmerinta as part of the We Want We Do program organized by PlusCollective ry (2020). During the workshop, participants were able to immerse themselves in a safe and gentle atmosphere to address their feelings, Memories, and experiences: the Anonymous texts can be read in the installation.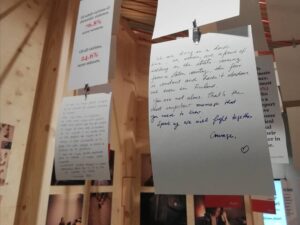 On the walls of Todist-H, you'll find  Love Notes, a photo reportage by Alessandro Rampazzo that narrates the story of Nita, a Finnish woman and mother who, after suffering domestic violence for almost four years, decides to break up and get back hers and her kid's life. What happens, both on a physical and on a Psychological level, after suffering aggression and violence? Love Notes has received the Honorable Mention in the Finnish Press Photo Award 2020 by Photojournalists.