Weekly Studio: Satu Maaranen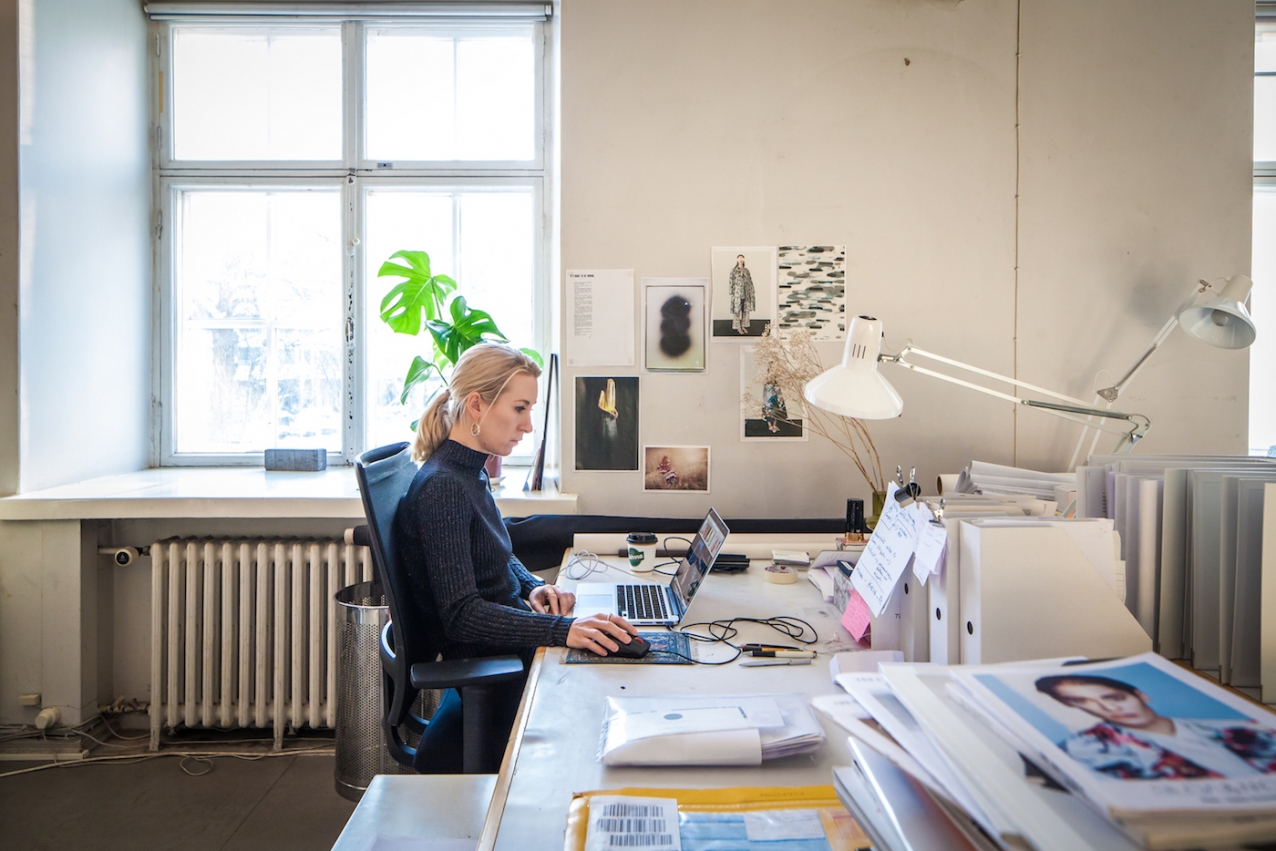 Fashion designer Satu Maaranen won one of the most prestigious fashion competitions in France in 2013. Currently Maaranen is working for Marimekko and several international brands. Crystal Bennes visited Satu's studio to talk about aesthetics, design process and business of fashion.
Fashion designer Satu Maaranen won one of the most prestigious fashion competitions in France in 2013. Currently Maaranen is working for Marimekko and several international brands. Crystal Bennes visited Satu's studio to talk about aesthetics, design process and business of fashion.
Crystal: This studio space you've got is amazing! How long have you been working here?
Satu: Almost four years. Time goes so fast. The space is owned by the father of a friend's husband – we studied together and towards the end of our programme, I mentioned that I was looking for a studio space and she directed me here.
Crystal: It's interesting because it doesn't look at all like what you expect from a fashion designer. Do you think that this space changes or affects the way that you work?
Satu: I think that it does, in two different ways. When I have guests, it's an experience for them to come – it's quite special. And being surrounded by the books, even though I don't have time to look at them all the time, something about the smell and the silence, you really feel that you're in peace. Also, for researching for new prints, I can just pull books from art and design and have a look through. It's a great source of inspiration. Somebody told me that this is the best art and design library in all of Finland.
Crystal: And I gather you also have a studio space at Marimekko?
Satu: Yes, but it's not so peaceful, because everybody wants something from me all the time! But it's useful to have both working spaces. It helps me keep things separate.
Crystal: For the sake of an overview, why don't you talk a little bit about your background.
Satu: I studied at Aalto University, where I initially spent one year in the Art Education department. I was planning on being an art teacher. I quickly realised, though, that I had too many of my own ideas and that I couldn't be a teacher, so I applied to the Fashion department. I graduated in 2012, around Christmas. With my graduation collection, I won one of the most prestigious fashion competitions at the Hyéres Festival in France. Since then, I've been travelling all over the world. It's only just now starting to calm down a little bit.
Crystal: I suspect there must have been a lot of hands-on making on the programme. I'm not so familiar with fashion education, but I've been through the fashion studios at Aalto and the facilities seem excellent. Is this typical?
Satu: I would say it's very exceptional, because they have such big spaces for working and all the latest equipment and the studio masters are technically very knowledgeable. You really can do whatever you can imagine.
Crystal: And did you take full advantage of that when you were studying?
Satu: I did. I was always hands on – that's how they teach us. You also have the freedom to work in other studios, so I worked in the wood studios to make shoes and other people were working in the ceramics studios to make buttons or jewellery for their collections.
Crystal: And how does this hands-on education translate into professional working? Because presumably you don't make so much yourself these days?
Satu: It's a different thing now. In the real working world, it's much more about how I guide the person making the design. I'm providing the instructions for the making, but it was such an important education to learn how to make and to understand how the machines work. You know what's possible, but you also understand how to direct the different people around you to get the desired end result.
Crystal: So, you had this success with the Hyéres Festival and your career just took off.
Satu: Yes, it was in the media everywhere and so many journalists and stylists and designers wanted to meet me. I travelled all over the world. I think I went to Paris 19 times in one year, partly to collaborate with Petit Bateau, who actually wanted to continued working with me as commissioned basis after the capsule collection Satu Maaranen X Petit Bateu launched at the summer 2014.
Crystal: To take just two of your clients – Petit Bateau and Marimekko – do you find that each collaboration follows a similar process or is it very different depending on the brand?
Satu: It's very unique. For example, I'm working with Exception de Mixmind, a Chinese fashion – it's serious and deep, romantic and feminine. For Petit Bateau, it was very chic and marinière. Marimekko is super colourful and playful with all the prints. So each process has to be different.
Crystal: In that case, how do you fit your aesthetic, your style, into each of these brands, all of whom presumably have quite strong histories and styles of their own?
Satu: That's the thing I enjoy the most, because a challenge. Of course, I always draw on my own aesthetics, but it has to take a back seat because I have to figure out what is the best thing for each brand.
Crystal: Do you feel differently about Marimekko, though, because of a shared cultural history?
Satu: I do feel like I have a very special connection with Marimekko products, because I've known them since I was small. We had Marimekko prints in our summer cottage…
Crystal: And everyone else does, too!
Satu: Yes, it's not just me. I feel, I don't know, maybe brainwashed by Marimekko.
Crystal: Maybe it's more a feeling of responsibility, then?
Satu: Yes, in a way. It's like: you really cannot screw this up! You have to put your heart and passion into it. Of course, I do that for my other clients as well, but it's a little bit different because of that shared history.
Crystal: Throughout this series, something I've been asking everyone is whether they identify what they do aesthetically as part of a Finnish design tradition. Would you describe your style as being part of this tradition?
Satu: There are some things in my mind that I just cannot forget about Finnish aesthetics, because I've been a little bit brainwashed – certain minimalistic approaches, the uses of colours and prints and a kind of functionalism – but I always mix it with something new and something unexpected. For example, for the Chinese brand I always research Chinese history and culture. At the moment I'm reading about the Song dynasty era and how the people were living and what they were wearing. It's so interesting. And I don't mix anything Finnish with that, because it's more about how to make Chinese design modern and bring it into the 21st century. They also use a lot of jacquards and embroidery, so it's not prints like Marimekko. When I design prints for them, they're translated into three dimensional textiles.
Crystal: I think that's why cross-cultural work and research is so interesting in fashion, because even though the business side of things is very global and international, there are still these unique differences in, as you say, how prints are expressed or the different kinds of textiles used.
Satu: In a nutshell, I would say that I use the Finnish rules of designing, because I have certain rules always in my head about functionalism and the practical side, making things simple and taking all extraneous things away, and those rules I use for all my clients. I don't decorate. There always has to be a reason why I use certain cuts or shapes or combinations.
Crystal: Would you extend that to prints as well?
Satu: Yes, to prints as well.
Crystal: So for you prints are functional, not decorative?
Satu: I would say functional in the way I do the layouts or the proportion or the meaning in contrast to the shape of a cut?
Crystal: That's interesting, because I would always default to prints as ornament. To go back to the idea of rules for designing, it's interesting how often rules – or limitations – are such a significant tool for designers.
Satu: I think that's the only way you can trust yourself as a designer. You have certain rules, otherwise I couldn't be that self confident. I couldn't make quick decisions. I couldn't be in a meeting and say this works or this doesn't.
Crystal: It's funny to hear you say that because last year I wrote a piece about the costume designs Klaus Haapaniemi did for the Finnish Opera. I followed the development of the costumes over a period of a few months and I remember on one visit with Klaus to the costume department at the opera, someone asked him which colour red a ribbon should be for one of the costumes and he went to get the original drawing to reference before making the decision.
Satu: I do the same in fittings, just to remind myself what was my first idea and I stick to it – otherwise it might be too messy and confusing.
Crystal: I always think of confident decision makers as people who just make on-the-spot decisions, so I was a little bit confused to see Klaus do that, but when I went back to think about it later it made much more sense. As you say, you might have misremembered something…
Satu: And also there are too many people around and everyone has a different view or different function, so it's important to have your original ideas to reference to keep everything in balance.
Crystal: Let's talk about the work you've been doing in China with Exception.
Satu: They came into my showroom one day, quite randomly, and asked if I wanted to come to China. We got to know each other and first they hired me to create three season's worth of prints for their main collection. Now after a year working with them I started to consult their design team on monthly basis about prints and textiles.
Crystal: In terms of understanding where they fit in the market, where would you say they're positioned – what's an equivalent Western brand?
Satu: In terms of how the garments are made, Celine would be a good comparison. It's nearly twenty years old, but it's the oldest fashion brands in China – the country has a very young fashion design history. But it's a very well-known company, because the First Lady wears their clothes.
Crystal: And is it as fast in terms of production?
Satu: They do four collections per year, but the whole design process is much slower, partly because there are many more people involved. But they also spend a lot more time on fittings trying to get everything perfect.
Crystal: Are you doing garment design?
Satu: Only prints and textiles. I'm doing the creative direction for print and textiles, so I make mood boards and think about how to build the fabrics so there's a coherent feel across the entire collection.
Crystal: Do you feel like, in terms of your position, there's respect for your expertise and opinions – like a lead design position – or is it more collaborative?
Satu: It's an interesting question. I just came back from a long working trip. Because of communism history, I think, they work together in a very different way. You really feel like everyone is equal and they all work together. Of course, Mr. Mao, the owner, has the final word. The meetings are more like discussions, though they can feel sometimes like philosophy lessons. But because it's so equal, sometimes too many ideas go in and there's not always one clear vision. I'm trying to help with that through the textiles.
Crystal: With all of these different brands it sounds like you have a nice balance, but also like you're extremely busy. Do you still feel the need to create your own collection as a more personal, creative outlet?
Satu: I actually feel like I get everything I need creatively from all the different projects I'm working on. Exception is all about textiles and Marimekko about the garments. There's ready-to-wear and couture, research and artistic direction. Although, it is good for PR and visibility to do your own collection, but I'm not going to do that four times per year.
Crystal: The time pressure of creating so many collections is something that's been more and more in the press lately. For me, it's also coupled with the issue of disposability and the economic and environmental problems of this crazy turn-over that the big business side of fashion tries to avoid addressing at all costs.
Satu: That's one reason I don't want to start my own label in the commercial industry. It's also why Raf Simmons recently left Dior. Things aren't really how they used to be. It seems more and more about how things look on Instagram, not about the touch or the feel or the ideas. For the designers, it's not about designing anymore. It's about being a businessman or leader. There's no time for the real thinking. I don't want to go for that.
Crystal: Instagram is curious because on the one hand, it's certainly made fashion and other creative industries more open and visible, but on the other you have this whole "next, next, next" feeling about everything.
Satu: You feel like you have to produce new things every second, because people get bored.
Crystal: But while it definitely seems like more and more designers are sick of the state of things, no one really has any idea about what to do.
Satu: Li Edelkoort [a trend forecaster] recently wrote a piece saying fashion as we used to know it is dead, that the real meaning of it has disappeared. It's sad. I really hope a new wave will come and make things different.