Designers do innovative material research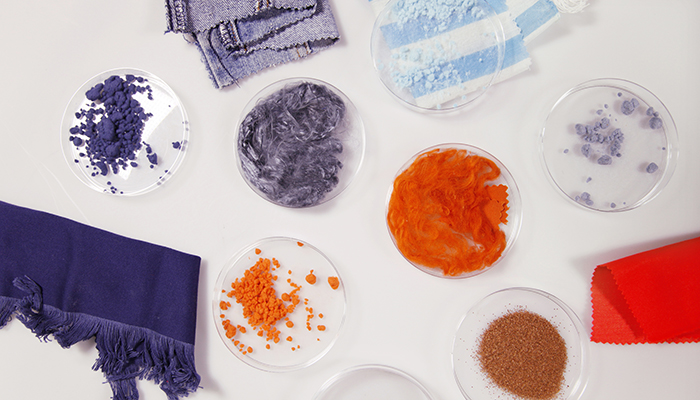 Designer-in-Residence of Aalto University's CHEMARTS initiative, Pirjo Kääriäinen, talks about the Ioncell project that received the 300,000 euro grand prize in H&M Conscious Foundation's innovation competition in Stockholm.
Designer-in-Residence of Aalto University's CHEMARTS initiative, Pirjo Kääriäinen, talks about the Ioncell project that received the 300,000 euro grand prize in H&M Conscious Foundation's innovation competition in Stockholm. 
How did the Ioncell project get started?
Aalto University has worked for years on transforming wood-based cellulose into new, useful fibres. In the background, there is the idea of sustainable development: we have pondered what else to use the Finnish forest for except paper. The same Ioncell F method can also be used to recycle cotton.
Us designers came into play in 2011 when we started the award-winning cooperation with CHEMARTS. It included both the students and staff of the Aalto University School of Chemistry and of the Aalto University School of Arts, Design and Architecture.
We started on the current Ioncell F project together with CHEMARTS in 2013. The project has been led since the beginning by professor Herbert Sixta of the Aalto University Wood Processing Technology department. We have also partnered with the University of Helsinki and VTT Technical Research Centre of Finland.
What is so special about Ioncell technology?
The textile industry has used wood-based materials, such as viscose, for ages. The technology developed by us, however, is far more environmentally friendly because it does not involve any harmful chemicals. In addition, growing cotton requires plenty of water, and ecological cotton cannot alone solve the problem. Our technology can save valuable farmland, which is important as fashion demand grows all over the world.
Recycled clothes have traditionally been used as landfill. However, recent law reforms have denied this, so currently cotton is often burned. With our technology, cotton can be fully recycled.
Ioncell technology can be used to manufacture textile fibres out of new cellulose, recycled materials, such as carton boxes, or, as we do, cotton.
Ioncell is an ionic solvent that is able to chemically dilute the fibre out of an old cotton shirt, for example, and this new material can then be spun into yarn and weaved or knit to make textiles and clothes.
I went along to test the new material, its feel and features. Ioncell dissolution results in a very silky and fine material that is very close to cotton and tencel.
How did you end up participating in the Global Change competition?
H&M is a giant agent within the clothing industry, so they had obviously already noticed our research group. Big companies like them are very interested in new materials to utilize in production. However, we entered the Global Change competition through open application last autumn.
We made one great discovery just before going for the competition as some of our students noticed that certain colours keep through the dissolution process. It is really interesting for a designer to figure out how to utilize colours in recycled materials.
How was the award gala week in Stockholm?
It was an intensive week of rehearsals, among other things. The award gala took place in the City Hall of Stockholm, a massive event with hundreds of invited guests. The programme addressed several profound opinions about sustainable development from the point of view of the clothing industry. Not to mention several seriously critical statements.
The keynote speakers included H&M's CEO Karl-Johan Perssonand innovation specialist David Roberts of the Singularity University. The prize was handed out by Princess Victoria of Sweden, and the event was hosted by Jo Confino of Huffington Post.
What does the future look like for Ioncell?
We got 300,000 euros for winning the Global Change competition. This includes a business accelerator programme for one year, through which each of the five candidates is sparred to push forward their ideas. By supporting us, H&M believes that we really can put our material out on the market as a real product instead of just an idea. In the end of April we'll head to do a workshop in Shanghai.
Our process focuses on fully recycling cotton only, which sets a challenge on the recycling process: many modern clothes are made of mixed fibres, and we need to know how to dissolve and recycle them; although polyester, for example, is already recyclable. It would be good to establish a global network to try and resolve this problem.
Our next objective is to scale up the process. We haven't yet made clothes out of this new material because its quantities remain small. Now we should be able to bring production to a new level and make investors interested in the possibilities of the material.