Ville Kokkonen designs air and light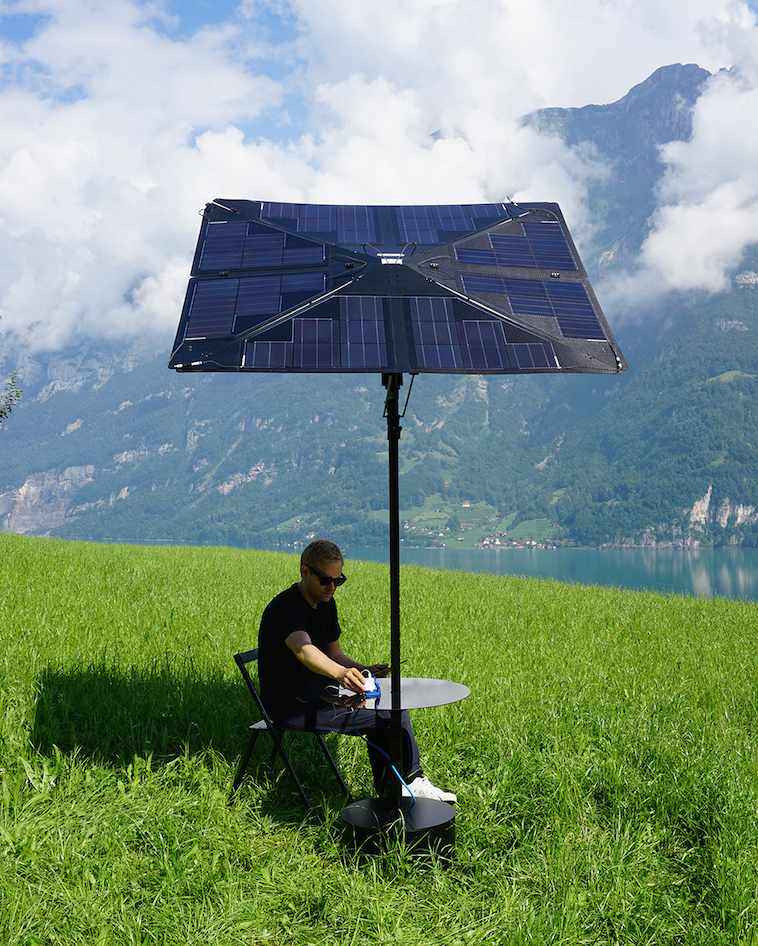 Industrial designer Ville Kokkonen designs light and air but there is nothing fluffy about it. One of the current products is a sunshade for Wallpaper* Handmade.
Industrial designer Ville Kokkonen designs light and air but there is nothing fluffy about it. One of the current products is a sunshade for Wallpaper* Handmade.
Fresh air. The latest technology is being developed in a rugged landscape on the slopes of the Swiss Alps.
High on the mountains, a little bit southward from the centre of Zürich, dwells a Finnish design office that just recently moved there. You can see far from high above, even to the future. Ville Kokkonen's design combines new technology with new materials.
Nanotechnology, biotransformation, intelligent chip, eau de toilette, lighting fixture, air purifier… Kokkonen's design approaches immateriality. It has nothing to do with empty daydreaming, though.
Ville Kokkonen became well known in the design world while working as Design and Product Development Director at Artek from 2005 to 2014. Since then, he has pursued future studies and operated his own design office. In the autumn, Kokkonen starts as Professor of Practise in the Aalto University.
Questioner
Initially Kokkonen considered a career in architecture. He was interested in music, too, but left it after senior high school. "I think I sold my saxophone to buy flight tickets for my first trip to Canada," Kokkonen recalls.
The trip to Canada turned out to be a turning point. Kokkonen went there to meet his friend who was studying at OCAD University and ended up staying to study industrial design. He finished his Master's degree in the former University of Art and Design in Finland in 2002.
Canada taught him to question things. Feedback was critical. "We had to justify our own products by argumentation. It was not enough to design an object that looked nice. I missed this kind if discussion in Finland."
To finalise his Bachelor's degree in Canada, Kokkonen created a solar-powered sectional kettle. "I studied climbing equipment and space technology aesthetics and combined them with parabolics," he explains.
A puritan looking for archetypes
Obviously the most interesting task for anyone with an inventive mind is to design a product that does not yet have an archetype.
Something like this is Kokkonen's second test version of a solar-power-storing sunshade. Parasol was not invented from scratch, however. It is influenced by Japanese umbrellas.
Parasol is an experimental off-the-grid product that can be put up anywhere, made together with composite technology firm Exel Composites to form a nomad-friendly, solar-powered parasol.
Its light-weight carbon fiber structure contains cells that collect and store solar energy. After a couple of hours of charging, the device has enough power for a day or so.
The first version of Parasol sunshade was seen at the Milan furniture fair in spring 2016. Wallpaper* ordered this product to match the travel theme as a part of Wallpaper Handmadeproject.
The idiom of the black-coated Parasol is harsh. Its appearance places it in the hardcore section of design. "I take that as a very positive notion," Kokkonen says, smiling. "A product must have character. It must stand out in a good way."
While designing the kettle, Kokkonen studied the archetype of the device, its purpose, and idiom that would serve the purpose.
There is continuous interest towards the oldest paradigm of objects. "I enjoy studying the product from a theoretical point of view, user's point of view, and product typology. And following the growth of an archetype."
Designer of light and air
Kokkonen's personal clothing style is militantly clean-cut. Every detail has been thought through, streamlined and disciplined.
The same principles also were a part of his breakthrough design, the White Light lamp (2010).
"Artek lighting fixtures from the 1940s and 1950s were based on using light bulbs. The market craved for something new. Old pendants were decorative and offered very little lighting for the space."
Kokkonen explored light colour, light projection, and the object's appearance when the light is not switched on. He came up with an ascetic solution that would not stand against Alvar Aalto designs. The White Light product family includes both models that provide direct light and models that provide indirect light.
The intensity with which Kokkonen delves into product design says a lot about his character. During lighting projects he got interested in optics, fished out his physics books, and went back to school – this time to attend physics lectures at MIT Open University. "I wanted to find the very roots of certain scientific inventions."
New intelligence to a classic
Artek's classic item, the Aalto stool (1933), became part of an internet test of objects when Kokkonen together with UMP Raflatac and Nokia developed a chip package and a code with which to explore the chair's history. "We tested mock-up products at a fair and got plenty of data about the chair using the chip. Sensors revealed how people handled the chair."
One of Kokkonen's most distinctive works is a fragrance called Standard, its bottle and packaging included (2009). Clothing and cosmetics brand Comme des Garçons approached Artek and Kokkonen after a furniture exhibition. "The company wanted a novelty in its selection. We tried to figure out what a space or a piece of furniture would smell like. Liquid, however, reacted too intensely to the material, so we ended up creating a separate eau de toilette."
Design with a purpose
One of the latest projects of Kokkonen is a high-tech greenwall, a combination of technological insight and plants. "The whole development of Naturvention is based on biotransformation. The plants of the greenwall are rooted in clean crush. Air is sucked into a vacuum that works like artificial lungs for the room. Air returns clean."
Currently Kokkonen is interested in raising the value of Finnish forests to a higher level. "Finnish forest industry is sitting on huge potential. Use of nano-cellulose could replace the cotton plantations that harm the environment," Kokkonen envisions.
Innovations are more than idle words when Kokkonen speaks of them. He enters the hard core of an object and rethinks its basic idea. Functionality is the basis of everything, whether a big product or small. Its mechanical construction becomes clear.
"I want to make products that stand out in the mainstream and to introduce a new idea," says Kokkonen taking out his wallet. The product designed for Artek is gray, just as you would expect designed by an ascetic. Its colour is exactly the same as the box of the Standard fragrance. "Gray is a good colour," Kokkonen says.