Weekly Mix: Emilia Hernesniemi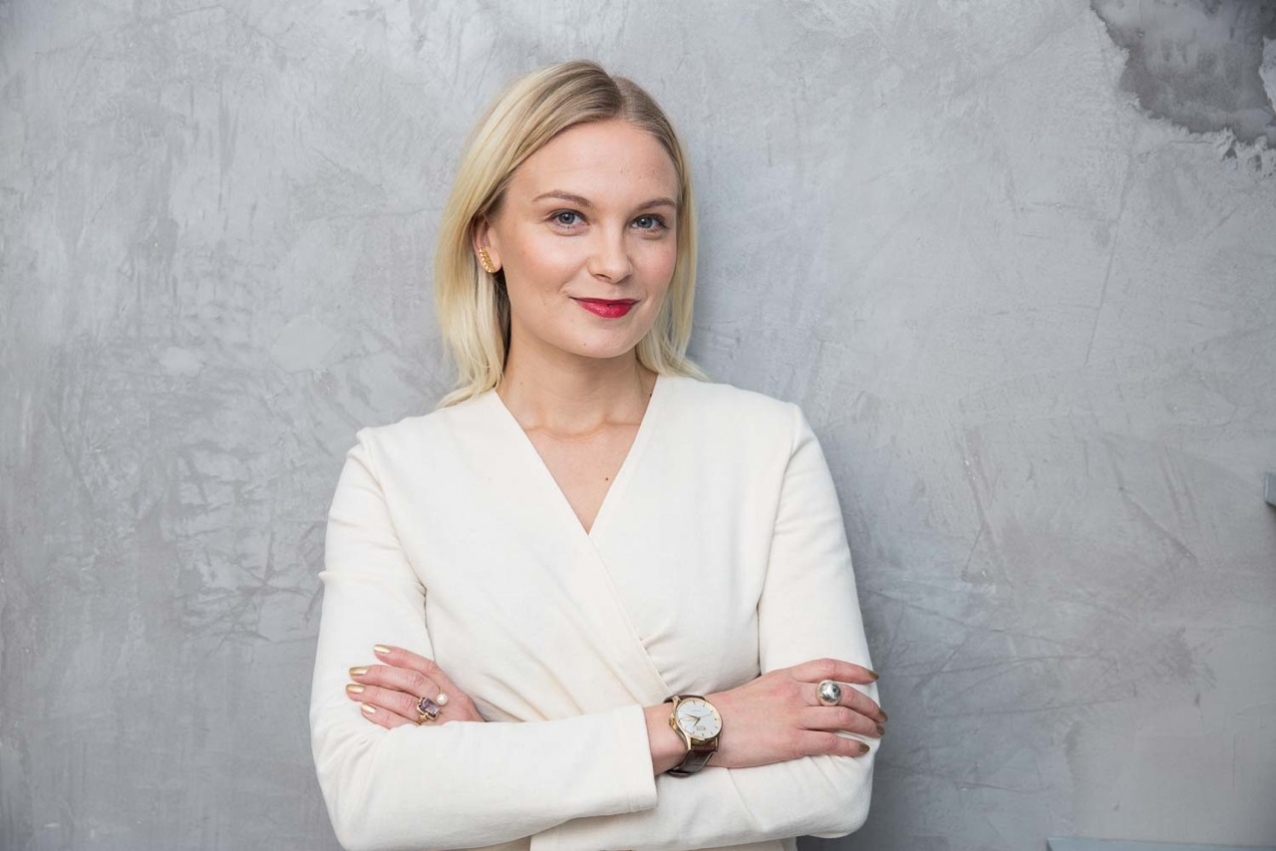 R/H would not exist without the machismo of rap music, says designer Emilia Hernesniemi. She created the Weekly Mix playlist for November and reveals some treasures from her ss17 collection.
R/H would not exist without the machismo of rap music, says designer Emilia Hernesniemi. She created the Weekly Mix playlist for November and reveals some treasures from her ss17 collection.
Hi Emilia, how are you?
I'm so good, thank you. Although it's dark, I don't suffer, because November is the best month of the year!
What is your favourite outfit right now?
This time of the year, I move around in a beanie and the Mickey Square Dress made of merino wool. In addition to R/H, I use cashmere knit dresses from Arela, my all-time favourite. I am so happy to concentrate on everything else except the temperature when I choose my outfit!
What does music mean to you?
More than any other form of art. What makes a home sweet is the opportunity to play music. Sound is the most important decorative element. I am not strict about the quality of sound, but the most important aspect is to be able to play what ever I want when ever I want. Ghettoblaster, a portable record player, or an old tube radio works as an audio system.
The best is to find new and new old music via friends. No physical object feels as good as finding a favourite song. Youth, experiences and friendship crystallize in a wonderful way. Music heals heartbreaks. Mornings and nights find their roles through songs.
What kind of music do you play at R/H studio and store?
Ideally we would only play the favourites of myself and colleague Hanna Riiheläinen at the store. However, we do not control everything, so probably there is always good music playing at the store, whoever is in charge. Ruger Hauer is an important group and a shared favourite of the R/H gang that we merch-collaborated with at the launch of their Mature record. Last Satruday we launched the last products of the R/H x R/H collection designed together with Ruger Hauer in new colours.
How would you describe your Home on Holiday colleciton for next spring?
The ss17 collection represents a woman driven by responsibility and passion. R/H helps women achieve their goals by clothing. Energizing clothes and fabrics can make being a woman so much easier.
What inspired you to create the prints for ss17?
The main theme is holiday in a familiar landscape, and this inspires all the prints of the collection. The Black Bird printed on silk is a tribute to the blackbirds that visit my garden, and the Lip print is a humouristic reminder of pop colours. The Suad print was inspired by our songwriter friend at the beach in the summer. It has been sketched from a bird's eye view so that towels, swimming suits and other colourful elements all mix together happily. Prints can make you feel as good as a good song that plays on the car radio on your way to work.
What is your first memory related to music?
My mother brought me an old tiny violin from a second-hand shop when I was six years old. Since that day I was privileged and obliged to take violin lessons until the end of secondary school. This hobby placed an often non-welcome responsibility over my youth. But it had its perks too, because playing the violin taught me involvement. It was the coolest thing in the world to go to school with the music-room group, to sing in the choir and to play in the orchestra.
What kind of music do you prefer to listen?
On the radio, I always turn to H-hetki in Bassoradio, and before, to D.R.E.A.M. in Radio Helsinki. I can hear Dreams by Fleetwood Mac in my head after dark.
In the morning, especially if I'm faced with a challenge like a sales meeting or going to the bank to negotiate, I listen to defiant songs like "If I Can't" by 50 Cents, "Lift Off" by Jay Z or "How We Do" by The Game. This may sound naïve and may not suit everybody, but I am sure that our fashion concept or commercial growth would not have happened without defiant music, related mental imagery and the machismo of rap music.
What made you designers and then everyone else go crazy about the Mickey ears that R/H is known for?
The Mickey ears are an idea that Hanna sketched for our very first season in 2011. They have lived on because our audience keeps asking for them over and over again. There is something iconic in the pattern. Sometimes we run into Mickey in Brooklyn, New York, sometimes in an ad for a dentist in Oulu, and of course on Instagram worn by the loveliest women. I guess we'll never get used to this. We've done well over 10 seasons, so one of the most fun aspects of designing a collection is to renew a well-known element.
The latest interpretation of Mickey is our sweater collection for kids. Children are an essential part of the lives of many R/H women, so this collection feels like a natural continuum. Next we could do something for men. Last week we launched the very first gold and black Mickey wallets and purses!
What projects are you working on right now?
We just finished the clothing concept for the aw17 collection with Hanna. I am eager to see the samples made and to have the first photo shoot that will help finalize the collection. Aw17 may be called "Love, Leaves, Girls". Girls are our shared responsibility, whether they are 5, 25 or 65 years old.
Who is your style icon?
Right now our superhero is young, lovely and insightful photographer Janita Autio.
How will R/H be in five years?
Relatively happy and irrelatively hungry.
Weekly mix playlist by Emilia Hernesniemi: