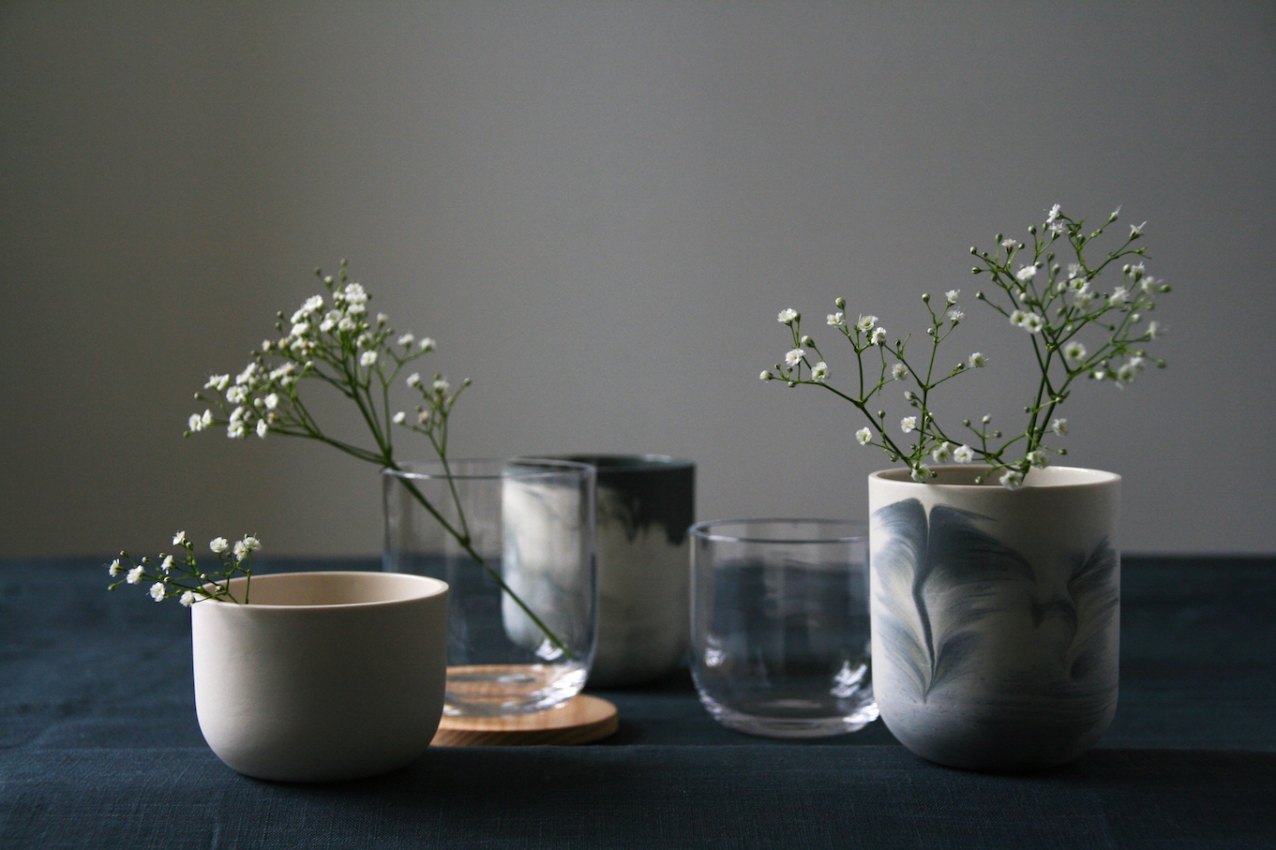 Technological growth and rationalization increase the popularity of pottery. Professional ceramists explain why we urge to get our hands dirty in clay.
Technological growth and rationalization increase the popularity of pottery. Professional ceramists explain why we urge to get our hands dirty in clay.
Not so long ago pottery, felting, and artist's coats belonged to the same slightly diminished category.
"A couple of years ago I felt that clay was too slow as a material in this increasingly speedy world," says artist Laura Pehkonen specialized in ceramics. She felt that she was working with a dinosaur material.
Then something happened. Ceramics invaded the Pinterest posts and interior design magazines side by side with plants and shag rugs.
Ceramist Rut Bryk's exhibition at the Espoo Museum of Modern Art (Emma) was a hit, and a private museum dedicated to ceramics is being built in Fiskars under the leadership of Karin Widnäs. Graceful and colourful cups and sculptures are shelved in every design store, and pottery courses are in great demand.
Pehkonen has noticed the trend.
"I believe that people love to manipulate a material that differs from the ways of the modern world. After becoming more appreciated, I no longer feel like I'm out of place but instead I have a place in the world."
Designer of utensils and ceramic rugs Marianne Huotari agrees.
"We are experiencing two adverse breakthroughs. Many things are automated, 3D printers become more common and technology is part of our daily lives. At the same time, the feel and control of material and making by hand become equally important. These trends feed off each other."
Control and coincidence
The charm of ceramics is in the slowness of the process.
"It may take me a month to finish one piece of work. That is lovely yet a terrible drag. You can only learn this craft by doing; there is no shortcut," Pehkonen says.
For a long time, she produced small ceramic objects but is now focusing on larger sculptures. Pehkonen does not make utensils and keeps testing new techniques.
"After I've produced something beautiful and put it in the kiln, it may come out in a completely different colour. Sometimes finer than I ever expected, sometimes much uglier."
What is so lovely about ceramics that it keeps you interested in the material through the most desperate moments?
"You are in control of the material yet on the verge of losing control – anything can go wrong at any point. It's very educational," Pehkonen says.
Ceramist Eva Spoof, who runs the Udumbara workshop in Kallio, shares this view. She nearly quit her business during the quiet years.
Spoof uses Finnish red clay to make flower pots and teaware. She calls it "wild clay" as opposed to more commonly used industrial clay.
Clay is dug in the village of Kultala in Somero and enriched with some sand.
"It is part of the Finnish soil and has a special feel. It is earthy and connected to the ground."
Udumbara makes flower pots for brands like the Samuji Home Collection and crockery for tea ceremonies.
"Finnish clay contains plenty of minerals that can improve tea's flavour," Spoof explains.
Hands in clay
My fingers itch to dive into this material! So do the fingers of many others.
Having organized pottery courses at the Helsinki Cable Factory for more than 25 years, Septaria has noticed the growth in their popularity.
"Making by hand is a therapeutic moment. Clay, by nature, is a material that creates a space for concentration. While our lives become more and more hectic, we crave for stagnation. This may be one of the reasons," says ceramist Riitu Uosukainen who works at Septaria.
A typical customer is a more or less burnt out middle aged woman yearning for a peaceful moment.
"People are particularly grateful for being able to create something that they can really see with their own eyes," says Uosukainen, referring to the modern computerized ways of working.
Spending time with clay teaches us to accept failure and show mercy to ourselves. Sounds like a great idea for 2017.
Laura Pehkonen's ceramic exhibition "Illusions". Herbaario Galleria, Vanha Kappalaisentalo, Porvoo from 2 to 23 December 2016
Marianne Huotari and Udumbara Yhes joint exhibition, Galleria Lokal, from 20 November 2016 to 8 January 2017