Weekly Abroad: Kirsi Enkovaara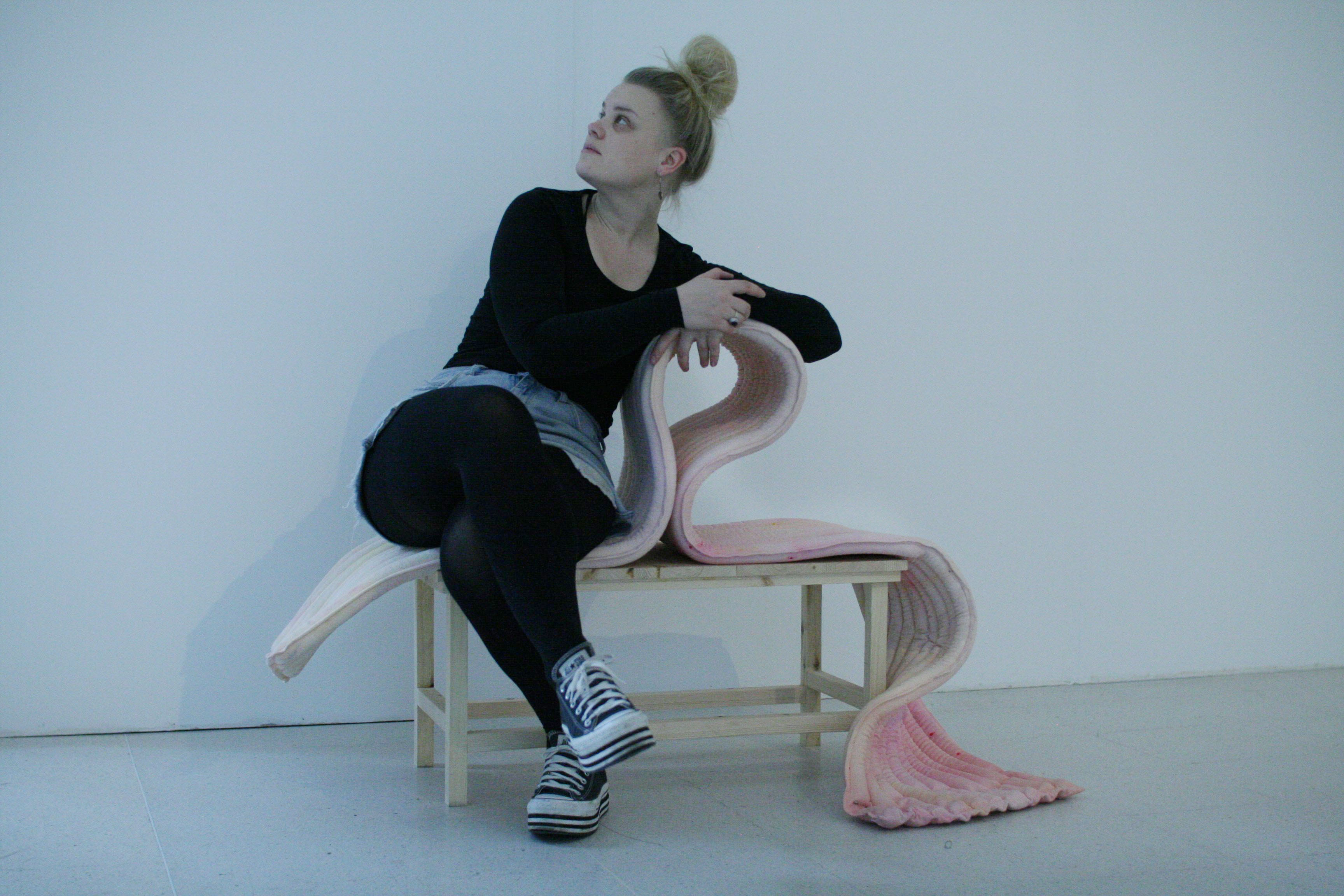 Weekly Abroad meets Finnish designers building their career around the world. This week we spoke to Kirsi Enkovaara, whose journey as a designer started in Lahti and continued to Bangkok via London. Currently working for Jim Thompson, she continues studying ever-inspiring natural forms and systems. 
"The human body is not a thing or substance, given, but a continuous creation. The human body is an energy system which is never a complete structure; never static…."
Such a sentiment, written in the late 60s by American classicist Norman Brown is one which neatly encapsulates many of the current concerns of designer Kirsi Enkovaara: how humans engage with space and objects to continuously create and recreate their environments.
After graduating from a furniture design degree at Lahti in 2012, Enkovaara returned to the more artistic roots of her youth with an MA in Design Products at the famously experimental Royal College of Art in London.
"In Lahti, I was among the worst at constructing chairs or technical drawings which occasionally made me feel awful, as these skills are important parts of Finnish design," Enkovaara says. "But when I came to the RCA, I realised what an amazing technical education I had at Lahti, because I was suddenly the most skilled maker and people were always asking me in the workshop how to do joinery or for technical advice."
At the RCA, Enkovaara initially developed her interest in natural forms and systems, particularly through the creation of objects which make visible the invisible effects of water or gravity. Her Landscape of Gravity vases, for example, utilise a technique combining water with oil-based ink to print a pattern on stainless steel objects, a pattern which is essentially a direct trace of the movement of water on the object's surface.
The Body Electric
Enkovaara's focus later shifted to a more direct concern with the human body in spatial environments as part of a broader interest in how people relate to their surroundings. Projects such as The Language of Movement attempt to visualise the physical language between objects and people while her I Am Mirror Collection interrogates questions of body image and intimate, personal relationships between the body and an object through mirrors that distort reflections.
"I want to question the way we do things, as well as the way we relate to objects. So, I'm thinking about things that may seem obvious, like, 'How do we want to sit?' 'Why do chairs look the way they do?' 'How do our bodies relate to chairs?'" says Enkovaara.
"Although many of these questions are similar to those asked in the Finnish design tradition, their aim is functionalism. I'm more interested in emotional connections. Most of the things I make in my studio practice I consider to be artistic statements."
The Body seat, Enkovaara's RCA graduation project is perhaps her most successfully-realised examination of the norms describing relationships between human bodies and domestic objects to-date. Defying all conventional characteristics of a chair, the object comprises a single six-metre-long piece of fabric filled with rice. The character of the rice, combined with the form of the fabric, means that the seat can bend into an almost endless combination of configurations. Of course, the chair cannot move itself. It requires an active body to move, adjust and use.
Another recent project, Sailing Stones, tackles the intriguing idea of individualism within public space. Originally developed for One Design Week in Bulgaria and a brief to explore the city of Plovdiv, Enkovaara talks of being struck by the way in which the residents softened the sharp corners of the city's many concrete borders with cushions. Drawing inspiration from their make-shift conveniences, Enkovaara created a series of concrete 'cushions' to comment on the space between the body and its environment.
"A lot of my work is a reflection on traces and fleeting moments and thinking about how we can freeze these moments," says Enkovaara. "In essence, I want people to be present in the moment and their surroundings."
Between the Big Smoke and Bangkok
After graduating from the RCA in 2014, Enkovaara established her studio in London where she continues her creative investigations on human interaction with space. A recent event at Somerset House, for example, saw Enkovaara curate an evening underpinned by Eloise Hawser's study of the emotional resonances within the infrastructures that underpin modern life.
In addition, since April 2017 Enkovaara has been predominately based in Bangkok. Having been appointed Senior Home Product Designer of Jim Thompson, a Thai silk company founded in 1948, Enkovaara has been tasked with helping to launch a new series of homeware products as the company seeks to expand its offering. Drawing on the country's longstanding crafts heritage, Enkovaara has been collaborating with craft communities to develop small-scale productions. The first pieces in the new collection are set to launch later this year.
Where traditional craft has a long and respected history in Thailand, Enkovaara remarks that it is an exciting time to be based in Bangkok as design begins to emerge as a discipline. "It has been amazing to have a completely different cultural perspective on craft and design, to work for an Asian company which has a similar pride in local manufacturing as has emerged in Europe. We're as proud to say 'made in Thailand' as the Finns are to say 'made in Finland."