Weekly Studio: Aoi Yoshizawa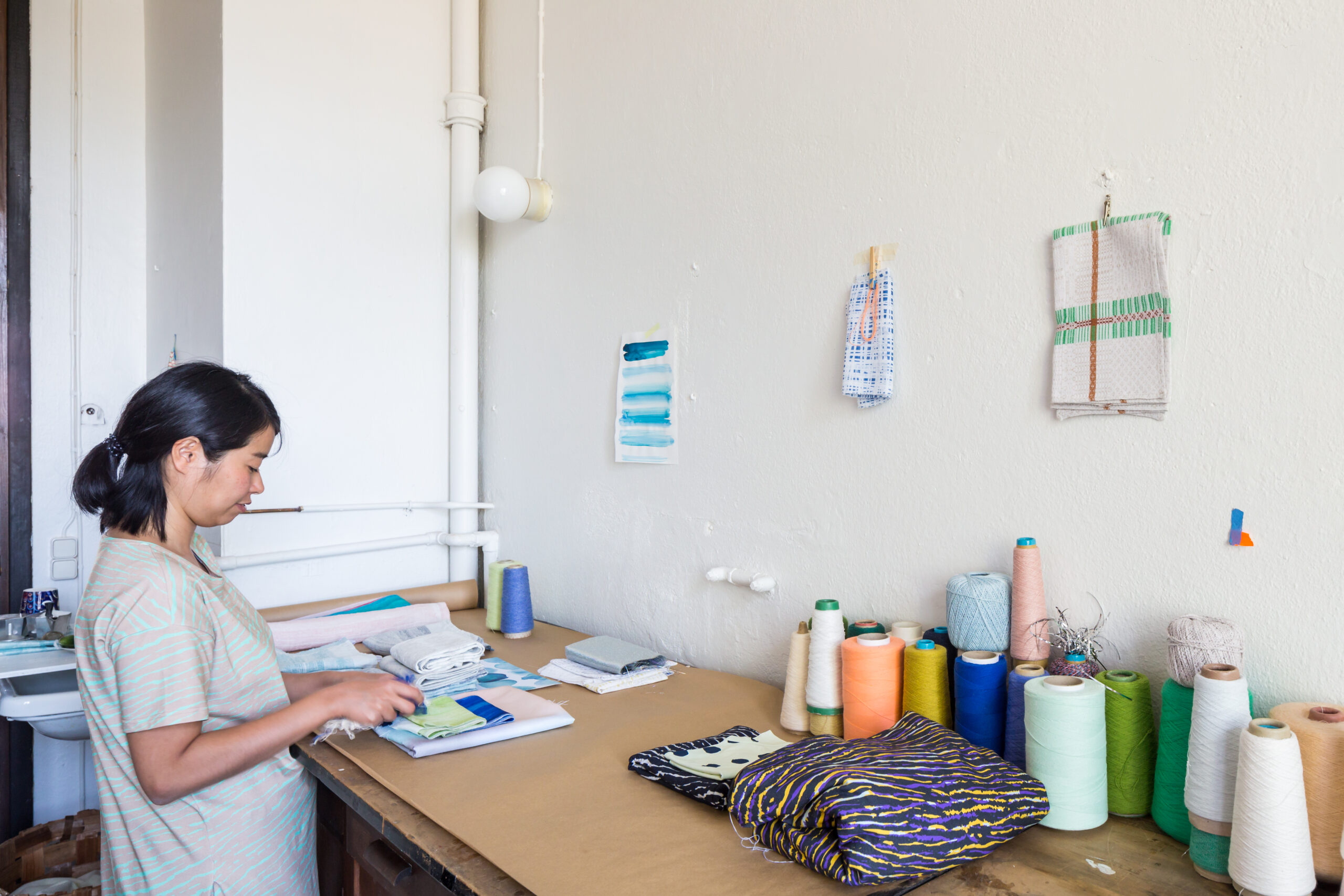 The Weekly Studio series visits the workplaces of interesting people. This week we take the ferry to Harakka Island in Helsinki, to meet designer Aoi Yoshizawa.
Let's talk about your studio! How lucky to work in a beautiful old building on Harakka Island. How did you end up with a studio here?
I only got the studio in January and it's always a bit more difficult to motivate yourself to come in the winter, but now there is a ferry over every day and I'm trying to settle down and make it nice.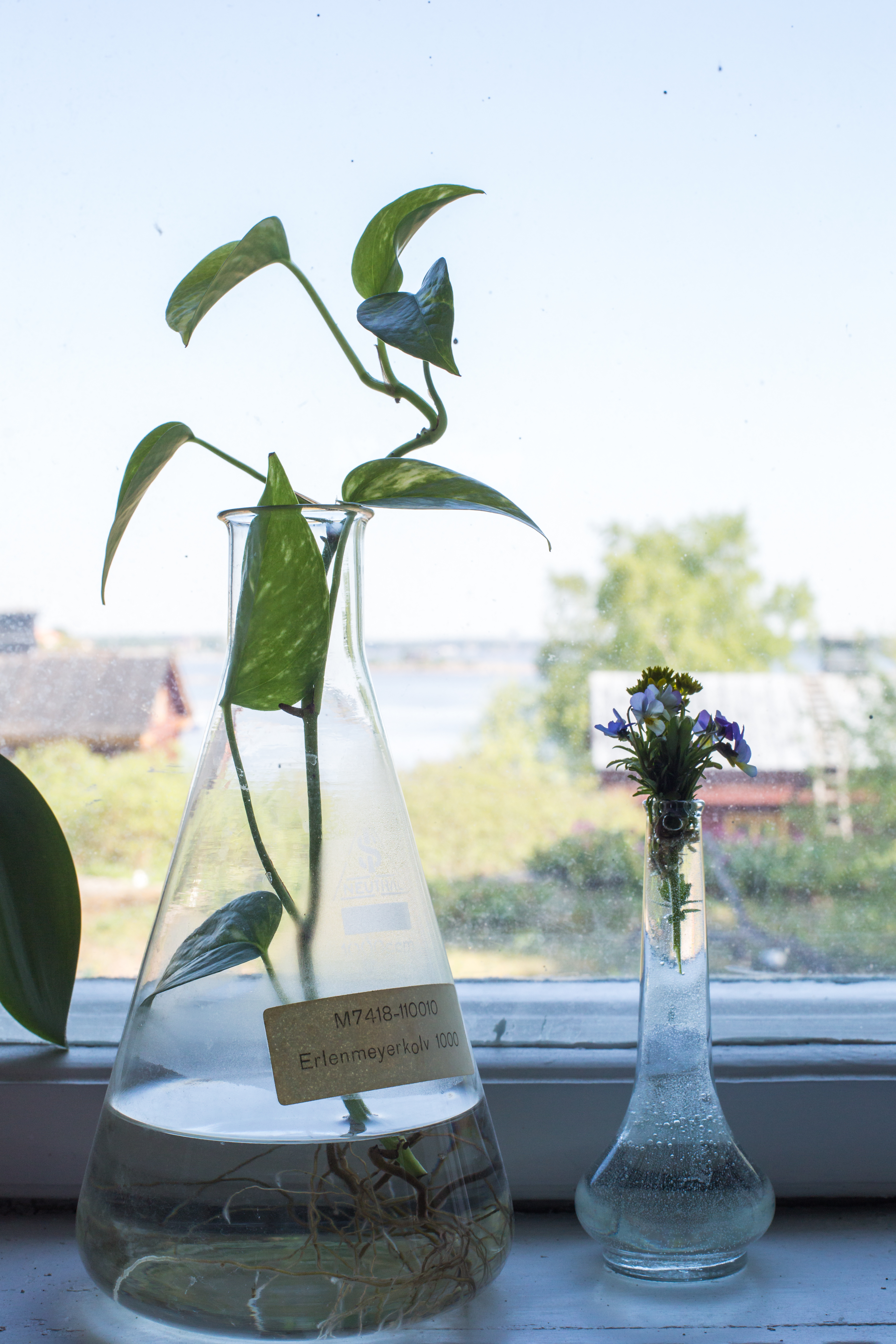 Where did you hear about it?
In 2012, when I was student at Aalto, I had an internship for two months in the summer where I was assisting the textile artist, Virpi Vesanen-Laukkanen. She has the studio upstairs and now I am here downstairs. She has interns every year, but she is very good at connecting people and bringing them together. That summer holds such strong memories for me, because I really loved life on this island.
You were born in Japan but later moved to Norway to do a Bachelor's Degree and then an MA in textiles at Aalto. Could you talk a little bit about that?
I originally studied sociology in Japan and during my studies, I went to Sweden as an exchange student. After the exchange, I went back to Tokyo and finished my BA but I knew I wanted to go back to Sweden because I enjoyed living there. So, I decided to study art back in Sweden, but at a very basic level.
Did you go to Stockholm?
No, to the countryside near Uppsala at a Folk High School, a kind of preparatory school for higher education. Most of the people there had either just graduated from high school or were older people who had already studied something else.
And why did you turn towards art and away from sociology?
I think even when I was studying it, I knew that it wasn't really what I wanted to do, but I decided to graduate because it is useful to have a degree, but also because there is a lot of social pressure in Japan.
I liked certain things about sociology, but I couldn't handle having to write essays every day. It was too much stress. And I have always enjoyed making things, so I thought that perhaps it would be an interesting direction.
Finally, I was also a bit tired of life in Tokyo. It's very energetic. There are too many layers somehow.
But I imagine it is quite a contrast from Tokyo to the Swedish countryside?
It is extremely different, but I liked that. I had never lived anywhere rural before, but my mother is from the countryside and there's something in me which also appreciates that kind of environment.
The year I lived in the Swedish countryside, there was the school itself and the student house and nothing else. Everyone was Swedish, or at least Scandinavian, except me. I just had to learn Swedish. I many ways, it was one of the best years of my life. It was very intense, but very rewarding.
Then did you go to Norway?
No, I went to Stockholm first, to art school. It was there I started studying textiles and learning weaving.
And when you started weaving and learning about textile design, did it feel like a good fit?
Very much so. I already knew how to use a sewing machine and do knitting and embroidery. Weaving was a new technique to me, but instantly felt like a good fit. I also became interested in printing.
In your view, what are the differences between designing textiles and surface prints?
For me, textiles are making and designing structure using layers of colour. In weaving, you always need the same component parts. For example, you can express something different depending on which kind of bindings you use. You can also mix colours in weaving in interesting ways. You have the warp, which is the part fixed on the loom, and the weft, which you throw horizontally. You can use different colours for these or you can change yarns. It's very technical, you need so much experience and I'm still learning. I like it because it has many layers of complexity.
Print and surface design is also technical but less so. You still need to think about which material to use – cotton or velvet or linen or whatever – but otherwise the considerations are different. At the moment, I'm working a lot with pattern design. Not only for textiles, but wallpaper or carpets or packaging. From my perspective, surface design is design which covers any type of surface. There are also questions of scale and colour and how to repeat the pattern.
And does it make sense to you to do both together?
It makes sense together somehow. In surface design, you are making a pattern texture. When you weave or knit, you also make patterns as textures, but the mindset is quite different.
After that year in Stockholm you then moved on to study in Norway. Were your studies in Bergen interesting?
Very much so. It was a very conceptual programme. We always had to write conceptual texts explaining what the project was about and we couldn't start until a teacher had signed it off. I think that's a great method and I continue to use a similar process when designing today.
But you felt you wanted to continue your education after the BFA in Bergen?
In 2010, I think I was in my last year there that I started to think about how to make something functional with textiles. Mostly we made pieces for exhibiting. Someone recommended Helsinki to me, specifically Aalto, as a school which was a good mixture of craft and art and design, so I went there for six months as an exchange student.
I enjoyed it because it was a different environment from my school in Norway. It was a very well-equipped studio and the technical master was there every day to assist and answer questions. I was also impressed by how international Aalto was and how convenient everything was in Helsinki. I really liked the size. Bergen was perhaps a little bit too small and the surrounding mountains made me feel somehow isolated.
What made you decide to stay on and continue to live in Helsinki following your degree?
People in Helsinki ask me this all the time, but it was a very natural decision. I didn't have a plan when I first moved all those years ago. I just told myself, for this one year I will go live and study in Sweden. Each time I need to decide, someone mentions something or suggests a place and I just go there. In the same way I end up in Helsinki.
I thought I should stay here partly because I studied here. I had no reason to go back to Japan. I don't know anyone in the field there. I have more contacts here and elsewhere in the Nordic countries. But I also made many good friends in Helsinki through my studies.
And somehow, I have survived three and a half years. Initially, I had to travel a lot to Sweden for work, so I was a bit absent from Helsinki. But then I felt I should really get serious about staying here and contacting companies and settling down.
Your designs are very abstract, but are you still interested in a more conceptual framework?
In designing, when I paint and edit repeats, I am constantly searching for an association, whether it's a memory or a story I heard. I try to make sense of the patterns through narrative. Surface design is all about the visual qualities, but I also search for some feeling I have experienced and then I connect the two. I do this quite naturally, almost without thinking.
Do you still have a strong interest in fine art textiles?
I want to do both and I am currently searching for a way to come to a good balance. Now I am in this studio with other artists and I'm thinking about new projects which are more artistic in their approach. But I think there is always a way to combine design and making art projects. I see both aspects in myself, but it can sometimes be difficult to do the latter as people don't often value textiles as fine art pieces.
That's interesting, especially as Finland has quite a strong attachment to craft so you think they would appreciate it as art too.
I think that people here have grown up around textile crafts, maybe even they had a mother or grandmother who did weaving. But I don't know whether they want to buy more expensive craft objects as art. It seems also that perhaps even those old craft skills are disappearing, but I'm not from here and sometimes it's difficult to tell.
In Japan, craft is something a bit different. It's the idea of a master craftsman, someone with appreciated skill who makes objects that people buy even though they are expensive. But here in Finland, I think many more people have access to equipment and tools to make things if they want to. Perhaps this is why they don't really want to pay money for fine art craft. But there are some good galleries in Helsinki making an effort to promote handmade objects and I hope this will rekindle greater appreciation.
You must have noticed by now that Finns often observe that there are many similarities between Japanese and Finnish culture? What are your feelings on this?
Everybody asks me about this as well. It's a mystery for me because even though I have lived here for seven years, I don't really know. I think it is something deep, almost fundamental, in the character of the people. To take one example of a similarity I notice, in Japan we also have public baths, similar to the saunas here. Yes, we are a shy people and the baths are separated into women and men, but in the bath we just get naked and wash our bodies and get on with it.
I heard another designer say that there's also a similarity in terms of the way both places think about the distance between humans and nature. That made me think about how, in Japan, we have a great appreciation for nature, but the distance is different. In Tokyo, nature is much further away than here in Helsinki where it is all around you. There's also the shared sense of understanding and appreciation for the seasons. Finland has very extreme seasonal changes. Japan, less so, but we appreciate and mark the changes between the seasons.
You've worked with quite a few big Nordic companies – Lapuan Kankurit and Svensson and VIMMA – who would you love to work with and on what kind of commission?
Well I have a lot of dreams…
I would love to design more woven textiles as weaving is one of my passions. I have worked a lot with patterns, but I am really interested in weaving right now. It would be nice to design a rug or carpet and focus on structures and colours. I still weave using community looms, but it's difficult to make the samples to take to companies. I'm thinking of getting my own second-hand loom but we'll see…
What are you working on at the moment?
I designed some prints for curtains and patterns for woven upholstery in collaboration with an in-house designer for Svensson. And I've also recently made some patterns for VIMMA which has been a lovely collaboration because I haven't made so many prints for fashion. I have also worked with Lapuan Kankurit for some time, they mainly use my patterns for woven towels.
Now, I am working on an exhibition for Fiskars Summer House. I am doing the interior design for the Lapuan Kankurit space which is a sauna dressing room and relaxing room. Each designer had to select one artist as inspiration and I chose Rut Bryk because I really like her abstract wall pieces. They are just amazing. Somehow, I strongly connect those pieces with textiles. I see the textures and think she has an amazing appreciation for detail which is also a good fit for Lapuan Kankurit as they also appreciate detail and structure.
Anything else coming up?
I'm going to Åland for a one-month residency in September. I won't have time to make a large piece, but I want to investigate the surrounding landscape and try to translate the visual aspect of the landscape into weaving or textile. Maybe I'll try to make a sample there and then weave the final pieces later by machine.
I also have an exhibition in Tokyo in July which I need to prepare for as well.
This idea of translating natural landscapes into abstract textiles seems very fruitful.
I think so, too. Textiles already abstract everything, in a very natural way, so there's a natural connection. For Habitare, I made two woven pieces inspired by the way the sunrise reflects on the sea and the composition of islands in the sea. They worked very well. And Finnish people really understood what I was trying to do because they are surrounded every day by these same compositions and colours.