Design makes your head spin – this Design Districts list will guide you through the festival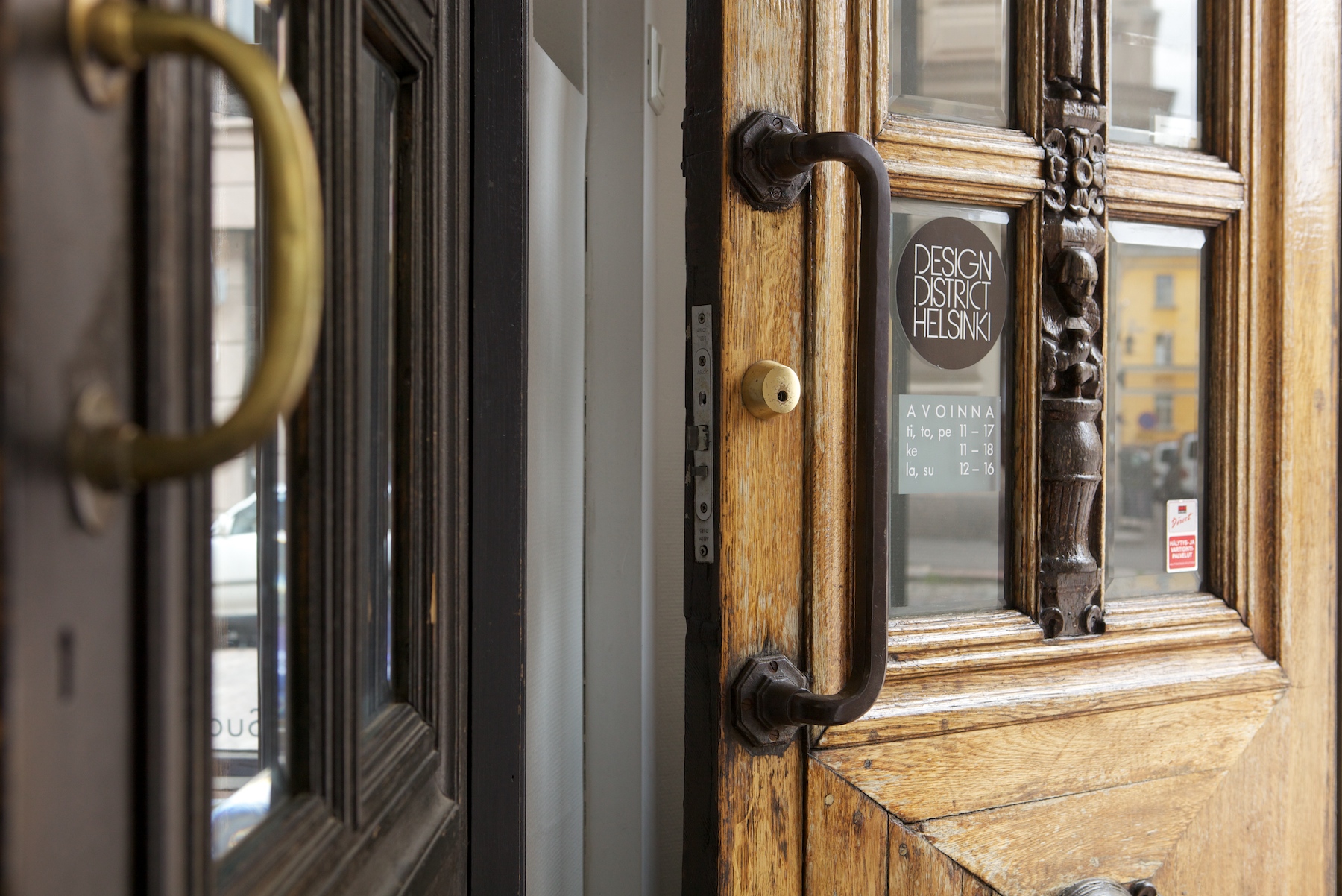 Do you have trouble choosing from the wide selection of the Design Week´s program? No problem! We have gathered a list of the events held at the Design District Helsinki during the Helsinki Design Week festivities.
Take your pick of the gallery openings, pop up exhibitions, design and fashion sales – everything a design-lover might need. We update the events on this page, so keep your eyes open. Design District Helsinki is an area, creative hub and a state of mind. We are a non-profit organization that gathers together creative entrepreneurs like designers, fashion designers and labels, galleries, museums, design hotels and restaurants. Check out news of the District from www.designdistrict.fi You can find our free Design-map at all our vendors, hotels and from the Helsinki Info at the central railway station.
POP UP STORES
Paloni Pop Up
Paloni Pop Up is open until the end of September at Eteläesplanadi 4
Paloni presents an impressive array of Finnish fashion and design from 50 designers, all made in Finland. The pop up shop is open for August-September 2018 in Helsinki city center, right by the Esplanadi park and Market Square. For September, we share the shop & fun with BELIEVE by Tuula Rossi jacket collection.
Christine Valtonen ja Henna Lampinen @Liike Temporary Showroom
7.9. kello 17.00 – 8.9. kello 16.00
Liike's offerings are carefully curated from new movements in style and the modern flow of fashion. Each designer selected has a unique vision that adds to the collective atmosphere. During Helsinki Design Week, Liike will present young fashion designers graduating from Aalto University. This year we will present the BA collections of Christine Valtonen and Henna Lampinen.
Opening festivities on Friday 7th Seb at 17-21 with DJ Milla Lintilä
Marimekko x WST Second Hand Pop-Up Shop
Come and discover selected pre-owned Marimekko pieces right in the heart of Helsinki! During Helsinki Design Week WST's second hand Marimekko collection is exclusively available at the Marimekko Forum store, where you can discover items from previous and recent collections, and get inspired by unique vintage treasures. New items will be added to the collection every day.
POP UP EXHIBITIONS
Paja&Bureau SIDE SHOW
6.-16.9.
Paja&Bureau will host the annual SIDE SHOW group exhibition featuring an eclectic collection of design-inspired pieces from the most interesting names in Finnish contemporary design. The exhibition is inspired by the annual Fuorisalone events during Milan Design Week and will include a unprejudiced collection of unique pieces from the cross section between art and design which you can't see anywhere else.
Furniture exhibition at Casuarina
6.-15.9.
Antti Tuomi and Sakari Hartikainen display their latest works at Casuarina Showroom during Helsinki Design
Week. The designers met earlier this year at Salone del Mobile in Milan, where each participated with their
own exhibitions. Thanks to Casuarina's invitation, Tuomi and Hartikainen now create their first joint
furniture exhibition.
Artek x Forbo Linoleum x Aalto University
Exhibition at Artek Helsinki Store 6.9.–29.9.2018
Opening  Syys 11, Ti 17:30-19:30
Artek and Forbo Linoleum celebrate over eight decades of close industrial partnership by inviting Aalto
University Master's Degree Programme in Furniture Design students to experiment with wood and
linoleum. Under the theme of Hospitality, the future designers have been challenged to create products
that express what hospitality and hosting is all about: trust, generosity and goodwill.
EMOVEO at Design Museum´s backyard
6.9. – 16.9.
EMOVEO is an art and design exhibition by 11 designers who are Aalto University MA students, with 10
different nationalities. During Helsinki Design Week, the museum yard of the Museum of Finnish
Architecture and the Design Museum will host an exhibition about movements in contemporary design
from young makers' points of view.
LOKAL+ and the Young Designer of the Year
6.9. – 16.9.
The Young Designer of the Year 2018 is Master Cabinetmaker Antrei Hartikainen. Design Forum Finland's
Young Designer of the Year is given to a person who exhibits new, creative concepts and skills in design. The
purpose of the prize is to encourage young designers to carry out uncompromising and original work in
design.
Print and Pattern Exhibition at R/H´s Market
6.9. – 15.9, Market, Pohjoisesplanadi
As a part of Helsinki Design Week, R/H showcases a Print and Pattern Exhibition of the most popular and
meaningful prints from the previous seasons. Creative Director of R/H, Emilia Hernesniemi, is the creator of
all R/H prints. Utilizing different techniques Emilia has managed to bring to life captivating prints with
interesting and personalized stories behind them.
Graduation work exhibition & Comfort Jewellery
5.9-16.9
The final piece which is created alongside the thesis "Comfort Jewellery" is going to be exhibited at a
beautiful store of Arela in the heart of Helsinki. My graduation work which you are going to see are made
by upcycled materials and designed to comfort its viewer and wearer.
Elina Maalismaa´s work exhibited at the Artisaani store
6.-15.9.
Artisaani presents small-scale paper sculptures, watercolour paintings and acrylic paintings on veneer by
Elina Maalismaa. Some of the sculptures utilize recycled materials. Elina Maalismaa is a designer and artist
from Rovaniemi best remembered for her lace-like veneer work.
EXHIBITIONS
Dialog at the Design Museum – Milla Vaahtera 
7.9. – 28.10
Dialogue is an exhibition consisting of mobiles and stabiles made of free-blown glass and hand-worked
brass. The ethereal pieces are a revival of the mobile tradition that emerged in the 1930s. The heavy glass
parts and the delicate brass seek a balance with each other, thus creating tensions within the works.
Lokal: Bloom exhibition
23.8.-30.9.2018
BLOOM is Lokal's biannual youth exhibition, featuring the works of artists and designers under the age of
30. As the fifth exhibition of it's kind, Bloom has become an established portal for young blossoming
creatives to showcase their pieces in a curated context.
Finnish Architecture. Review 2018
6. – 16.9. Museum of Finnish Architecture
Arranged in collaboration with the Museum of Finnish Architecture, the Finnish Association of Architects
and the Alvar Aalto Foundation, Finnish Architecture 2018 is an in-depth biennial review of the most recent
Finnish architectural trends, demanding restoration projects and interesting new housing designs, selected
by an international jury..
LUENNOT JA KESKUSTELUT
Design and Hygge at Designmuseum
7.9. kello 19 – 21
How are design and hygge linked together? What does hygge mean in the city environment? How can
hygge improve our life quality, and how does hygge relate to happiness?
These questions will be answered in a panel discussion with experts from both Denmark and Finland at the
Design Museum in Helsinki, in "hyggelige" surroundings. Speakers include Director Anne-Louise Sommer
from Design Museum Denmark, a designer from Bo Concept and various experts in hygge and in
kalsarikännit. The discussion is moderated by Sami Sykkö.
Design Forum Talk & Circular Economy
13.9. kello 9 – 16, Allas Sea Pool
Design Forum Talk <3 Circular Economy Day focuses on the circular economy, its business models and
circular design. At the event, there will be expert talks about sustainable growth and circular business
models as well as case examples from companies that are already using design as a strategic tool for
circular businesses.
Design Tivoli Out of the Dark -myymälässä
Design Tivoli on hauska tapahtuma tivoli teemalla designin ystäville ja alan ammattilaisille. Tapahtuman
teeman inspiraationa toimii Normann Copenhagenin lanseeraama Tivoli mallisto, joka lanseerataan nyt
Suomen markkinoille. Vestiarium lanseeraa tapahtumassa uuden vaatemallistonsa. Isäntinä toimivat OUT
OF THE DARK ja Woodio.
FOR CHILDREN AND FAMILIES
Design Museum´s #Olerohkea -workshop for families
15.9. at 10-16 ja 16.9. 10-16Kattilahalli, Suvilahti, Sörnäisten rantatie 22, Helsinki
Designmuseon ja Ornamon Muotoilun Skidiakatemiassa lapset tutustuvat muotoiluun ja ratkaisevat erilaisia
suunnitteluhaasteita yhdessä muotoilun alan ammattilaisten kanssa. Työskentelyssä käytetään apuna
muotoiluprosessia ja työkaluja, joihin kuuluvat uteliaisuus, empatia, ideointi, luonnostelu, prototyyppi ja
testaus. Työskentelyn teema #olerohkea perustuu muotoilija Natalia Ritarin kokemuksiin Muotoilun
Skidiakatemian toiminnasta koululaisten parissa.
Myssy X TRE – Crafts with the Grannies
10.9. 17-19 ja 15.9. 10-14, World Of TRE, Mikonkatu 6
On Monday the 10th Myssyfarmi & TRE will host a knitting circle together with the Myssy Grannies. Sign up
for the evening and knit a Myssy hat of your own. If you know the very basics of knitting, this is a mission
that is very much achievable! The grannies will guide you through the art of knitting and help you out, if
finishing the hat is too complicated. Knitting is super relaxing! A perfect start for the busy week.
On Saturday the 15th Myssyfarmi & TRE will host a crafts workshop open to families. Come in and make a
pompom of your own!
NEW LAUNCHES
Johanna Gullichsen ja Kioton värit
Syys 11, Ti 10:00-18:00
Syys 15, La 11:00-18:00
Johanna Gullichsen exhibits for the first time in Finland her new concept collection created together with
several Japanese manufacturers. From traditional techniques to modern surface materials for public
spaces, the collection showcases cooperation, communication and pattern adaptation into a different
cultural environment.
Cabinet of Design Curiosities at Poiat Showroom
13.9. kello 18-21 ja 15.9. kello 10-18
Cabinets of curiosities, also known as 'Cabinets of Wonder', were small collections of peculiar objects which
exhibited the wonders, oddities and as well as the beauty of the natural world. Poiat will attempt to
recreate this artefact with contemporary design. The objects to be presented are the new cabinet
collection of Poiat, which is designed by Antrei Hartikainen, and the new glass collection of Katriina
Nuutinen, which will be launched at the Helsinki Design Week 2018.
OTHER FUN
Rakkautta & Anarkiaa x Helsinki Design Week
13.9. klo 18:00 – Samuji House
Thursday, September 13 at 6pm – Samuji House
A Night at Samuji: Fashion on the Screen
Discussions about fashion and movies, and foshion in movies and documentaries + bubbly
Ivana Helsinki Studion Gallery Sale Marjaniemessä
6.-7.9. klo 11-19
Ivana Helsingin uusi Marjaniemen talo avaa ensi kertaa ovensa Gallery Salen puitteissa! Studio Salen
kaltaisessa kaksipäiväisessä myyntitapahtumassa kaikki tuotteet erikoishinnoin. Tervetuloa!
Katri Niskanen / Helsinki Design Week
6.9.-15.9. Bulevardi 15
A white creation by fashion designer Katri Niskanen will fascinate you in a display window on Bulevardi
during Helsinki Design Week. You are welcome to colour, draw or write on it! Let's make it even more
interesting and especially more colourful – together. Helsinki Design Week, the creation will be
photographed by a professional photographer and pictures will be sent to all interested participants.
TRE Salon Open House
7.9. kello 16 – 18, Aleksanterinkatu 44
World of TRE's intimate by appointment only showroom and shop, TRE Salon, is located at
Väinämöisenlinna at Aleksanterinkatu. Väinämöisenlinna is one of the most well-known Jugend buildings in
Helsinki and offers an exquisite experience together with Finland's most interesting design and unique
experiences curated by World of TRE. The collection is aimed at tourists who are interested in luxury
experiences and products, modern art, and Finnish food.
Anki celebrates Nordic heritage of design and handcraft. Due to this, they want to highlight natural
materials and Nordic design. That is why they will have -20% of a selection of rugs in the Anki Shop &
Showroom during the Helsinki Design Week.