Weekly Abroad: Tuomas Markunpoika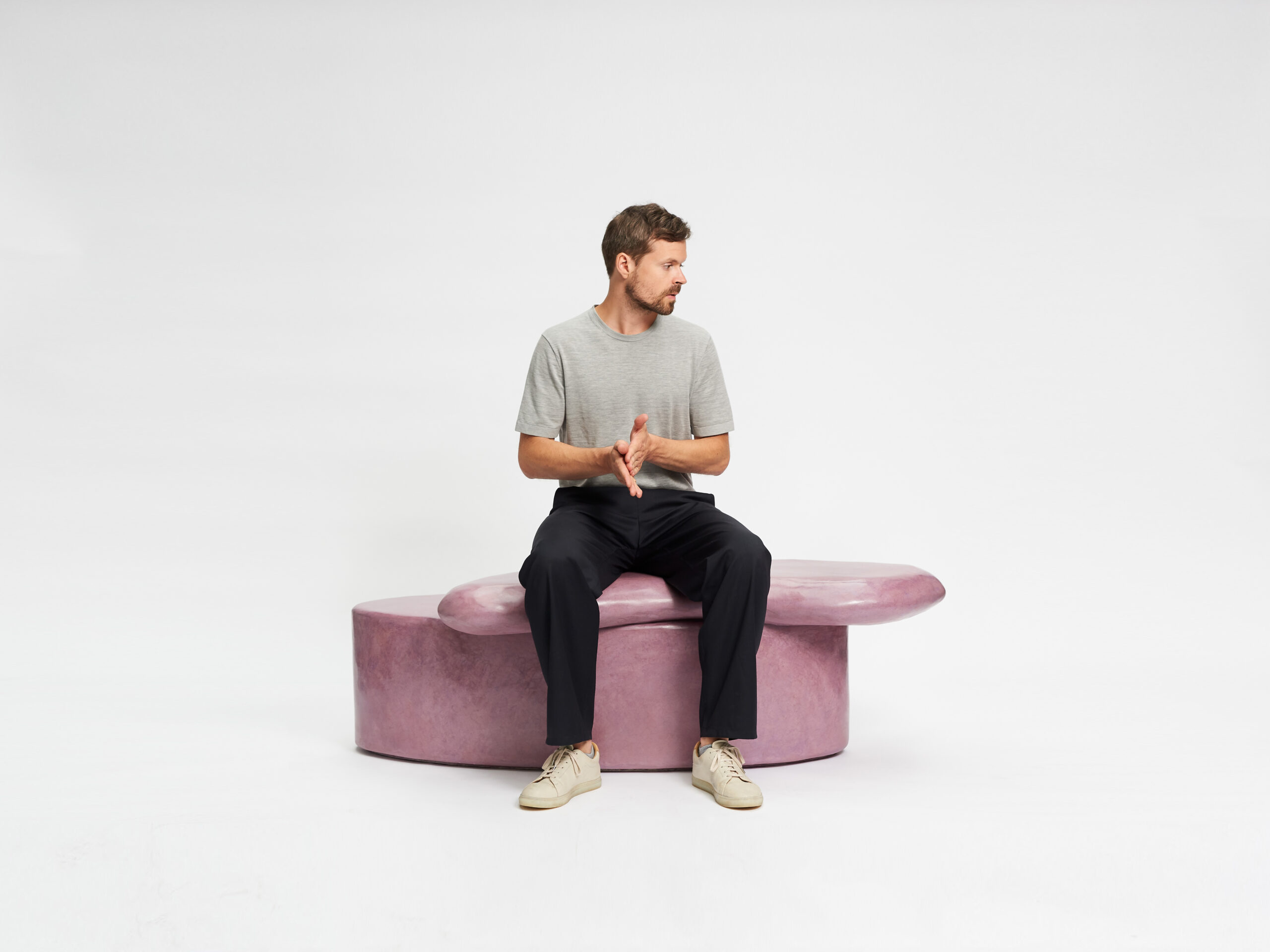 Weekly Abroad meets Finnish designers building their career around the world. Tuomas Markunpoika straddles the intriguing, fruitful intersection where furniture design and art meet. The Amsterdam-based Finnish designer is motivated by memory, emotion, materiality; anything but functionalism.
Markunpoika studied furniture design at Lahti University of Design before moving to the Netherlands to take up an internship with Marcel Wanders. Later, he completed an MA in Contextual Design at Design Academy Eindhoven. There, working under the critical guidance of Gijs Bakker and Louise Schouwenberg, Markunpoika developed a collection built around the emotional complexities of dealing with his grandmother's battle with Alzheimer's disease. The resulting work, 'Engineering Temporality'—pieces created by moulding small steel rings to wooden furniture forms before burning, leaving behind little more than ghostly steel skeletons—garnered Markunpoika widespread praise and notice.
Other conceptually-driven projects followed. 'Amalgamated' (2014), resulted in a series of vases made by gluing individual coloured pencils together to form blocks then shaped on a lathe. Functional, yes, but also witty and fun. Other projects demonstrated Markunpoika's reoccurring interest in questions of cultural norms and the properties of light. 'Distant Light' (2015), for example, combined both in a series of lights which join acrylic Fresnel lenses and ring LEDs to project colourful abstract geometries onto nearby surfaces.
To the uninformed viewer, the lights may seem a simple experiment in the geometry of light, but the work developed out of Markunpoika's interest in Western interpretations of Japanese aesthetics and references wabi-sabi and karesansui. A more recent piece, 'Penumbra' (2017), approaches light through its inverse qualities—shadows and darkness—with a neon tube light surrounded by an undulating landscape comprising hundreds of steel ball bearings.
Against Nature
Markunpoika's latest body of work, that was on view at London's Gallery Fumi is called 'Contra Naturam'. In it, the designer considers the relationship between natural and artificial materials. Although the title of the work is 'against nature', Markunpoika emphasises that he's not interested in an oppositional relationship, artificial versus natural.
'There's an over-emphasis on the juxtaposition of things,' he says. 'It seems to me that everything is the same and because of that, I like to blur the line between objects that look and feel natural, but where the viewer's mind still tells them that there's something not quite right, not quite real.'
Alongside this interest in blurring the lines between natural and artificial, Contra Naturam was also born from Markunpoika's frustration with the design world's present obsession with the visual over other, more haptic, senses. This obsession has contributed to what the designer perceives as a 'flatness' in contemporary design, one perpetuated by a privileging of technology over materiality.
As a point of contrast, Contra Naturam emphasises the materiality of its making, at least on the surface. The furniture is finished in a surface layer of tadelakt, a traditional Moroccan plaster made from limestone, more typically used for sinks and bathtubs than chairs and tables. Markunpoika applies the candy-coloured plaster over a core of expandable Styrofoam blocks, glass fibre and epoxy, glue and cement, before waxing to a brilliant finish.
'There's nothing new about hiding the inner workings of things,' Markunpoika says, 'but I think it's very interesting to look at how it's usually done in a kind of disingenuous way. I like to be sincere about the hiding, to make it part of the concept of the work. It's fake, yes, but it's also a celebration of the fake.'
A Sense of Belonging
A resident of the Netherlands for the last eight years, Markunpoika is increasingly starting to think about a change of scenery. Although he considers Amsterdam a vibrant, dynamic and interesting city in which to live and work, there's a sense that the relationship is coming to its natural end. In part, Markunpoika says that as the entirety of his clients are based elsewhere, he no longer has any meaningful professional ties to the city.
'I'm in a transition phase,' he says. 'I suppose it's only natural that things run their course and I feel that it's maybe time to move on.'
Although Markunpoika has no concrete plans as to where to base himself next, a recent exhibition set his attention, temporarily at least, on London. Curated by Gallery FUMI and the MA in Curating Contemporary Design at Kingston School of Art, Markunpoika will introduced a new piece from the Contra Natura series in a group show held at the Design Museum in September.
Fittingly, perhaps, for a designer attempting to work out where to go next, the exhibition, held as part of the London Design Festival, was entitled Belonging.