Weekly Studio: Stepan Sarpaneva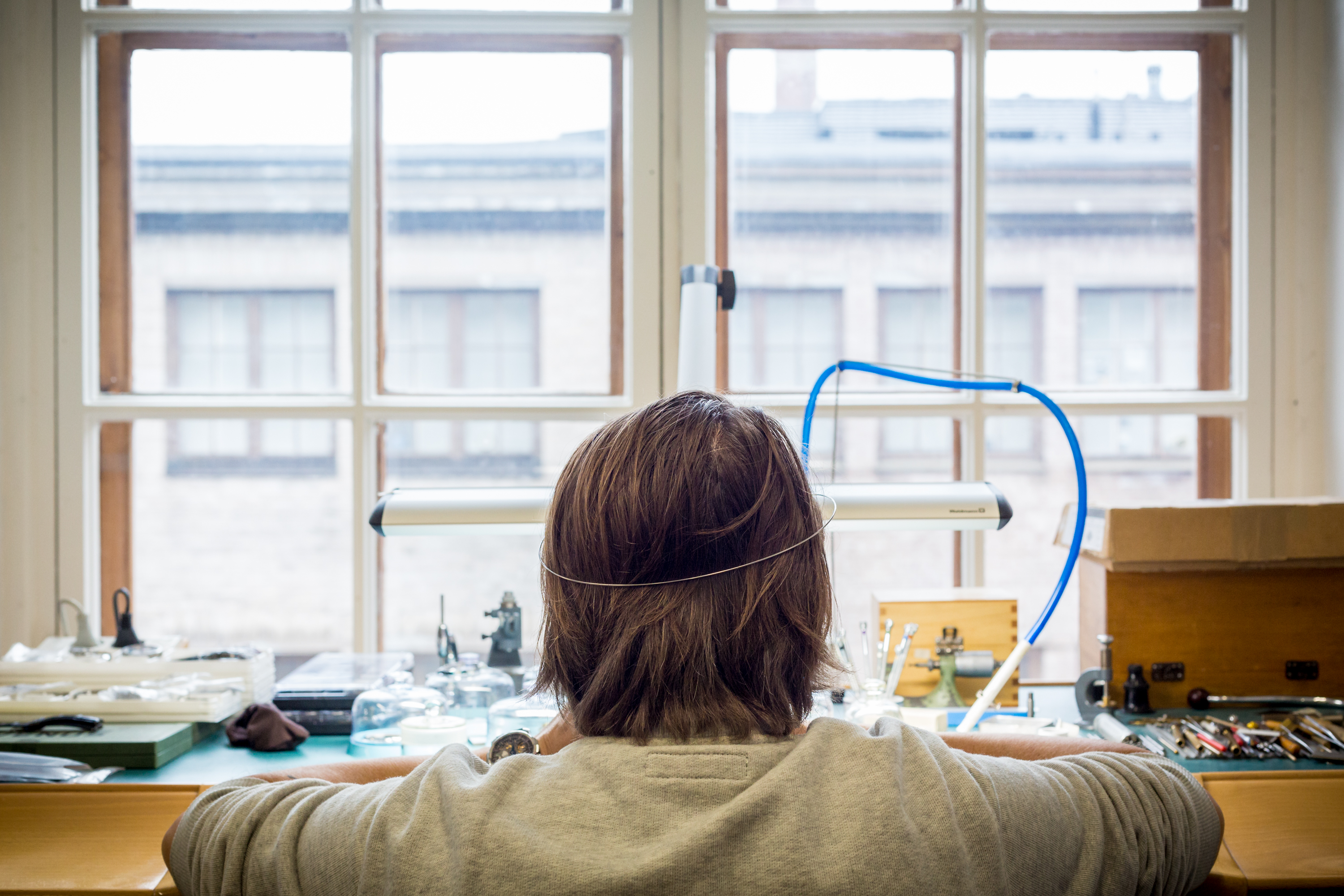 The Weekly Studio series visits the workplaces of interesting people. This week, we head to Cable Factory in Helsinki to meet the watchmaker Stepan Sarpaneva.
How did you come to be a watchmaker?
My interest in watchmaking was by accident. Just because I became a watchmaker, it didn't mean that I started out wanting to be a watchmaker. I studied at the watchmaking school and continued my studies in Switzerland because the Finnish economy was so depressed in the early 90s. I stayed and worked there as well because I felt it was a job I could live with.
Was the watchmaking school in Switzerland quite different to the one in Tapiola?
The Swiss school was really just a course to obtain certification papers to show you were a capable watchmaker. It wasn't anything new after the Finnish school. After the diploma, I got a place at Piaget in a really small village in the middle of nowhere. I didn't speak any French, which was difficult, but the work was so interesting that it was easy for me to adapt. I stayed for two and a half years and then went back to school to take a course on how to make complex watches and another on restoration.
After that, I worked for Parmigiani in a special department where it was just two Finns—me and Kari Voutilainen, who's basically a living legend. He was the boss and I was his right hand. We probably made the most beautiful watches in all of Switzerland at that time. It was like a secret department, with two Finns making limited-edition pieces. We also made watches for other brands because there were no other workshops able to do complicated watches so Parmigiani made them for other companies. After two years there, Kari left and I went to work for Vianney Halter, one of the madmen of watchmaking. With Kari, I learned the history of watchmaking and with Vianney I learned how to throw away all the rules. I then took a job with Christophe Claret who now has his own brand, but at the time, in 2001, he was making complex movements for other brands. I worked there for two years and he told me that if I ever wanted to go back to Finland, he could send me work.
After about nine years abroad, in January 2003, I decided that I'd go back to Finland and start my own workshop. It was 80% work for Christophe Claret and 20% my own watches. Little by little, my watches started to get more work and around 2007, I was working solely on my own designs.
You've spoken previously about how, although Sarpaneva watches are expensive, they aren't astronomical in part because you want to have a relationship with your customers. But is there a minimum that you need to price the watches to keep the studio going or some other consideration?
Actually, the explanation is quite simple. I'm a stupid watchmaker. I'm not a businessman and that's the biggest problem in the studio; I think more of the customer. The truth is that my prices are really low for the product I'm producing, but it gives me security in that the customer is always happier when he gets the product. There's also the question of value creation, especially for watches. By that I mean the resale value? If you find a used Sarpaneva watch on the internet, it stays there for two weeks and then it's gone and the prices are quite high related to cost when new. So, they retain value well. One of the key ideas for the studio is how we keep demand levels greater than production levels. And to do that we produce less and less, but to do that and survive we also need a secondary brand.
The S.U.F. [Sarpeneva's mid-level watch collection] is now the workhorse of the brand which means the Sarpaneva can be the crown jewel. I don't have to sell anything and I can be picky about choosing my customers because the more difficult it is to get a product, the more orders you get.
Ages ago, I read an interview with the founder of Net-a-porter who said something about how their most in-demand products were those which had already sold out. There's something a bit ridiculous about human psychology…
Well, it's lucky there is otherwise I wouldn't survive. But we're also only three people in the workshop and I want to stay small. After 15 years, I understand the business more than in the beginning, but I also know myself better and how I want to work. I don't want to have 10 people working for me because I would go crazy.
You say that you're not a businessman, but a watchmaker, although by necessity you must have to be both, as well as a salesman?
When I travel for a watch show, on the first day I always remember that I never want to do this again. But I have to do it. I have to go to the shows and meet people. I have to get people to the workshop. I have to answer all the emails and the phone calls. It's my work, but it takes a lot of time, and that's a problem because I should be behind the bench. But the way to increase demand for the watches is to grow the waiting list, so there's a balance involved.
Your brand's slogan is "not for everyone" and there's something refreshing about a company having a strong point of view and expressing it in a kind of take-it-or-leave-it fashion.
For me, you just have to be honest. That's it. Sometimes it's difficult because mostly I do what I like and of course not everything I make will appeal to everyone. Maybe there are only a handful of people who would like any given watch. It's funny because often when people first see my watches, they hate them. It takes a moment, but then they come back and then they come back again. And they write me that when they first saw it they hated it because they didn't understand it, but after six months they can't sleep for thinking about it.
If I try to be smart and create a sellable product, it never works out. People are attracted to such strange things that it's impossible to predict. That's why you have to be honest and make a product that you enjoy.
In terms of aesthetics, there's a spread in a booklet on your website of images of drain covers and tree grates. Can you talk a bit about how you decided to introduce these features into your watch dials?
When I look at something, I see the surface, the colour and the feeling of the material. Mostly, I'm looking at industrial things rather than nature. When my daughter was young, every day for two years I pushed her in the pram past the same trees. I kept seeing the same form of grill around the base of trees. Then, I started noticing that they are different in other cities. In New York, they are different to Helsinki, for example.
The crazy thing is that I later realised my father [jewellery designer Pentti Sarpaneva] had been thinking in a similar way when he was designing because he was using recycled materials a lot in the 60s and 70s. I never knew him as he passed away when I was young, so I never talked with him about anything to do with design. But I can see from his designs that there's a connection to what I'm doing now.
In terms of process, do you start prototyping straight away on the back of an interesting idea or do you need to sit on an idea for a while before you invest the time to make a model?
It goes both ways. Sometimes I put an idea in the back of my head and think on and off about whether or not it's a good idea to move forward. Other times, things move very fast. In two days, for example, we can have something made up that I just know will be something we'll take forward.
I know you've been working on Moonment, your in-house movement. Has it been released?
Not quite yet. We still have to make a few modifications, but the form of the end result is now quite clear. It's definitely the biggest project that I've ever undertaken.
Have you always wanted to make a movement?
In the beginning, it wasn't the most important thing. I've thought about it over the years, but because of the difficult times of 2009 and 2014, it's never been practical. The investment is huge and we've put a lot of money into developing it, such that it's now at the stage where we absolutely have to finish the product. I am really proud of it and feel that it's everything I thought it would be? Not yet. We're still working on it. It's growing on me, but there are so small details that I want to work on.
You've been asked about your moon-phase watches many times, but why do you think your "man in the moon" design has generated so much attention?
It was completely by accident. The Swiss brands had slowly been removing moon-phases from watch faces. And then I designed this watch because I had the opportunity to have a booth at the 2008 Basel World, but since I didn't have any watches I had to quickly create something. And that's how the Korona series came about.
I wanted to make a moon-phase function because it's something really interesting, quite romantic, on a watch because you can't see how it works; you can't see it when it moves. First, I made an opening on the dial, but because the Korona dials were openwork it looked boring. I started to think about how to make it more interesting and thought to add a face. Then I started to work on making a stamping tool for the face. It was actually the engraver who created that really strong, big mouth on the moon's face. The moon face we designed turned out to be popular with Asian markets because the features resonated with cultural norms. I had no idea that in Asia it's a good sign to have a wide mouth. In Finland, we don't ascribe characteristics or good fortune to certain kinds of noses. And two years after I released my watch, many Swiss brands reintroduced the moon phase to their own watches.
You've said previously that steel is your preferred material, but why is that?
Steel is real. I'm a steel guy. Steel keeps its value. Gold watches are more expensive to buy, but the resale value drops a lot. It's a beautiful material, but it's not how I see my world. My world doesn't have many colours, so steel makes sense; its beauty comes from different finishes whether polished or satin or matte.
Do you see yourself as part of a Finnish design tradition or influenced by the aesthetics of Finnish design?
I have different lenses on my glasses. I don't have anything to do with this tradition…if you look at my father's designs, they were completely unorthodox compared to what everyone else was doing at the time and I can see myself following a similar path. You know, every industrial designer or architect wants to design a watch. And every time, they design the same kind of watch which nobody is interested in. Because designing a watch is a completely different world and a completely different way of thinking than designing a chair.
And like architects trying to design a watch, you've never been tempted to design a building?
I've definitely had ideas in that direction. You should see my home or even just this workshop, which is a part of me; it's like a kind of personal museum. I spend a lot of time here and I can really see that my watches relate to this space. My watches couldn't be born in a really clean, perfect workshop where you have to go through a vacuum cleaner before you go to work. It's not like that. There needs to be a certain spirit in the space to give a certain quality to the watches.
That's actually a big part of what this whole series is about, the union between the space and the person and the product.
That makes sense, because it really is like that. Everything you see in here…we have a concrete floor, which we waited for 10 years before the Cable Factory took out the old linoleum floor. And the light from the north windows is super important. When I moved back to Finland, the only place where I wanted to set up my workshop was in the Cable Factory. And I've never left.