Weekly Bubbling: Jesse Pietilä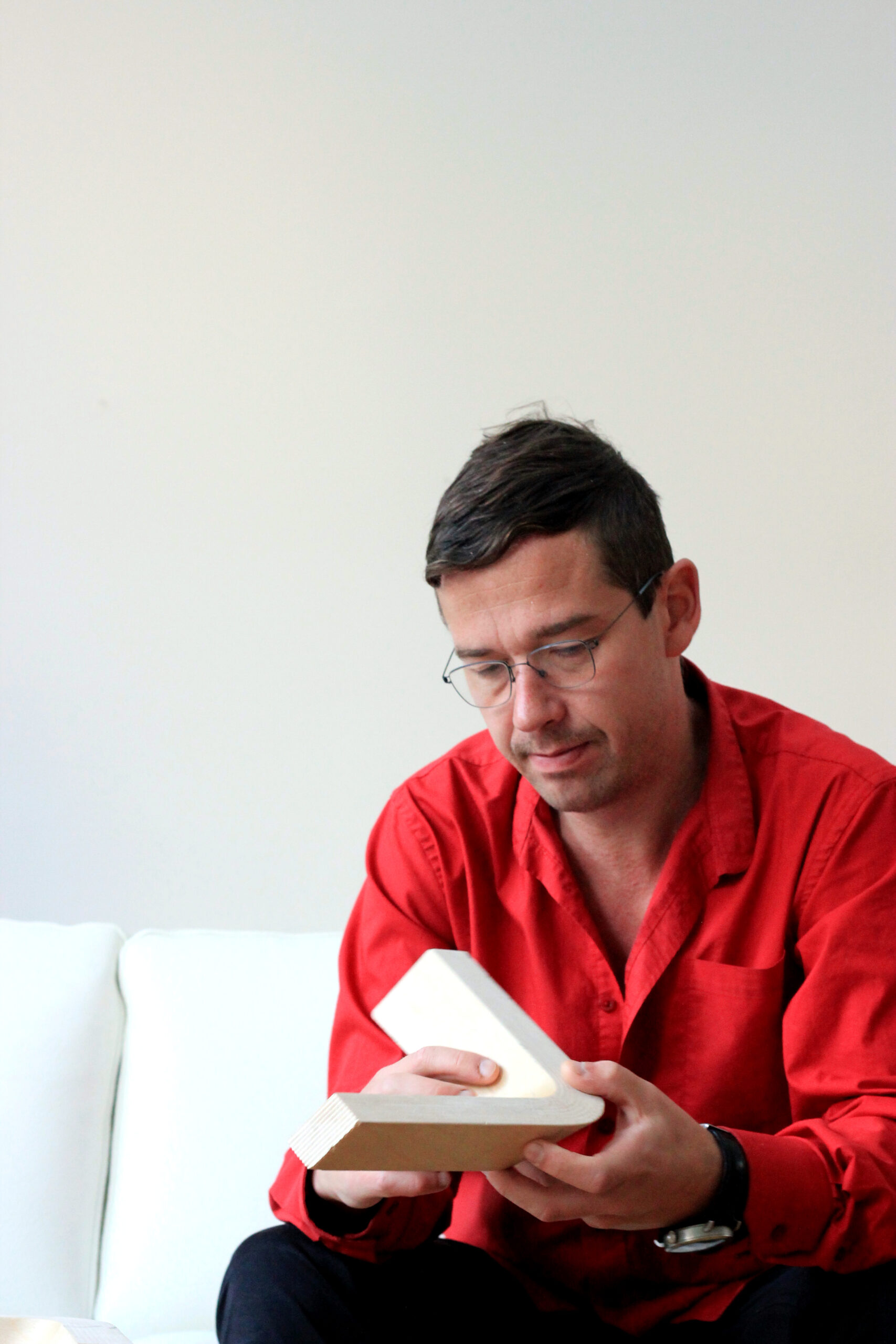 The Weekly Bubbling series works as a chain: each designer gets to name a colleague they admire to be interviewed in the next story. Last time, designer Heikki Salonen chose interior architect, designer Jesse Pietilä. 
Jesse Pietilä celebrates the Finnish material-based approach. His birch-veneer furniture collection is scalable and adjustable piece by piece from one space to another.
How are you?
I'm fine, thanks! My focus is now on the large furniture collection that I've developed all by myself. I've designed a pressed-veneer component of Finnish birch and made it into a visible part of the furniture frame. I've built the furniture piece by piece, starting from pressing the veneer to ensure that the material and structure will sustain. The underlying idea is that the pressed-veneer frame can be mass-produced and its dimensions are scalable. Next, I'll be concentrating on developing the supply chain and securing the supply.
What inspired your collection?
As a designer, I see that Finnish furniture manufacture involves a historical continuum, and I think I've found a way to add to it with my personal vision. Perhaps the most memorable comment is this: no matter where in the world my furniture goes, it's clear where it comes from – Nordic design is apparent in the collection. I want to celebrate the Finnish material-based approach. When I look at today's offering, I feel there is room on the market for this type of collection.
In what kind of space would you like to see the products?
I believe office and living environments are becoming more alike. I created the collection to offer pieces for each environment, for both homes and public premises. The frame is a scalable platform that enables different product categories, such as a benche, an armchair or a table.
You accept design assignments. Which assignment you remember most vividly?
For a few years now, I've worked as an assistant to interior architect Samuli Naamanka who invented Graphic Concrete. I designed a print called Mosaic Ellipse for his company. Graphic concrete is a product for the construction industry, a way to create a pattern on the surface of a concrete unit. As such it was an interesting change compared to furniture design.
What interests you right now?
I would like to create an interior that uses a type of liquid wallpaper called silk plaster. This natural-fibre tapestry with acoustic properties is spread on a wall. There are many pseudo-acoustic products on the market which in reality do not solve resonance problems. Liquid wallpaper may sound like kitsch, but I feel that good design can make any material work. Esthetically its texture resembles the ReWall panel used in the Zero Waste Bistro designed by Linda Bergroth.
If sky was the limit, what would be a really interesting assignment for you?
I'm interested in new technologies, such as printing metal or recycling cellulose, and how they can be used in future circular economy.
Which is the nicest space in Helsinki at the moment?
I've been checking out the work of my Art and Design School classmate Risto Wikberg and his Futudesign brand. Restaurant Bronda is great in terms of space, function and the materials selected. Regarding more historical premises, the lobby of Helsinki City Hall designed by Aarno Ruusuvuori is a solid case of interior design: the 1960s integrated into Carl Ludvig Engel's architecture. The Salutorget market hall is wonderful – particularly as a restaurant milieu and a meeting place.
Heikki Salonen, who was interviewed for this series previously, would like to ask you this: Camouflage – can we make it into furniture?
Yes, in more ways than one. As a theme, an overall idea or an object that doesn't need to resemble a piece of furniture. A sculptural object that kind of swallows its user. Or in a more subtle way; I can think of using camouflage to upholster some of my collection.
Who do you admire or follow and why?
Shoe designer Anna Kokki. I once saw artist Paavo Halonen use a pair of her design, and I thought wow, I want the same. Kokki has a strong vision of how to use shoes as a way of self expression without losing their functionality.
What would you like to ask her?
What originally inspired you to design shoes?