Weekly Mix: Co-design Professor Sampsa Hyysalo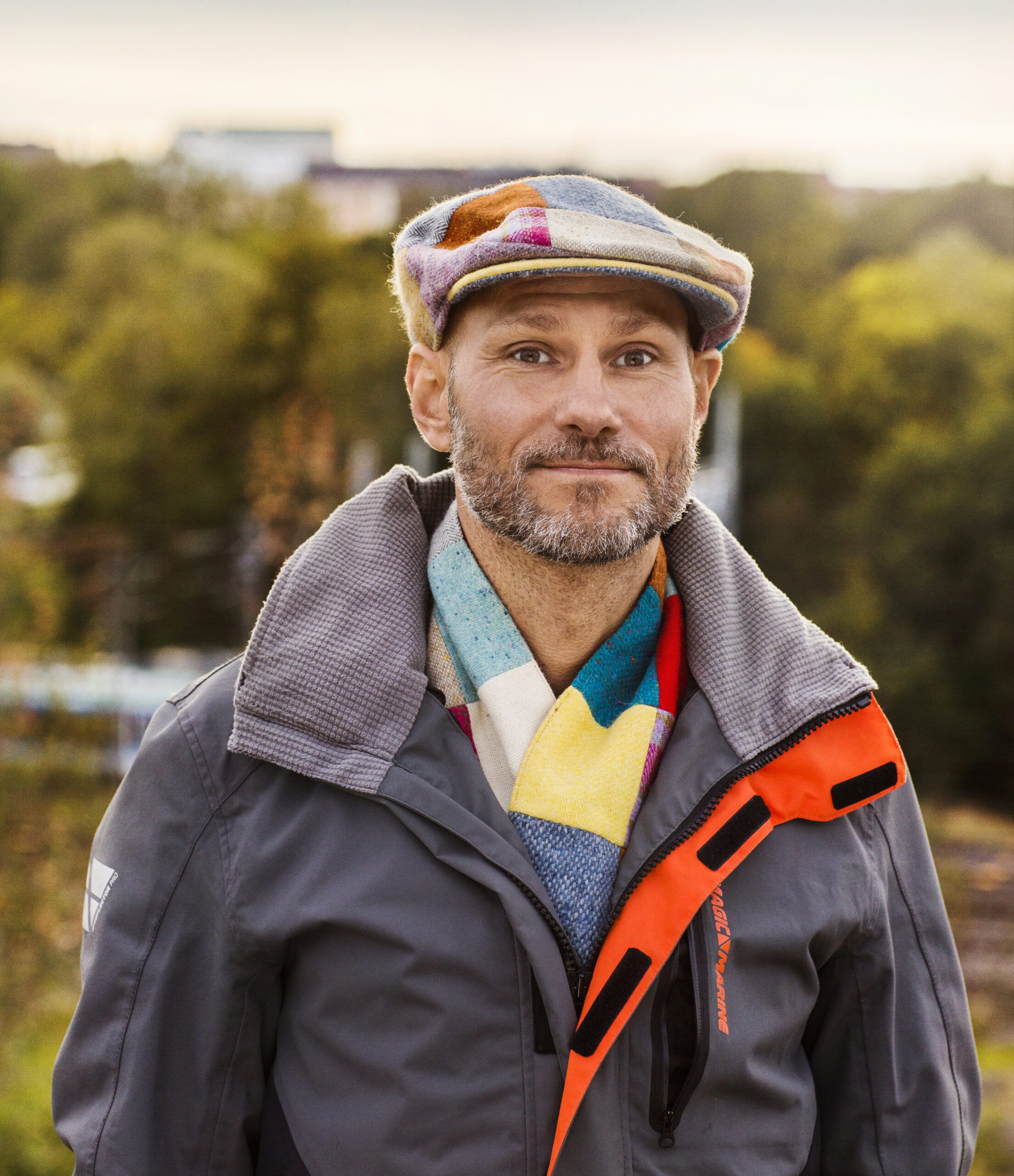 Halting the climate change requires comprehensive action-taking in various sectors of the society. Our energy, water and transport systems as well as agriculture must radically reform in order for the global resources to supply for the future generations, too. Aalto University professor Sampsa Hyysalo believes the solution involves co-design and designing for sustainability transitions. Moreover, he strongly believes music can facilitate change and self-exploration.
Halting the climate change requires comprehensive action-taking in various sectors of the society. Our energy, water and transport systems as well as agriculture must radically reform in order for the global resources to supply for the future generations, too. Aalto University professor Sampsa Hyysalo believes the solution involves co-design and designing for sustainability transitions. Moreover, he strongly believes music can facilitate change and self-exploration.
How are you, Sampsa?
At the moment extremely well because about a week ago our son was born into this world. This type of life change brings along a break from everything else, which feels really good. At the same time at work, we're finalizing major Finnish Academy research projects related to design for transitions and co-design. The objective of our co-design project called Getting Collaborated Design Done was to study the prerequisites of successful co-design. I'm involved in another project, too, called Smart Energy Transition. We gather information about these topics, analyze it and publish reports and scientific articles based on our analyses.
What kind of music do you listen to?
All kinds. For the Weekly Mix playlist, I chose five songs I've listened to after work lately. It's a mix of easy classics, jazz and newer pop music. Since my teen years I've also listened to plenty of rock, but here I've chosen songs that fit the theme. For example, I use Agnes Obel to focus. I can listen to her for hours when writing or working on research design. On my list, I want to mention History of Sycorax (prosperos books), an amazingly energizing song and album by Michael Nyman. You need to be pretty energized to begin with in order to enjoy it to the hilt.
You work as the CoDesign Professor at the Aalto University. What is co-design?
It means a method of design where the end-users of products or services can participate in the design process. Instead of designers working independently to create various products or systems, end-users and other stakeholders are invited to participate in the design, and not only to collect information through interviews or survey forms. This requires tools and arrangements with which the end-users can comfortably and effectively participate in the design.
You mention transition and the design to support it. How does that help impact climate change?
Climate change is an extensive social problem, and to solve it, we need to change various sectors in the society profoundly. Instead of short-term action we need to reform the key areas for the long term.
Let's think about our current energy system: large, centralized plants produce energy using fossil fuels and nuclear power, and the production is adjusted to match consumption. From this system we need to move on to a system that utilizes renewable energy, reduces consumption and flexes consumption smartly according to wind and solar power supply. We are talking about the reformation of a complete industry in 20–50 years. It is a huge change that is not easy to make happen. We cannot just prohibit fossil fuels unless we have better alternatives to offer. Problematic technologies must be replaced with other more sustainable ones, but it is a very long process. We need new kind of renewable energy production, significantly more energy-efficient solutions, new energy services and business, reformed regulation and tax policies and so on. Moreover, this should all be implemented in a way that is fair to all different stakeholders and population groups.
What, then, is design's role in this huge transformation?
In addition to energy supply, other key aspects include the move from disposable commodities to circular economy and from meat-intensive farming to food production that focuses on vegetables and organic nourishment. This type of social change cannot be designed as such because it involves so many measures and operators. For this reason the concept of transition design that is sometimes used in scientific articles is misleading. At Aalto, we talk about "design for transitions" because, even if we cannot design the change, the design can catalyze and facilitate the change process. In addition, the reorganization of huge social areas will require hundreds or thousands of innovations, which means countless opportunities for the design field operators.
Could you provide practical examples?
Design can catalyze cooperation and change and contribute to developing new innovation, products and services. Co-design has always driven change and cooperation, and using the method in a transition can clarify and boost interaction between the stakeholders and help find new solution models. Its role is at the strategic level of slow change that steers social activity. At the operative level, the change creates plenty of demand for new innovation and services which will push the transition further. For example, if we want households to reduce and time their energy consumption, we need easy-to-use energy management devices which require advanced user interface design. This is how designers play an important role at the operative level. All designers should orientate towards where the world is developing and consider which fields will have demand for the kind of design that can genuinely make a difference in the society.
At best, music evokes feelings and ideas and takes a stand. Can the power of music drive social change?
For sure, and I'm sure music is being used for this purpose. Political music-making is a long and strong tradition. I really believe in the power of music, because people often listen to music to steer their emotions and energies and carry them along. In my opinion, music is a tool to self-guide and transform. It influences the listener's thinking and energy level and motivation to do things in a new way.
What does co-design have to do with transition design?
One of the challenges with the new social development projects, such as the above mentioned energy transition, is competence fragmentation. We need high competence to develop and implement renewable energy solutions, to design new battery technologies and to change daily consumption habits, among other things, and no one person can be a specialist in all of the knowledge areas. Co-design methods and ways of working help specialists, politicians and citizens learn from each other and introduce their ideas in the dialogue. A good example is the energy transition arena https://www.smartenergytransition.fi/tiedostot/murrosareena-loppuraportti.pdf[1] , in which we together with 23 specialists from different fields created a vision and targets and progress paths to a Finnish energy system in 2030.
Why is co-design a good way of working?
It is not worthwhile if the designer knows what the user is expecting from the product. Co-design methods are useful when the use and user environment are new, foreign or unclear to the designers. For example, if a design agency has produced several projects for the mechanical engineering industry and goes on to design a healthcare product without previous experience, co-design is key for the project to succeed. There are many aspects to consider in the field which only the client is able to understand profoundly enough. Engaging the client in the design process makes it easier to define customer value, find new solutions and prevent design errors.
How can one individual help save the world?
There are many basic routes to take to make an impact. First of all, we must review our own consumption habits and choices in terms of air travel, diet and energy consumption. It is easy to calculate one's carbon footprint on the internet with applications developed by various providers.
You can also help save the world by participating in or supporting the NGOs and communities. Any consumer can join a climate or environment organization, participate in climate campaigns and share their experiences on the internet to support the use of renewable energy. Political influence is key, too. At the moment I'm sitting at home in Karhupuisto and cannot impact the production of the thermal energy I use other than through pressuring the City of Helsinki to pressure its energy company, Helen. Political activism is the cornerstone of democracy that supports and facilitates change in countries like Finland.
More and more people want to influence in a radical way through their employment or work. Many leave their old positions to work in new innovative companies trying to facilitate change and develop more sustainable business in addition to making a profit. Although operating within the existing structures can be challenging at times, it is also rewarding, because nothing ever changes unless someone tries to change it.
Name a piece of music that never wears out.
The songs and artists I chose on the Weekly Mix playlist are the kind that stand the test of time. Particularly Move On Up by Curtis Mayfield is probably the best song in the world, and I never get tired of it. It is perfect for organizing a party or an event because it elevates the mood of the organizing team. The same goes for the actual event as well as when cleaning up afterwards.
Listen the playlist on Spotify.
Photos: Sampsa Hyysalo's archives