Weekly Studio: Aino Michelsen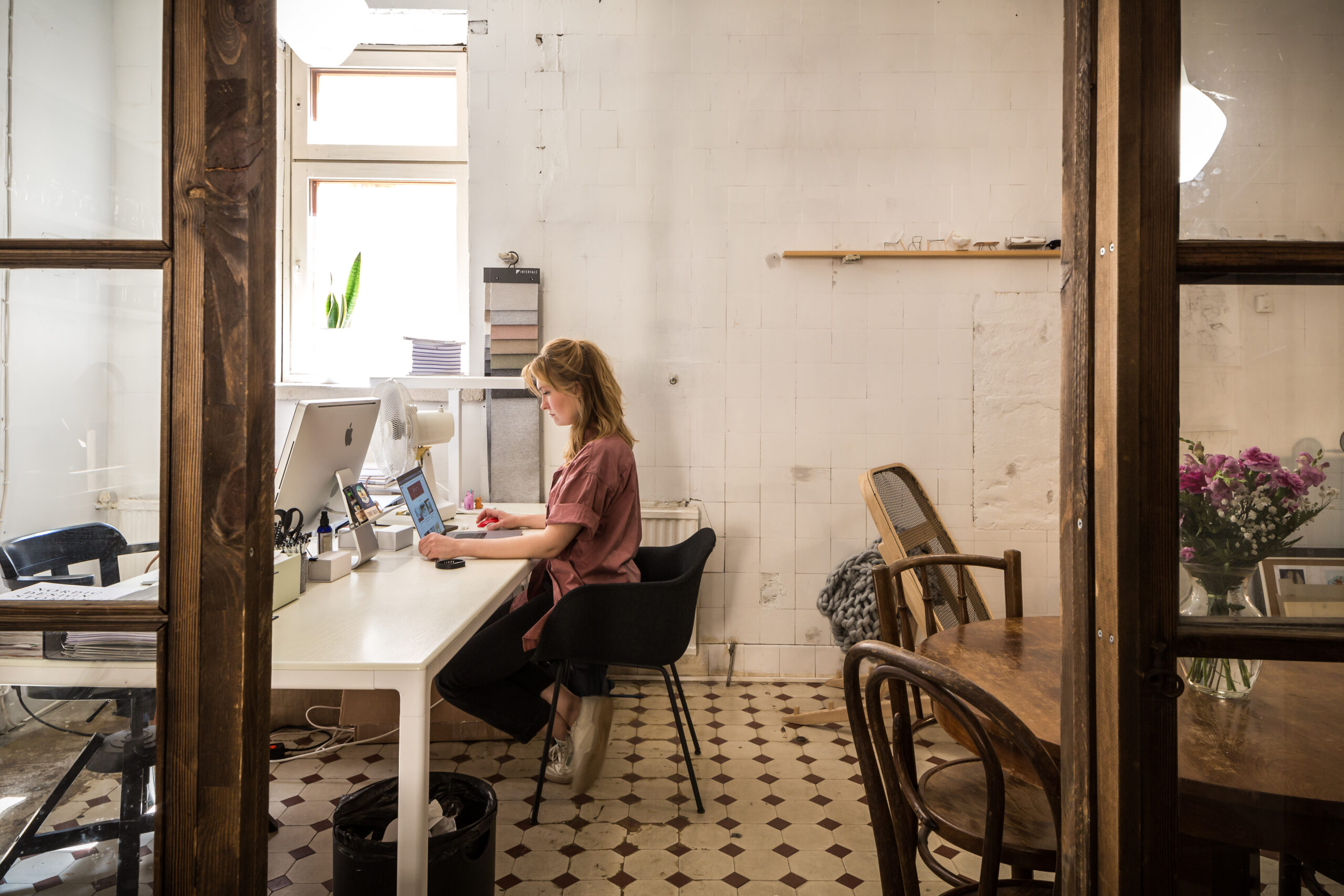 Current in-house furniture designer at Interface, Aino Michelsen talks to Weekly Studio about the allure of a good chair and the ethical challenges of working in today's design industry.
Current in-house furniture designer at Interface, Aino Michelsen talks to Weekly Studio about the allure of a good chair and the ethical challenges of working in today's design industry.
You have studied both at Lahti Institute of Design for furniture design, and then at the Royal Danish Academy of Fine Arts in Copenhagen. Why take up your MA in Denmark instead of Finland?
I had a very strong feeling about wanting to see and experience something different. Finland is quite tight knit in terms of its design community and, for example, many people at Lahti went to Helsinki for their MA studies. I knew I wanted to go somewhere else and the school in Copenhagen had a course on furniture design. I had also visited the city and really liked the atmosphere, so it was a combination of different things.
Did you notice significant cultural differences between Helsinki and Copenhagen in terms of attitudes to furniture design?
For me personally, I found the culture very different when studying in Denmark. There was a much more optimistic and forward-looking atmosphere. In terms of style and aesthetics, it was quite easy for me to understand as the tradition and history is similar to that in Finland. Similarly, the educational culture was familiar as well. But that sense of optimism struck me as something very different. Perhaps it's easier when you're an outsider to see things more positively as you don't understand the complete picture. But it was a very important experience for me and changed my whole thinking about the field.
Did you have a sense of where that optimism about design in Denmark stemmed from?
My impression was that Danish people had respect and pride for their own culture and that they sustained the market domestically. In Finland, of course we have Artek and other smaller companies, but somehow it felt like the Danes themselves loved Danish design and that in part kept the market strong. Yes, they also have good companies, manufacturers and marketing which helps the brand of Danish design to spread, but the optimism stems from the people themselves and I thought it was fantastic to see that level of local support.
At what point did you first start thinking about furniture design as a career?
In high school, when I was 16, I went to Milan for exchange, and it was there I started thinking about design as a profession.
What specifically about being in Milan sparked that interest?
First of all, I was lucky to be placed with a family who wanted to take me to see the furniture fair. It wasn't so much the big event that interested me, but seeing the exhibitions from different schools and that people who weren't much older than me had made furniture themselves. I found that very inspiring.
For undergraduate studies, you then applied to Lahti Institute of Design for furniture design?
I remember considering different fields at the time, but I most liked the application exercises for the furniture design department. I think in the back of my mind, I thought I could change courses later if I discovered that furniture design wasn't right for me.
And then you continued afterwards with an MA?
I took a two-year break initially, as I wasn't sure I wanted to do furniture design after Lahti. Maybe I was a bit too young when I started and hadn't really thought it through. In a way, I started school without really knowing what was going to happen afterwards. So, after my studies, I decided to take a break to consider whether I really wanted to go forward in design. After some time, I started to feel like I wanted to get back into the field.
What was it that made you feel uncertain?
It just wasn't clear to me why and how I could do the work. I didn't meet a group of people during my BA who I might want to start an office with. There wasn't a particular company in Finland that I wanted to work for. Even though the design process, making sketches and mock-ups was enjoyable, it just wasn't clear to me at the time how to proceed in terms of making a career in the field. It didn't help that, as students, we were constantly told how much uncertainty existed in the industry.
Now you have your own studio, but recently you have been working as an in-house designer. How do you navigate between those two modes?
You almost have to test out different modes of working between group projects or individual projects. For me, it has always helped that I consider myself quite a social person. I'm interested in figuring out the working culture in different places and then trying to somehow fit my own methods and ways of working within those frameworks. I'm still learning, because it feels like every time, in every new situation, you need to learn all over again.
And how does that balance work at Interface?
I do enjoy working with other designs, but I've been quite lucky at Interface because at the moment I'm the only designer so it's been easy to be myself and to focus on improving my skills and methods. Since this is my first experience as an in-house designer, I consider myself lucky to be able to really be myself. And it's also a company which is very interested in my particular approach to design, so the briefs tend to be quite loose. Having said that, I do think it would be interesting to work for a company with very strict briefs and aesthetics as it would be quite a different experience and challenge from what I'm doing now. In any case, even though I'm quite free, I still spend a lot of time researching the company's DNA and aesthetic history as I'm not working on my own collection. For now, though, I feel that it's been quite free for me.
Your way of working seems very classic; you make sketches, small models, then 1:1 prototypes.
Yes, that's pretty much how I work all the time. For me, sketching—I consider both drawings and the scale models as drawings—might be considered a slow way to work, but it works in the same tempo as my brain.
Usually, I have an idea, but then it's not until I start sketching and building small scale models that I end up with the basis for my design. Mistakes and surprises emerge from those processes and I like that it takes a little bit of time. If I move straight to computer, it's as if I've skipped out important steps. Making scale models is really my favourite part of the process and it's something I really couldn't leave out.
Do you resolve all problems at that stage, or not until later with prototypes?
I leave a lot open in the early stages. It's more about checking that the dimensions work well. For me, if it's something that I'm not manufacturing myself, I like to keep details open because there's always something new or unexpected that emerges with the 1:1 model. I know a lot of designers who work on details from the very beginning, but I like to start with the bigger picture and let the details emerge during the process.
Looking at your portfolio, one thing jumps out: you really love chairs!
I was thinking about this myself recently. I've always liked beautiful chairs and made many as a student. Perhaps, there's something stimulating about the problem solving required to make a chair that is not only attractive, but also comfortable and ergonomic. I think a chair like that is one of the most difficult things to design. But it would be nice to do other things as well as I never really planned to make so many chairs.
One of your most recent pieces is the Bug chair for Interface. Could you talk through its design process?
At that point, I wasn't yet in-house, but freelance. There was a clear brief: to make a light structure lounge chair in a product family if possible. They sent style references and we discussed materials we could use in relation to what would be easy for them to manufacture, as everything is made in Finland. I began with sketching and small models and we had a number of meetings to discuss early ideas. The final result ended up being a combination of three different versions. When we finally decided on the details, I made up the 3D drawings and work drawings, all of which were then sent to the factory.
The metal frame was manufactured first and then we started to work the textile components around the frame at their workshop for prototyping. They already had a raw version made up based on my sketches and we started testing out different cushions and upholsteries and different ways of fixing these to the frame. Finally, we had the complete structure brought together in the first mock-up. It was actually a very positive working process. I think we understood each other well from the beginning, although there were nevertheless many sleepless nights.
Presumably it was off the back of this project that you decided to work for them in-house?
Yes, and the Bug chair is now in production. At the moment, we have three new sofas coming out hopefully soon. We're in the first prototype phases of those. And I think we'll have a few more chairs coming after that. It's nice as every new project is an education.
Even though you're in-house, you have your own design studio space rather than an office at Interface?
Yes, I just moved into a new space which is really nice. What I learned about myself during my studies is that I need my own space where I can focus and concentrate, but I also need other people around to have coffee with or a chat from time to time. So, it's a co-working space, but also a private space, which suits me very well.
Do you have a kind of totemic object in your studio?
Actually, I do have this small photograph of a very serious looking black and white dog wearing a green and blue knitted hat. I found it somewhere during my Master's studies, I can't remember exactly where, but it's now always on my desktop. The dog has become my spirit animal.
To bring things full circle back to Milan, as someone who finds the furniture fair quite depressing, I wonder if you've been back as a professional and, if so, what your thoughts are?
It is depressing, yes, but also interesting and inspiring. If you think about it, it's insane how much stuff is brought to this one place for a week. And the amount of stuff seems to be growing every year. So, it's definitely depressing in that way. Sometimes it seems like I'm always thinking and talking with colleagues about how Milan could be done differently—is there a different way of doing this? But I haven't figured that out yet.
On the other hand, it's also an amazing place to go because you can see a little bit of everything in a short space of time. It's also nice to see how beautifully done some of the exhibitions are. And there are the school exhibitions of random material tests and I find the experimentation done by young designers fascinating. Milan is interesting, but it's also mad; I have mixed feelings about it and I know a lot of other people do, too.
The world is changing and from the perspective of environmental questions, Milan is questionable in the amount of stuff being produced as well as the transportation required to get it there. This year, it felt like nothing had really changed. The big difficulty is that in attending, you're somehow supporting its existence. Of course, I want to see what companies are interested in and meet industry people, but I do feel uncomfortable about the whole thing in its current form.
Would you say, then, that you feel optimistic about the design industry?
It's a bit difficult to say. From the beginning, I've always had this struggle about whether or not it's ethical to produce any new products. In some ways, I'm optimistic. I feel that people are talking about how to find different materials and different ways of doing things. But it also feels slow, that change is taking too much time. I suppose that designers have to be optimistic in order to try to find new ways of doing things and alternative options to offer consumers. But as it stands now, I strongly feel that it's not ok and that things have to change. And that makes it difficult sometimes to be a designer, because I don't always feel that what I'm doing is ethical.
Do you think change must come from the industry or from consumers or both?
I think change must come from both directions. So, the industry should start looking for new ways of working, but of course, consumers have a lot of power.
Designers need to be highly responsive and work quickly between these two directions, but we also need to be quick to change our ways of thinking and not just push forward our own egos or philosophies. We should be really open to change and be ready to follow from both sides. At the moment, it's still a tricky question, but I really hope for change in the future.