Recycled goods in Helsinki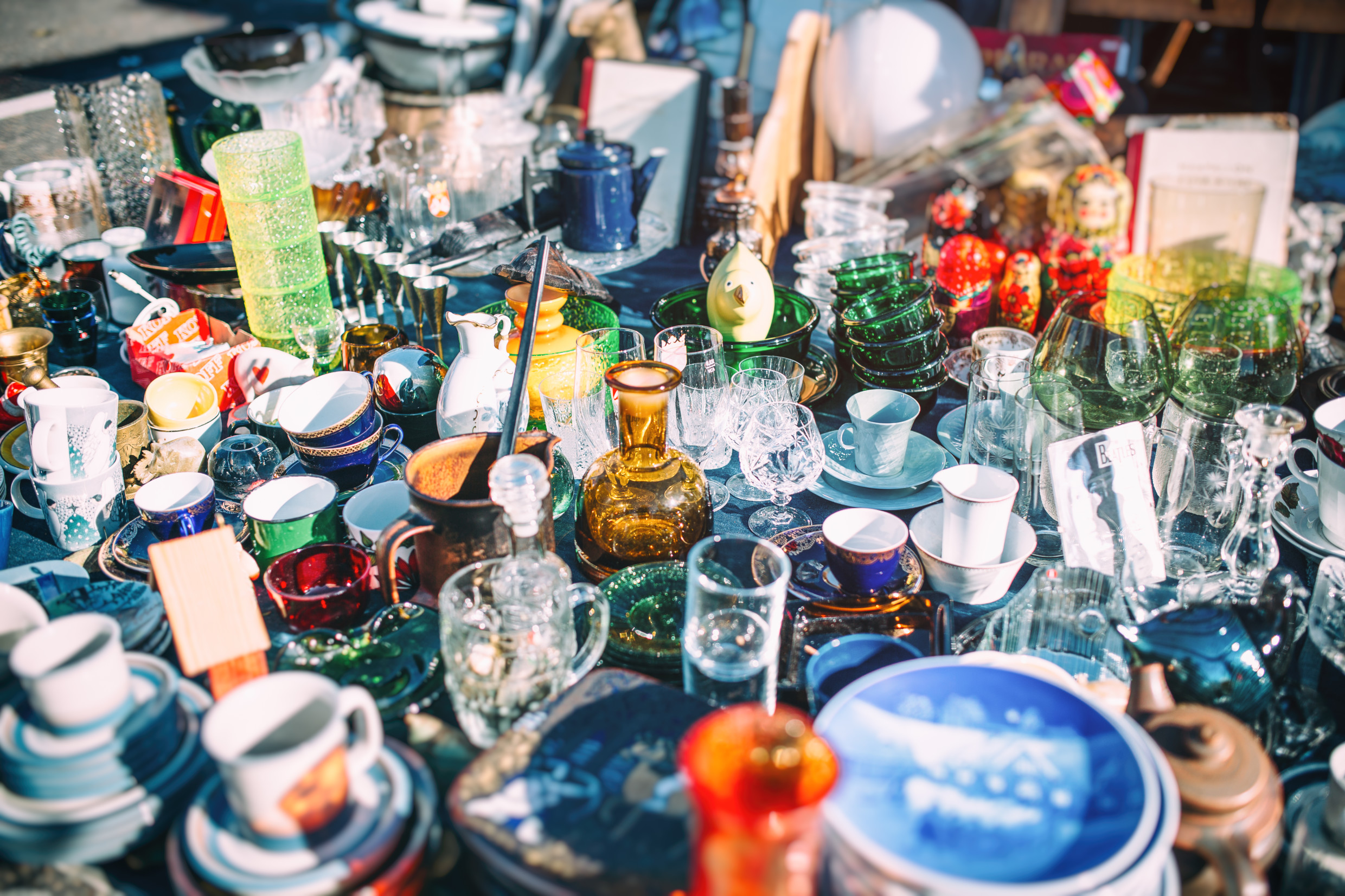 Crystal Bennes is an artist and architecture and design writer based in the UK. She lived in Helsinki for over two years and found dozens of treasures from the Kierrätyskeskus Reuse Center.
Crystal Bennes is an artist and architecture and design writer based in the UK. She lived in Helsinki for over two years and found dozens of treasures from the Kierrätyskeskus Reuse Center.
I was alone in a new country. My husband and I had just moved from London to Helsinki (Espoo, technically), where I was soon to start an MA at Aalto University. Only, my husband was still in the UK tying up a few loose ends, so I was left to deal with our empty 80 sq.m. apartment which held not a single piece of furniture.
When I say we had no furniture, I really do mean we had nothing. For the first few nights in the new flat, I slept in a sleeping bag on the floor in an otherwise empty room. I had arrived with a suitcase of clothes and a box of books; nothing more. My husband would arrive in two weeks' time with another suitcase. The rest of our things would arrive by freight around the same time. But even that shipment contained no furniture.
In London, we always rented furnished flats and so never had reason to buy our own furniture. Most people we knew who needed furniture bought the bulk of it from IKEA with the occasional piece sourced from a high-end design or antique store or cheaper pieces from flea markets. London's ubiquitous charity shops, where you can often find inexpensive clothing or second-hand books, tend not to have space to stock larger furniture items.
And so, with but a few days before the start of my MA, I turned to Aalto's student guide for advice. Of its many suggestions, the one that seemed most helpful was the Kierrätyskeskus Reuse Centre in Espoo's Nihtisilta. Only a few train stops away from our new flat, on arrival I was surprised to find an enormous warehouse rather than a small shop.
Walking into Kierrätyskeskus for the first time was like meeting a kindred spirit.
As someone who loves nice things, but loathes shopping, the recycling centre seemed to offer the perfect solution. While the furniture selection was limited—which meant I wasn't overwhelmed with choice—the fact of Finland's great design tradition meant that many of the furniture items on offer were well designed and made of quality material. 
For example, instead of an abundance of cheap wooden veneer, there are beautiful old hardwood dining tables and chairs with wicker backs, the sort of thing your grandparents might have owned. Or older classics like a 1920's Billnäs writing desk. Perhaps such pieces aren't as fashionable as they once were, and most aren't blessed with the provenance of Finland's famous design companies, but they have an elegance nevertheless and many pieces will certainly outlive their flatpack counterparts. 
For design classics, the homeware section offers a better chance of finding treasure: vintages pieces from Iittala and Arabia abound; friends even once found a Tapio Wirkkala vase.
In any event, in that one afternoon I furnished nearly our entire apartment. I bought a beautiful blue velveteen sofa, love seat and armchair. A dining table and chairs which were either Artek's Aalto table 81B and 69 chairs, or very good copies. I chose a large functional table as desk for our study and a big bookcase and coffee table for the living room. I paid for the furniture and home delivery and the entire bill came to less than €200. Two friendly men delivered the furniture a few days later, carrying it all up four flights of stairs (bless them!). After everything had been brought inside, one of the men presented me with a cheerful yellow rug for our living room. He said it was a gift for our new home.
Over the two years we lived in Helsinki, I found dozens more treasures in the Nihtisilta Kierrätyskeskus. I bought bright orange Arabia mugs as a gift for a friend back in the UK; I found an electric keyboard to practice on in-between my harpsichord lessons; I took my husband there eventually and, although I don't think he loved it as much as I did, he was charmed nonetheless. 
When we moved out of our Espoo flat two years later, we knew that we wouldn't be taking our furniture with us to Paris, where we were headed next. We called Kierrätyskeskus and they sent another truck to collect the furniture to be resold as it was still in excellent condition.
At a time when we are ever-more aware of our unsustainable rate of consumption and the corresponding damage caused to the planet, organisations like Kierrätyskeskus are invaluable resources.
By promoting and enabling reuse and recycling, they encourage Helsinki's residents to think twice before buying new items and to consider objects as part of a circular rather than disposable economy.
Tips for recycled treasure hunts
Nihtisilta + Kyläsaari Reuse Center stores
Helsinki's reuse centre stores (Kierrätyskeskus) are the best-kept secret in the city's shopping scene. If you look on lists of best second-hand shopping, they never turn up. Which is a crying shame because they are amazing treasure houses of furniture, clothes, homewares, sporting goods, books and other used goods that you never knew you needed. Although Nihtisilta recycling centre is technically in Espoo, it's the biggest and best of the bunch.
Nihtisilta: Kutojantie 3, Espoo
Kyläsaari: Kyläsaarenkatu 8, Helsinki
Artek 2nd Cycle
If you like the idea of second-hand furniture, but designer provenance is a must, check out Artek's famed 2nd Cycle initiative. In 2006, Artek began collecting used Aalto furniture and offering the re-discovered pieces for sale, thereby bringing them into a second cycle of use.
Pieni Roobertinkatu 4-6, Helsinki
Fida
There are several branches of Fida in Helsinki, so it's easy to find one wherever you are in town. Compared to some of the city's other second-hand clothes stores, Fida's pricing is much more affordable and consequently beloved by students and those without much ready cash. Fida offers a little bit of everything, from clothing and fabrics to kitchenware and furniture, books, jewellery and more.
Addresses and further info
Frida Marina
If vintage clothing is more your thing, try a visit to Frida Marina. If you're used to charity store prices, you may be a bit surprised at the expense of some of the items, but you can definitely pick up amazing vintage Marimekko dresses for half the cost of a new one.
Kaarlenkatu 10, Helsinki
Hietsun kirppis fleamarket
Open during weekends in the summer season from May to September, this is the most popular outdoor flea market in Helsinki. While not the best place to go looking for larger pieces of furniture, it's great for clothes, books, tableware, and other smaller items. If visiting on Saturday, stop for lunch in Hietalahti Market Hall.
Hietalahti Market Square, Lönnrotinkatu 34, Helsinki
The story is part of a series where designers tell about different solutions they love in Helsinki. In addition to Helsinki Design Weekly, the articles are published on MyHelsinki.fi.
Featured image: Jussi Hellsten