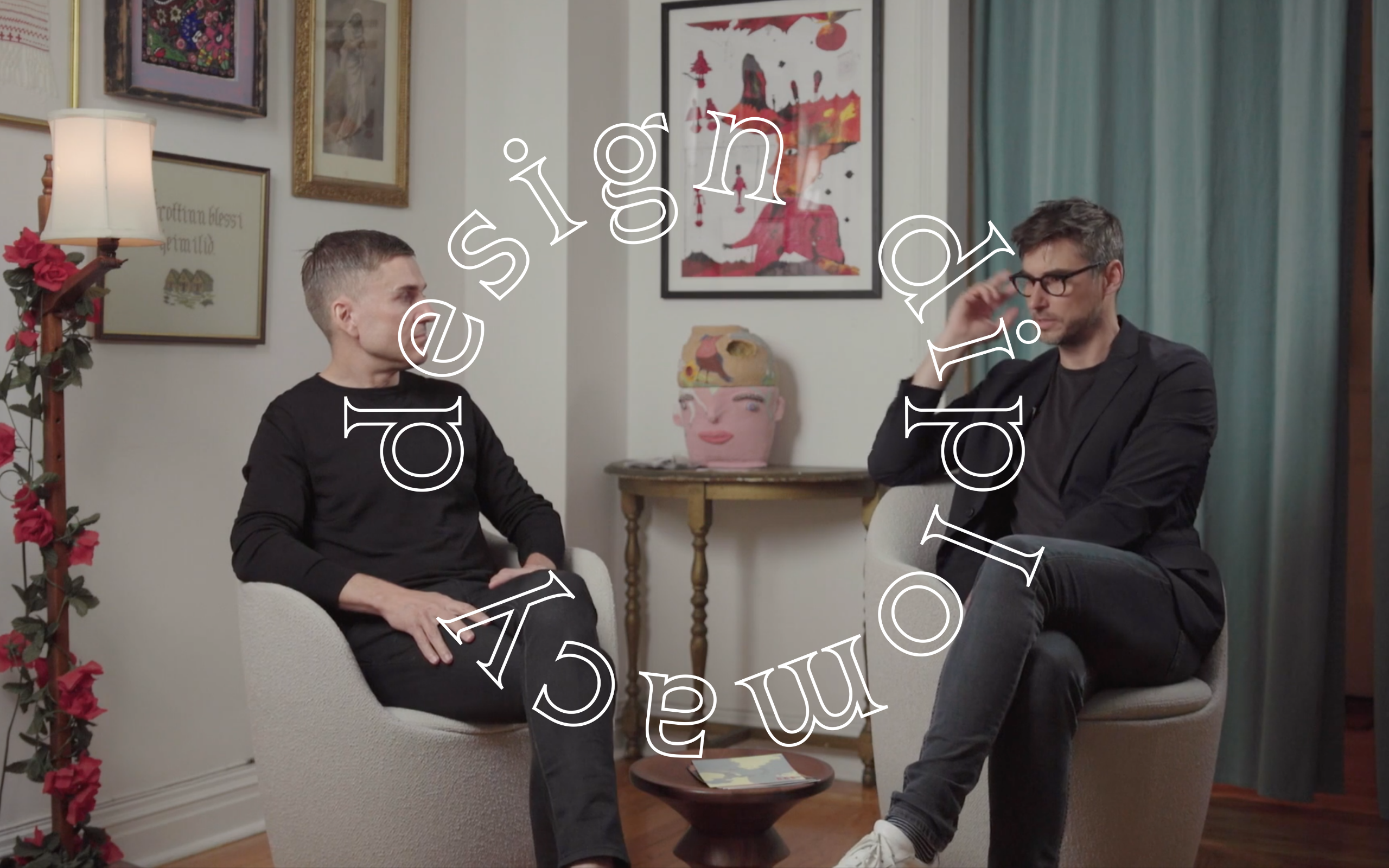 Nordic Design Diplomacy in New York: ICELAND
Nordic Design Diplomacy in New York opens virtual doors to the prestigious Nordic consular residences in a series of engaging talks with design in focus, as part of NYCxDESIGN's Design Days on May 13-18. 
Nordic Consuls General invite two design professionals to share their experiences and perspectives on what it means working in different cultural contexts in the Nordic region and the USA. The conversations are based on questions pulled from a specially curated deck of cards, created by Helsinki Design Week. 
In addition to the conversations, the audience learns about the design and history of the consular residences as an embodiment of Nordic values through virtual tours of these unique spaces. 
Nordic Design Diplomacy in New York, Iceland Salon
May 14, 2021
Hlynur Gudjonsson, Consul General of Iceland in New York, hosts a virtual Design Diplomacy salon from Iceland's residence in New York with Hlynur Atlason (Designer, Founder, ATLASON / studio) and Todd Bracher (Designer, Founder, Todd Bracher Studio)
Presented in collaboration with Iceland Design and Architecture and DesignMarch.
COUNTRY/CONSULATE + CONSUL GENERAL
CREDITS
Director & videographer: Uwa Idouzee
Editor: Sandra Itäinen
Meet the speakers:
Hlynur Atlason
Hlynur V. Atlason is the founder of a strategic design and innovation studio based in New York City. Since its founding in 2004, Icelandic- born, New York City-based designer Hlynur V. Atlason has delivered products and goods that are both beautiful and hold up under environmental scrutiny.
Inspired by William McDonaugh's "Cradle to Cradle," which confronted the hidden costs of cheap design, Atlason puts sustainability at the center of its design practice. Atlason's fully-functional process produces furniture, consumer products and packaging that live at the nexus of world-class design and sustainability.
Todd Bracher
Todd Bracher is a designer and strategist, known for his irreducibly complex approach to design. His studio guides some of the world's leading brands to realize strategic differentiation through design, including 3M, Burberry, Cappellini, Herman Miller, Hosoo, Humanscale, Issey Miyake, Jaguar, and the City of New York. Todd has also served as Creative Director for Georg Jensen, Humanscale, and HBF.
Todd has been honored as a Top 100 Global Design Influencer by Wallpaper* Magazine (2015), International Designer of the Year (2015 & 2016), and with numerous RedDot's Best of the Best and NeoCon Gold Awards for product design. His studio, founded in 1999 and based in New York City, draws upon the international experience and expert network built over two decades, living, working, teaching in New York, Copenhagen, Milan, London and Paris.
ICELAND
The Consulate General of Iceland was established as a trade office in 1939 and Consulate General in 1940, being the first Icelandic diplomatic mission after the establishment of the Icelandic Foreign Service earlier that year.
The Consulate is today first and foremost a trade and investment office and hosts the Icelandic Trade Commission for North America, Invest in Iceland, Film in Iceland, Icelandic American Chamber of Commerce and Iceland Naturally in partnership with Business Iceland.
The Consulate as well carries out regular consular functions, including assistance to Icelandic nationals, distributing information about Iceland, and promoting Icelandic-American relations, in New York, New Jersey, Connecticut and Rhode Island. The Consulate is very much involved in Icelandic cultural events in its area and works closely with the Scandinavia House as well as other Nordic Consulates in New York.
https://www.government.is/diplomatic-missions/consulate-general-of-iceland-in-new-york
HLYNUR GUDJONSSON is the Icelandic Trade Commissioner to North America and the Consul General for New York, New Jersey, Connecticut and Rhode Island.
The office is focused on the economic opportunities between the United States and Iceland, specifically in the areas of food and beverages, tourism, energy, foreign direct investment and culture.
He has more than 20 years of experience as a strategist and managing director for public relations, advertising and political campaigns. Prior to joining the Consulate General's office, Gudjonsson served as brand manager for Icelandic USA, Inc., a global seafood importer, wholesaler and manufacturer, where he developed and executed the company's strategic branding initiatives.
Gudjonsson holds a master's degree in Integrated Marketing Communication from Emerson College in Boston and a bachelor's degree in Political History from the University of Iceland in Reykjavik. In addition to his role as Consul General and Trade Commissioner, he serves as the General Manager of the Icelandic-American Chamber of Commerce and the Icelandic Canadian Chamber of Commerce. He is the founder of the Foreign Trade Commissioner's Association in New York, and a chairman from 2006-2012. His master's thesis on nation branding was published in The Journal of Place Branding.
PARTNERS
HELSINKI DESIGN WEEK
Helsinki Design Week is the largest design festival in the Nordic countries. Held annually in September, the multidisciplinary festival presents design from a number of fields as well as fashion, architecture and urban culture. Helsinki Design Week presents the new faces and phenomena of design, promotes design internationally in collaboration with various partners, and offers citizens a forum to participate in developing and discussing the city and its culture. The next Helsinki Design Week will be held on 9–19 September 2021.
https://www.helsinkidesignweek.com
NYCxDESIGN
NYCxDESIGN is a not-for-profit organization committed to empowering and promoting the city's diverse creative community. NYCxDESIGN started as a City-led initiative in 2013 and through grassroots efforts evolved into an influential entity, unifying New York's creative capital under one umbrella and drawing significant exposure and opportunities to the City's design disciplines, people, events, and related industries. NYCxDESIGN organizes exceptional year-round programming, including its annual international festival. Diversity, purpose, cultural placemaking, economic opportunity, and creativity are core to the not-for-profit's values.
THE NORDIC COUNCIL OF MINISTERS
The Nordic Council of Ministers and the Nordic Council are the main forums for official Nordic co- operation, which involves Denmark, Finland, Iceland, Norway, Sweden, the Faroe Islands, Greenland and Åland. Our vision is to make the Nordic region the most sustainable and integrated region in the world.
Subscribe to Helsinki Design Weekly here.
Watch the other Design Diplomacy salons in the series here.