The winner of the Helsinki Design Award is Päivi Raivio
A joint award by the City of Helsinki and Helsinki Design Week recognizes a designer or a design team for making Helsinki a better place to live in. The winner of the 2022 Helsinki Design Award is designer Päivi Raivio.
During her career, Päivi Raivio has dedicated her work to creating better public spaces. Together with Helsinki's citizens and various communities, Raivio has made the city squares more vibrant and the daycare yards more green as well as conducted versatile urban space experiments, not only in Helsinki but in Espoo and Lahti, among other places. This summer, Raivio worked on an urban space experiment to precede the renovation of the Ylä-Malmi market square.
For many years, Raivio has contributed to breaking barriers and renewing practices with her initiatives and experiments. She has more than ten years of experience in participatory design, in terms of both strategy and hands-on execution.
Päivi Raivio has a Master's degree in Applied Art and Design and a multidisciplinary approach to cooperation and facilitating. During the years 2009–2014, Raivio worked as a freelancer, and 2012, when Helsinki was selected as the World Design Capital, was particularly busy and important to her. Raivio kicked off several daycare centre projects, for example, and helped revitalize forgotten cultural properties in the "Designed Solutions" project. Moreover, she is one of the founders of the urban agriculture centre Turntable.Since 2015, Raivio has worked together with Daniel Bumann at their joint design agency RaivioBumann. The duo has created Parkly, a brand of smart and modular urban furniture that encourages citizens to participate in their environments and helps to promote more green infrastructure. Raivio is known internationally, too, and is a member of the Placemaking Europe network.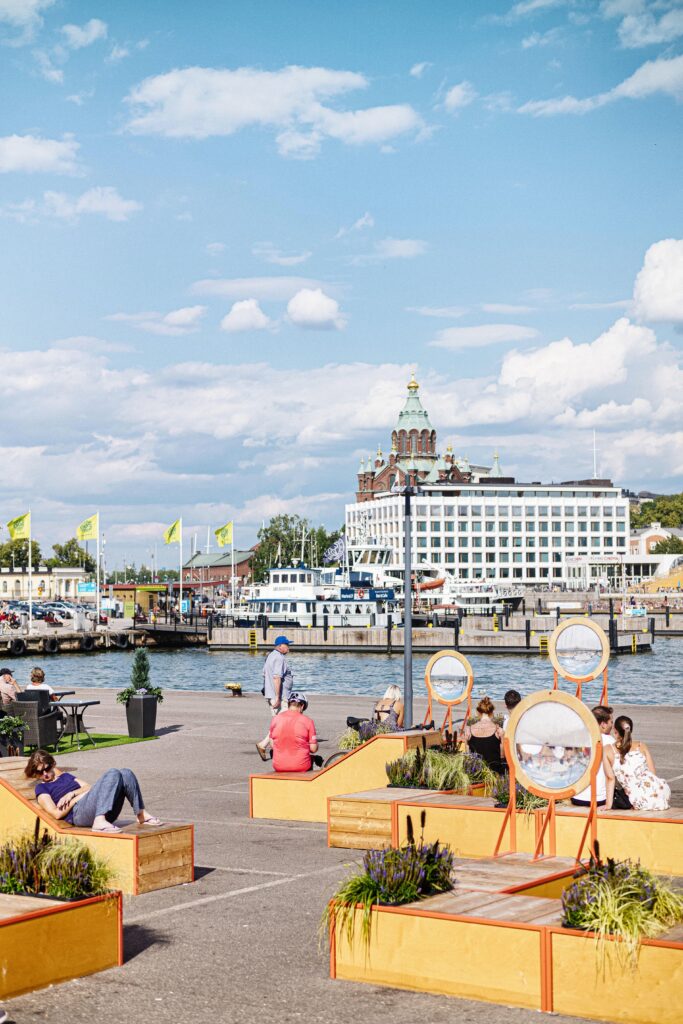 The objective of the Helsinki Design Award jury was not only to survey successful products and services but also to recognize how important processes are in producing better everyday solutions for the citizens.
"Experimentation culture can put major changes in motion if designers manage to combine ideas with correct timing. In this respect, Raivio's work represents great potential," says Chairman of the Jury, Helsinki Design Week Founder and Director Kari Korkman.
"Päivi Raivio has participated in urban development in the long haul, shaping not only the city space around us, but above all the methods and processes of development. I am happy to give this year's Helsinki Design Award to an established specialist in citizen-driven design," says Chief Design Officer of the City of Helsinki Hanna Harris.
"For Helsinki, design is a way to renew the city, and we are keen to strengthen our profile as a design city. We work in close cooperation with design companies and designers, and the Helsinki Design Award is a great opportunity to highlight and thank our important partners in urban development," says Mayor of Helsinki Juhana Vartiainen.
This year's Helsinki Design Award jury consisted of Chief Design Officer of the City of Helsinki Hanna Harris, Urban Tech Helsinki's Taina Seitsara and Kalle Toivonen, founder of the creative agency Måndag Arto Sivonen, and Pentagon Design's Virva Haltsonen. The chairman of the jury is Helsinki Design Week's Founder and Director Kari Korkman.
The 2022 Helsinki Design Award will be presented by Mayor of Helsinki Juhana Vartiainen on Thursday, 1 September at 18. Päivi Raivio is available during the Weekly Talks on Friday, 2 September at 16 at HDW's main venue Kanavaranta 1, 6th floor. Free entry.