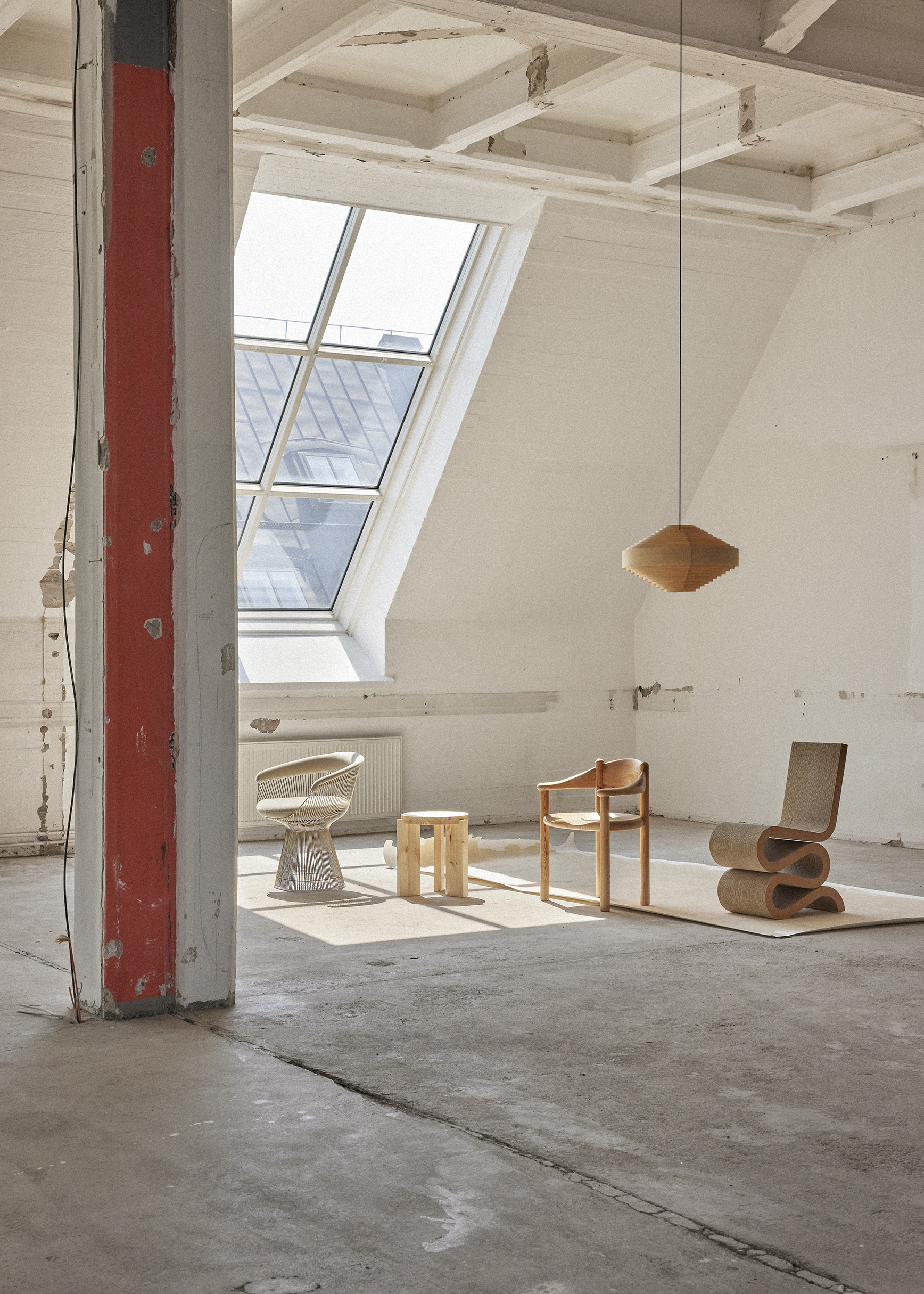 Good everyday life is the foundation of everything for HDW main exhibition curator Ulla Koskinen
Helsinki Design Week's main exhibition is to take over the top floor of the Merikortteli block with a collection that addresses the good everyday life 13–17 September 2023. The exhibition is curated by established designer and editor-in-chief of the Asun magazine Ulla Koskinen. She crossed paths with Helsinki Design Week years ago and has ever since been involved in numerous versatile projects. For example, last year she curated the interiors of the House by an Architect concept for the Fiskars Village Art & Design Biennale.
We called Ulla Koskinen to address the prerequisites of a good everyday life, the changes taking place in our lives and workspaces and the historical Merikortteli as a venue – among other things.
What kind of a role has Merikortteli played as the venue in the construction of the exhibition? Has it inspired or set some limits?
The venue definitely adds character to the event as a whole. I want to continue and enrich the dialogue with the works, objects and elements brought into the venue. However, I also want the premises to remain very much present. Merikortteli is a fascinating place with a very central location. In terms of the structure of Helsinki, Punavuori is a district very much living through a new era.
For me personally, it is familiar since decades: I have lived in Viiskulma, and some of my family and relatives still live there. I've also had my office there for a couple of periods. The change taking place in Punavuori is interesting; the way the shipyard is opening up and uniting the city. To begin with, I was not very excited about breaking the rough industrial style, but now, as I look up Merimiehenkatu or Pursimiehenkatu, I can see that the district is joining the city and its natural continuum in a fascinating way. It is exciting that the place feels attractive in a completely new way thanks to a new temporal layer.
How did good everyday life qualify as the theme of the HDW main exhibition? What does good everyday life mean to you personally?
To me, good everyday life is the foundation for everything.

Ulla Koskinen
It is fun to party from time to time, but I live above all between special moments – I am clearly more a person of routine than occasion. I pay more attention to the good everyday life, and to me it means balance, fluency, security, rest and charging my batteries; work and other aspects of life in balance, and preferably in nice places. The importance of home, the workplace and our daily routes is highlighted – they need to be functional, beautiful and pleasant. This way the framework of daily life can provide continuous inspiration, tranquillity and pleasure. You can be surprised by the familiar.
It is rather unsustainable from the point of view of not only the environment but also individual peace of mind to continuously look for something over the top. Particularly after the pandemic, it feels that the travel boom has finally faded. What will it mean that the home is now also the workplace?
We don't know yet what kind of development there will be regarding our work environments. Offices as we knew them do not exist anymore, and offices and homes are more alike than ever before. I want my office or workspace to be attractive and functional. Nowadays we talk a lot about homely workspaces, but I don't think homeliness is the only or the best way to make a workspace attractive.
I know from experience that at times it is hard to let go of work. That is a challenge: when we work at home or pretty much anywhere, we need to find a way to switch off from public to private, from work to leisure.
How to create a transition residing in a similar space constantly and to let go of work at home while not using working hours to do other things? How to create a framework of concentration, various areas in the same space, and turn home as if by magic to a workplace and after some hours back to a private home?[2]
Previously, the whole idea was to keep one's home private, and even if nobody can enter it physically, work will make home and the private sphere more public and common.
Now we have become used to it, but when the pandemic hit us and video calls became common, I felt that the public side of my work came too close and entered my private sphere – although I had shown my home publicly before and it was not as private as many other homes. Adopting the new meeting style was surprisingly challenging for me.
One's home and quarters may need to go through the motions. When your kids are young and their friends visit, your home is kind of public. Then at some point it becomes more private again. It is interesting to perceive what needs and wishes the various life stages place on your one and only home.
What about the future, will the same challenges remain?
We will require rooms to adapt and convert. However, the idea of working by a desk only is crumbling, too. Often people do not work by a desk but in bed or wherever. Regarding the future, extending work to one's home, bed even, one's private place of rest, feels wrong to me. Momentarily and in some life situations it is possible, but it is not an ideal solution. Regarding future living, I wish there will be sufficiently sized homes where one can separate the workspace from the rest of the home and free time as need be.
That is quite a contradiction; at the same time, we hear news about being able to build so and so many studio apartments of 17 square metres in a small space.
This is exactly what I mean; this cannot be the only direction for the future. Yes, we can function in a minimum of square metres, but it is not an ideal solution for many years. Square metres are not a luxury; they are needed for the good everyday life. We need a reasonable number of square metres depending on our lifestyle and work. The elements of life and presence of work at home strongly impact the requirements for a reasonably or ideally sized home.
While homes are becoming smaller and offices are disappearing, more and more work is done in temporary premises. Employers lease premises that transform and move. It is a stressful idea, to need to move your work station or workplace all the time.
An open office is good for certain purposes, but future offices will also need more versatile and permanent rooms. In fact, I am sure that most of us need our own territories. I have thought about this from the point of view of employers, too. People will not commit to a job or a company if they are constantly moving. Team spirit is harder to build in a place that has nothing of its own. I believe that it is easier for people to become a part of a work community if they have physical room, even if it is minimal, inside the complex. Not all jobs are supported by movement and adaptability. We need both the community and our privacy at work. Putting on earphones will not create a space that helps concentrate on demanding work.
To me, my own territory has always been very important, and even if I can momentarily work in any kind of hassle, it is important to have my own place where I can leave my stuff without having to clear out every day. In my opinion, certain elements of everyday life make work inspiring. A place can have the character and atmosphere to crystallize the company spirit and values.
That is important to note: that not only the people create a place but also vice versa, a place and its maintenance can impact people strongly.
Yes, there is a dialogue between a place and its users. The main occupant – the company – can leave a strong imprint in a place and develop it together with its people. Premises may vary in style and level and phase of development, but what makes a place or space good is caring; that users care about their premises. There is no space for indifference. Whatever resources or competences are available, it is important to feel that the place is important and taken care of.
Marking off territorial boundaries is about the same thing. You can make a place your own and show that you care by taking care of it. To each their own, obviously, but it is important for a place to have its specific qualities. For a company, the premises represent an opportunity to transmit their values in the daily routine of the employees, to create team spirit.
Let's talk again about the exhibition and concrete matters. How was the exhibition built physically in cooperation with the architect, designer Lauri Johansson? What do you wish the exhibition to give to the visitors?
There is a stairway that conveniently divides the venue in two. Lauri is responsible for the common HDW space with the bar and the stage. "Weaving together" the exhibition by atoning the creators, products and works into a fluent ensemble is my cup of tea. Of course, there is plenty of overlap since we are a small organization. The few exhibition structures brought into the rooms are in line with the appearance created by Lauri that is also present in HDW's premises.
The exhibition aims to evoke and provoke thoughts and emotion. A good space speaks to people. It does not function by explanation but also talks to people on an emotional level. At best, you do not realize there is a space, it just works and feels good to you. The exhibition features something to chew on but also plenty of familiar items. We want to offer experiences, of course, an ensemble to grow upon.
The exhibitors are very different from each other. Artek and Juslin Maunula form a good collaborative combination. On a conceptual level in particular, and in this collaboration Artek gave the designers free hands to design. I wish that in the midst of this very challenging time for design – the past year was exceptionally hard for a large part of the industry – the value of experimenting and the necessity of stretching the limits will not be forgotten. Because, at times, something completely different will provide an answer to the questions occupying the mind or inspiration can be found in something surprising. That is how art works for me. I often notice afterwards that I have found a colour palette or rhythm to my own spatial project inspired by a work of art.
Helsinki Design Week main exhibition at Merikortteli from 13 to 17 September 2023 (open Wednesday to Friday at 12–20, Saturday and Sunday at 12–20). You can buy tickets (20/10€) here.