Office 2000: open, incomplete, and cooperative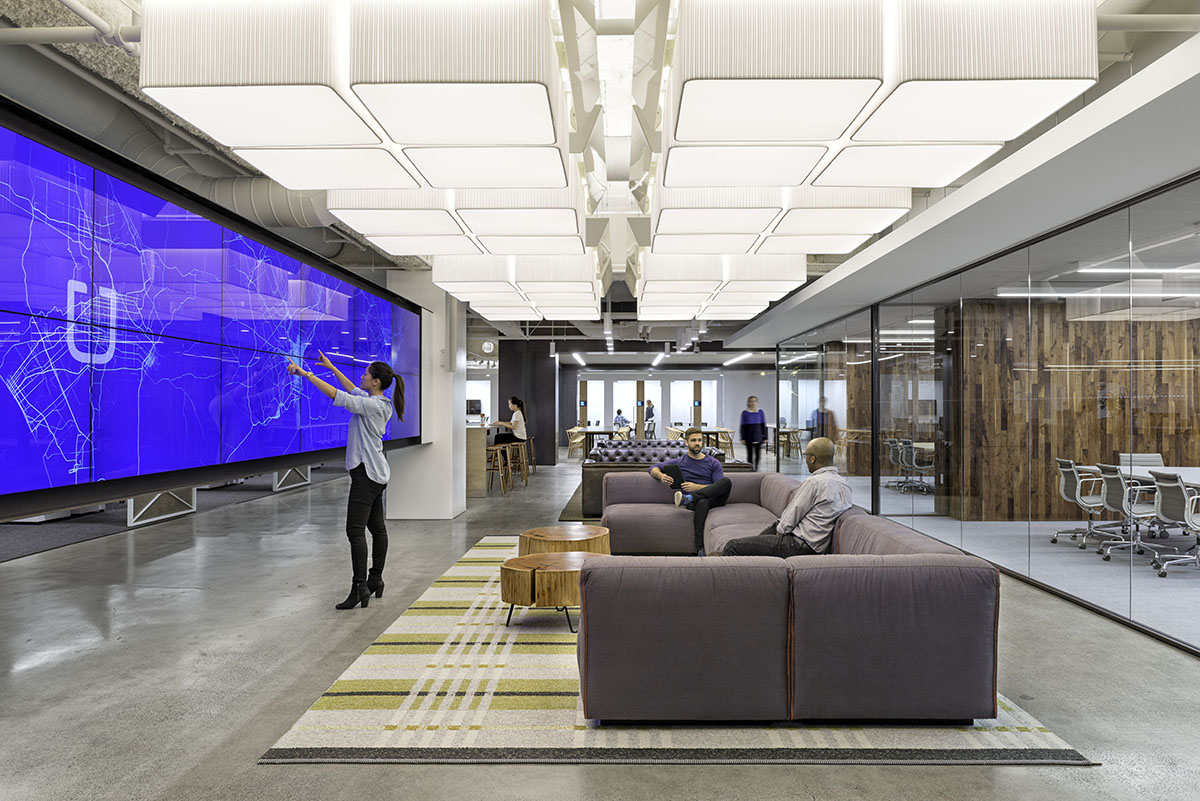 There is a tough competition going on for the best employees in the San Francisco area. Local organizations invest heavily in office interiors and campuses.
There is a tough competition going on for the best employees in the San Francisco area. Local organizations invest heavily in office interiors and campuses.
"We're living the golden years of office design," say Primo Campilla and Verda Alexander, founders of the O+A studio in San Francisco.
Never before has office interior investment reached this level, and never before has the significance of working environment been understood as well as today. Functional premises with distinctive character become the leading edge and differentiation factor for a company, believe Orpilla and Alexander.
This holds true at least around San Francisco. Fast-growing technology companies build and renovate their premises at a furious pace.
In Cupertino of Silicon Valley, 70 kilometres from San Francisco, the new Apple campus designed by Foster & Partners is under construction. Google's new main building is just 15 kilometres away. It was designed by Bjarke Ingels.
An extension to the Facebook campus, MPK20, was completed less than a year ago in March 2015. The building consists of 40,000 square metres and fits 2,900 employees.
Architect Frank Gehry himself contacted Facebook founder Mark Zuckerberg to suggest cooperation. At first, Zuckerberg feared that Gehry was too expensive and that a building designed by him would communicate wrong ideas about the company. Gehry did not give up. He got another chance and made a new, more affordable offer.
Mark Zuckerberg says the building was completed ahead of schedule and below the budget. We've heard that MPK20 is the most inexpensive building in the Silicon Valley. The next extension to the campus is on the drawing board.
Incompleteness is a virtue
While new gigantic campus areas are under construction in Silicon Valley, old properties in the centre of San Francisco are being transformed into new kind of offices. Designed by O+A, the Uber headquarters are located on Market Street that cuts across the core of the city.
Often what is left from the old only shows in the façade, as the objective is to create spacious and airy interiors. It is trendy to leave old structures in sight, either to emphasize the history of the building or the incompleteness of the project – for a tech company the world is never complete.
At Uber, ventilation pipes are out and about for everyone to see. Airbnb's new premises are situated a couple of kilometres away in Soma, San Francisco. Their design was done in-house. "The building's 'skeleton', its structures, are allowed to be seen here, too," explains Airbnb's lead interior designer Rebecca Ruggles.
Incompleteness is not a vice but a virtue in Silicon Valley. People have accepted that work environments must constantly change.
When Uber needed more space for its employees, they bought an additional floor. 11th floor is physically separated from the rest of the offices, and this fact was consciously utilized in its design. On this floor people plan special projects and envision the future. In the main lobby, the walls have only been painted half way, and all of the piping is out in the open. The space is intentionally raw.
Similarly, Facebook's MPK20 looks incomplete and sketchy. Mark Zuckerberg did not want the building to be too 'fancy'.
Lobby – the company in miniature
The reception area is the guest's first impression of the company. At Uber HQ, the first object in sight is a stylish desk made of marble. There is a simple Uber logo above the desk, the letters of which are modestly illuminated in white. Shiny black walls lead the guest further along the lobby.
Uber premises transpire mature style, elegance, and a bit of luxury. One of Uber's missions is to bring some luxury into everyone's life – thanks to the company, a taxi ride has never been cheaper.
"We want to tell the story of our customer by using space," says Orpilla, one of O+A studio's two founders.
One cannot image any other technology company to own the Uber lobby. Tech firms are usually easy to recognize by glaring colours and youthful appearance. They often choose plywood, light wood, and painted concrete surfaces, but their furniture is bound to scream colour. Uber uses materials like glass, steel, copper, and mable, for example.
Facebook offices attract with colourful furniture that look like prototypes made by design students. Furniture transpires innovation and experiment, just as Facebook does as a company.
The Airbnb lobby reminds one of a plaza in Central Europe. When San Francisco-based Gensler Architects started the design of the new Airbnb premises in an old warehouse, they wanted to bring outdoor elements into the lobby. There is a section of tram tracks typical to SF on the floor. Lobby's inner yard opens to the terrace of their in-house Cairo Cafe. This market-square-like lobby invites you to sit around and observe the characters working in this tech firm.
"The building feels like a small city because there are such different spaces inside the offices," says Rebecca Ruggles of Airbnb.
Office becomes living room becomes city hall
The word 'office' does not sound right in the Silicon Valley as the local work environments look so unlike traditional offices.
Airbnb meeting rooms have been decorated to imitate the actual homes available through the company's listing service. There is an Icelandic kitchen, a Milanese bedroom, and a treehouse from California. Each space, room, and area is unique.
"We want to use homey materials in our interior design, nothing too expensive. We use plenty of furniture made by local designers and carpenters," says Ruggles.
Airbnb offices succeed to embody the company's philosophy: feeling at home while travelling.
Airbnb employees do not all have their own desk, only a locker, in which to keep personal stuff. They can work wherever: if they like, they can work inside a real camper van brought inside the office.
There are no limits to what Airbnb can do with interior design. Any employee can suggest a design plan. One employee decorated the toilets to look like Alice's Wonderland.
Although the premises burst all things fun and fascinating, what we really want to see are premises that support the actual work. Airbnb offices may be playful, but they are not childish.
"I believe that offices impact company culture. Google campus, for example, is more office-like. Here we have a friendly atmosphere, unofficial, even homespun," says Karri Saarinenwho works as a UI designer at Airbnb.
Saarinen usually works all day at his screen, and yet he meets plenty of people. "Nobody's hiding around here. It is easy to go talk to a colleague."
This is what office designers aim at: to encourage spontaneous meetings during the working day and to allow unconstrained communication. Exchanging thoughts and ideas is made effortless and easy.
Mark Zuckerberg wanted MPK20 to be a space that encourages cooperation and transforms as need be. A space that emphasizes openness and transparency.
Orpilla from O+A remarks that a modern office requires various facilities: those in which to work, alone or in a group, through discussion or silently as in a church. People also need a shared space in which to meet for those important moments or when receiving guests. Some spaces require fixed furniture and some easy-to-move items and flexible design themes. People need social facilities as well as places where they can be alone.
Orpilla has developed a new taxonomy for work space. According to him, Office 2000 must include a living room, a city hall for gatherings, a studio for brainstorming, as well as a haven for silent moments alone.
Work space design looks for inspiration in cafes and restaurants – places where people are comfortable and enjoy to work on their laptops.
Both Airbnb and Facebook also offer workshop premises where employees can play music or tinker. Their whole life fits in at work. All three companies also give their employees free meals.
Facebook, Uber and Airbnb all emphasize openness. Airbnb's board meets in an oval space behind bare folding screens. "Our organization is low-hierarchy and open," remarks Ruggles.
According to Zuckerberg, Facebook's MPK20 is the largest room in the world. The whole building is one big, open space, but its hosts various small nooks to which people can retire if they are in need of peace and quiet. A winding path takes people from one end of the space to the other.
"The trend in spatial planning calls for open spaces where one can see from one end to the other. This is accessibility in practice," Orpilla explains.