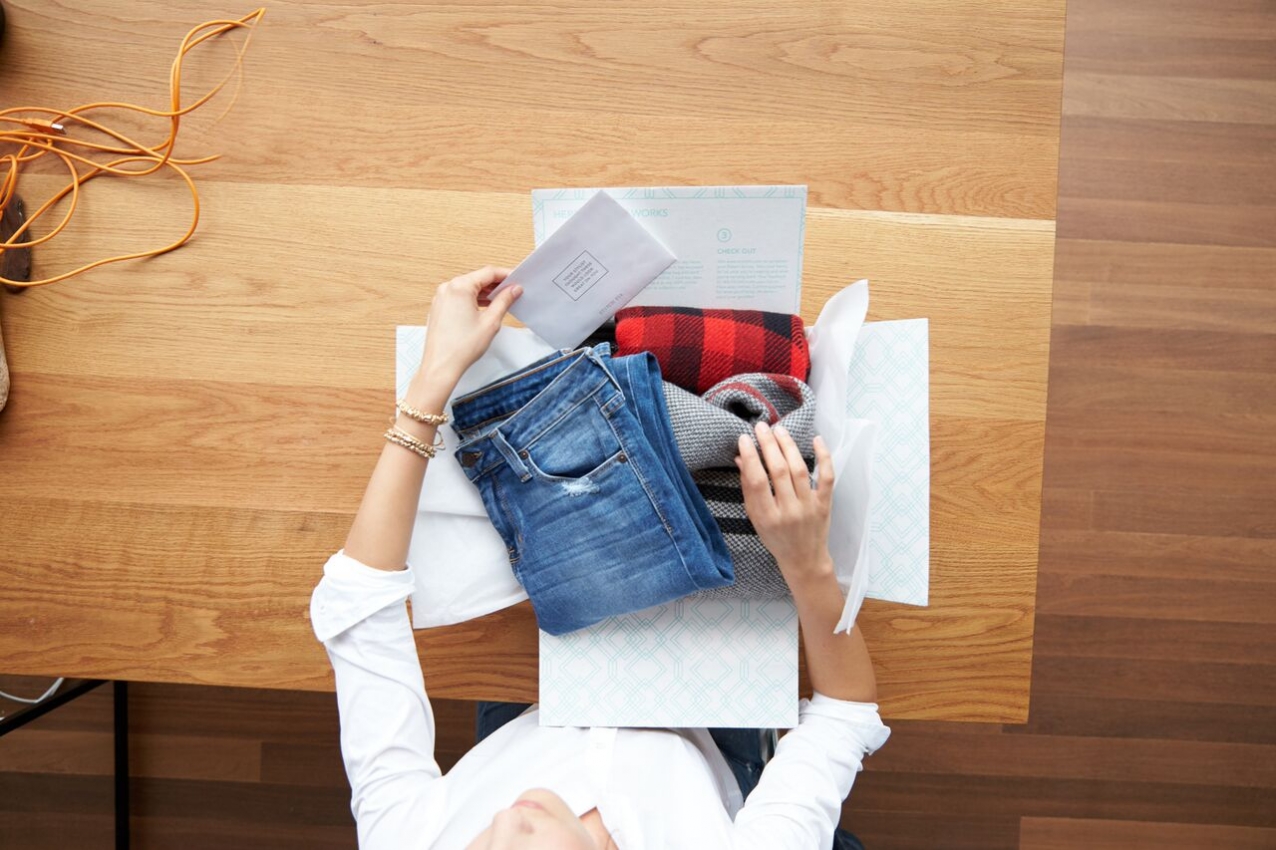 Online and home delivery services change how fashion is consumed in the United States. People do not need to go to the optician to try on a pair of specs, and they can outsource their clothing purchases to a virtual stylist. Shopping is easier and more fun than before. But is this development ecological and good for the fashion field?
Online and home delivery services change how fashion is consumed in the United States. People do not need to go to the optician to try on a pair of specs, and they can outsource their clothing purchases to a virtual stylist. Shopping is easier and more fun than before. But is this development ecological and good for the fashion field?
Fitting at home
Everyone who owns a pair of eyeglasses knows how painful it is to try on and buy new spec frames. Luckily opticians let us take them home for fitting. Established in New York, Warby Parkertakes the specs business a step further: you don't need to visit the actual store at all. You can go to the company's website and select five favourite models that are then delivered to your house for free. You have five days to select the pair you want. If this feels like a challenge, you can post your photo posing with the glasses to one of Warby Parker's social media channels. Warby Parker's staff comments and helps you make the purchase decision.
San Francisco-based underwear brand True & Co has the same principle. New customers fill in a survey form on the internet, based on which they are categorised into one of seven size groups. The survey is very detailed: how does your old bra fit, is it tight on the shoulders, what size do you use with leisurewear.
Interestingly, Warby Parker and True & Co. both base their businesses on products that we usually feel are difficult to purchase and with which we need the help of a skilled salesperson.
In order for the home-fitting service to work, the whole process must be absolutely seamless and smooth. It must feel easier to try the products at home compared to visiting an actual store.
Could this type of home-fitting service apply to other design, too?
Your own personal stylist
Most of us cannot afford a personal stylist. The situation is about to change thanks to styling services available on the internet.
Founded in 2011, Stitch Fix targets busy career women who have no time to shop. Its founder Katrina Lake says that she wants to help women to find their own styles and look their best. Just like with True & Co, using Stitch Fix starts by filling out the form. The service shows you different outfits so that you can check the ones you like and discard others. After this you must answer a whole bunch of questions: do your prefer skirts or trousers, do you tend to hide a part of your body, what types of patterns and colours do you like, what kind events do you attend, how much do you usually pay for your clothing, and so on.
You can choose how often you want to receive a package of clothing and accessories collected by Stitch Fix stylists. All items that you do not like can be returned. The rest you can purchase. According to the company, 70% of customers continue to use the service after their first order. The start-up fee is 20 dollars. There are no other expenses unless you end up buying the products delivered to your house.
Stitch Fix's business is a mix of art and science. User feedback and activity are being carefully monitored so that clothing deliveries can be more and more tailor-made to suit each customer's preferences. The service works like Netflix: it recommends products based on what you have purchased before, which products you have clicked, and which you have liked. However, the final selection is made by a real alive stylist (the company employs more than 1500 of them). The objective is to convince the customer to buy two out of five items delivered.
Stitch Fix combines the wide selection of a shopping mall with the convenience of online shopping. The clothing brands they pick have wide selections. Stitch Fix could promote more local, ethical, and ecological brands if they wanted.
Rent, don't buy
StyleLend and Rent the Runway are online clothing rental services. Rent the Runway was born when founders Jennifer Hyman and Jennifer Fleiss started to wonder why women couldn't rent party dresses like men have rented tuxedos for decades. Now the service has more than five million customers and an inventory of 65,000 outfits. In five years, every American women will renew her wardrobe by going rental, forecast the two Jennifers.
Rent the Runway utilizes data analytics, too. Research results are shared among the designers of the service to know what outfits gain the biggest demand, at what times the items are rented, what colours are the most popular, etc.
At StyleLend, private people can lease out their own outfits for a 50% profit. With a precondition: the retail price of the item must be at least 300 dollars and it must be less than two years old. Vintage is no good here because the idea of the rental service is novelty.
Ecological and ethical or…?
According to Rent the Runway, every American buys more than 60 pieces of clothing per year. It must be more ecological and economical to rent some of them instead of buying? Then again, package deliveries consume energy and increase road traffic. Moreover, each rented item must be properly cleaned after each use unlike a dress of your own that will work just fine after a bit of airing. Shared clothing thus goes through much harder wear than private garments. Fluent online services may also encourage people to consume more, as shiny new items drop by the door on a regular basis.
New online fashion services may familiarize consumers with young new designers, more ethical fashion, and higher-quality clothing. The most valuable items in Rent the Runway's collections include Derek Lamia, Jason Wu, and Nina Ricci – names that we know from actual runway shows. Gianbattista Valli's mini dress costs 4,675 dollars in retail; at Rent the Runway, you can wear it a couple of days for 700 dollars. Hopefully customers see the difference in the fit and crafted quality compared to fast-fashion items. And hopefully customers go a bit more pricey and sterling when shopping in the future.
For the most part, the collections of these services consist of affordable brands. As they make us accustomed to low prices, we will want to pay less also when buying to keep. The fabricator's share of the price will never increase. Production conditions will stay unethical.
Rental and styling services must renew and grow constantly for customers to find new things to wear and stay satisfied. Although the individual customer does not shop, the service does the shopping for her.
It will be interesting to see if new types of services are to change fashion consumption for good. In the old days, the customer went to seek fashion; now fashion comes to seek the customer.
Meanwhile in related fields
Bag Borrow or Steal is a service to sell, buy or rent branded bags.
Glamsquad is a mobile beauty salon that takes a hairdresser or a make-up or nail artist to where the customer is. In Los Angeles.
Le Tote combines rental and styling. For a monthly fee, you'll receive a personalised package of clothing and accessories to your door.
ShareStyle is a Swedish, government-driven service to sharing clothes among consumers.
Thread is a styling and shopping service for men that operates in London.