MOW, UMA and Flux: New coworking spaces in Helsinki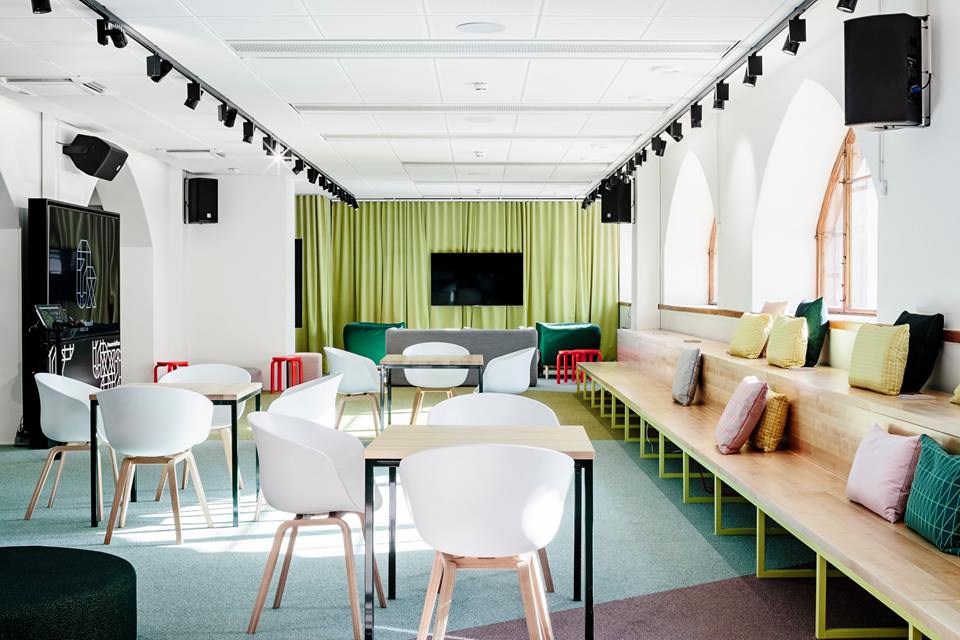 What has happened in the metropolises of the world is soon to happen in our small capital. The concept of coworking space developed during the latest decade is taking root in Helsinki. These three new premises combine what is best in cafes and in open offices.
What has happened in the metropolises of the world is soon to happen in our small capital. The concept of coworking space developed during the latest decade is taking root in Helsinki. These three new premises combine what is best in cafes and in open offices.​
An accountant, consultant, coder, graphic designer, communication specialist, and journalist can all work together here. Or on their own, really. People are connected by space, "the Mothership of Work", and by spending their coffee and lunch breaks together, but not by their tasks.
Three new coworking spaces have opened in Helsinki this year: MOW, UMA and Flux.
This development has taken place quickly. A survey that stated the wish for companies to establish these types of premises was published just last year ("Duunia kimpassa" 2015). MOW is sponsored by real estate investor Sponda, Flux by Microsoft, and UMA by office leasing company Technopolis.
Now that IT is common, work is no longer dependent on a place or time. Work is less and less tied to traditional employer–employee relations or monthly salaries. A functional wireless connection, a laptop and one worker are the minimum requirements for an enterprise.
However, working also requires a space. Coworking is here to meet this demand. Telecommuting, working at home or at the beach becomes lonely after some time. We need to structure our work, and we especially need a community with whom to share our daily work routines.
Coworking spaces aim at fulfilling this need. They differ from traditional office hotels in their objective to create a sense of community, synergy, and fortunate encounters among their members. In Helsinki, especially compared to basement studios favoured by the creative field, coworking spaces are bigger and look more like large open offices.
When work and leisure become one
Coworking spaces were born in San Francisco ten years ago. People shared offices where they both lived and worked. In Finland, in addition to large premises, a new Hoffice model is growing in popularity: it means that people in the community take turns working in each others' homes. Mushrooming is a website and a Facebook group that has listed small, independent studios for close to five years now.
At best, coworking is like cherry-picking. You get the benefits of employment, like centralized administration, IT support, socialising during the coffee breaks, and recreational events. At the same time, you are free to work at your own pace.
Coworking spaces are populated by people to whom work is a form of self-expression, as it is understood to be for artists. Work content and selfness are closely related.
This involves the risk that work and leisure become one. Freelancer, self-entrepreneur or startup founder is wholly responsible for their recuperation and drawing a line between work and free time.
An office that offers nice colleagues, a pop-corn machine, foosball, or VR glasses can be come a tad too attractive.
Flux: For the start-up people
Flux offers free working space for start-up founders and related wannabes sponsored by Microsoft.
It offers premises for creative-field entrepreneurs and employees, students and start-up developers. There is an open office to use for free and two meeting rooms. Selected regular users, the in-house start-ups, obtain 24/7 access and keys.
The Maker's Hub of Flux encompasses 3D printers and arduino, VR and other devices to use freely, as long as you show the results of your work to others.
"We encourage people to have meetings outside the meeting rooms in case there is someone around who may have had the same problem before and wants to suggest a solution," says Annie Talvasto.
Working at Flux is free, including the coffee.
The place is designed by design agency KOKO3 and the graphic art by MacWell Creative.
Microsoft Flux
Free of charge
Opening hours Monday to Friday 9:00 to 21:00
www.microsoftflux.com
MOW: Folk's Meets and Popcorn
An initiative of property development and investment company Sponda, Mothership of Work is most like its international counterparts among the spaces available in Helsinki. It offers three types of memberships: freelancers, who work where there is space; prolancers, who have their own desks; and residents, who have their own rooms.
Mothership of Work currently has about 170 members and about 250 desks on five floors. In addition, it hosts 12 meeting rooms, event facilities, kitchens, phone booths, and a popcorn machine.
Members arrange various meetings and events and, for example, a shared summer party. Folk's Meet takes place once a month to discuss upcoming programme, development ideas, and Green Office objectives and achievements, to name a few examples.
"We have been discovered by groups who are interested to work according to MOW's principles: openly and flexibly," says Johanna Valkeajärvi who works at the reception.
The place has been designed by design company Rune & Berg Design and architect Onni Lahtinen.
MOW
25€ per day, 330 to 530€ per month
Opening hours: 24/7
www.mow.fi
UMA: For people who already have offices
Human Workplace UMA opened upstairs of Academic Bookstore in the beginning of May. It is part of a coworking network that operates in five countries, 12 cities and 14 campuses. The members of the network may use all of the UMA premises.
UMA is for people who already have their own offices.
"We call this Office Away from Office," says Terhi Aho, one of the developers of the place in Helsinki.
Users include engineers and CEOs but most everybody is welcome.
The space on Esplanade houses desks for one hundred people. The space includes a Nespresso cafe and a host.
Aho says that UMA is suitable for commuters and people who usually work outside the city centre but need a place to work, say, between meetings.
"We want to lower the threshold to those attached to their desks to explore the options available outside their regular environments."
The interior design is by design company Gullstén & Inkinen.
UMA Esplanadi
199 to 249€ per month, 20€ day pass
Opening hours: 7:45 to 20:45
www.technopolis.fi/uma