Weekly Bubbling: Danit Peleg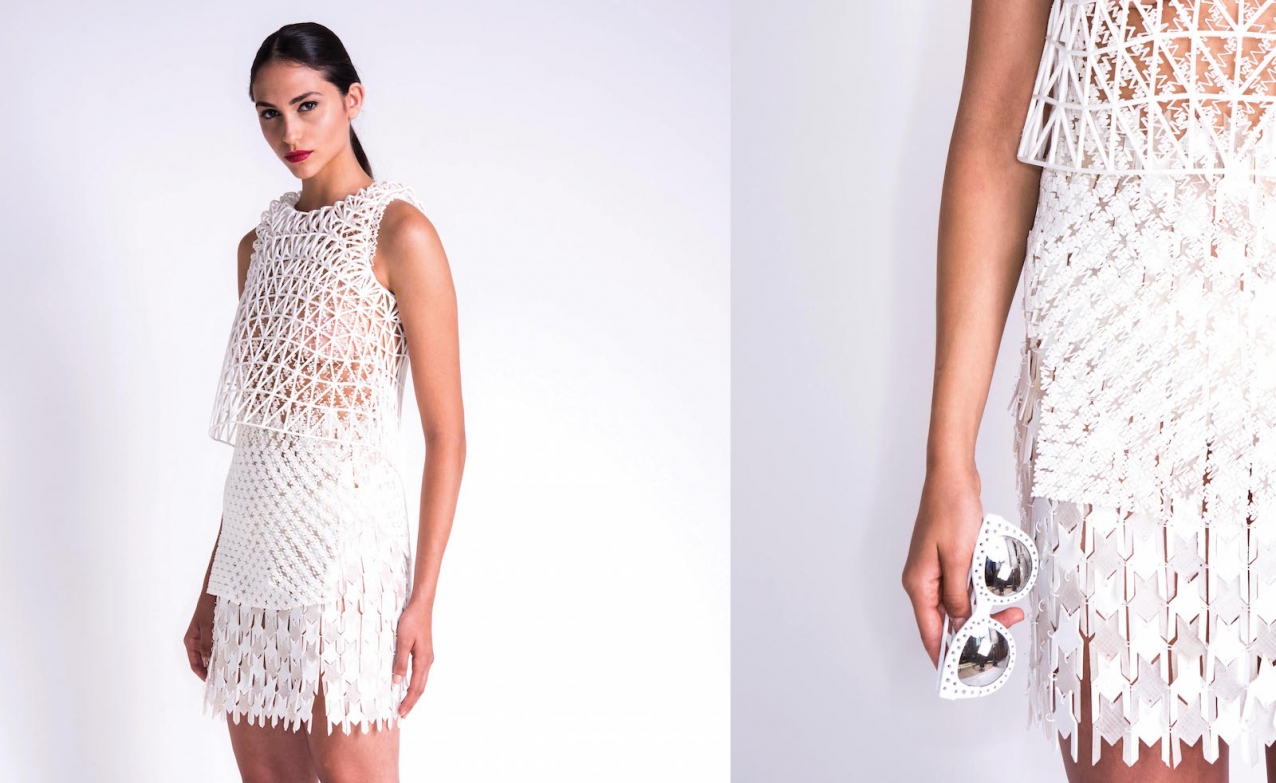 Weekly Bubbling is a series of articles presenting up-and-coming talents in the design world. This time we meet an Israeli fashion designer Danit Peleg challenges the fashion industry with her recycled 3D fashion.
Weekly Bubbling is a series of articles presenting up-and-coming talents in the design world. This time we meet an Israeli fashion designer Danit Peleg challenges the fashion industry with her recycled 3D fashion.
Nine months and more than 2,000 hours of printing. This is how long it took from Israeli Danit Peleg to create her 3D collection that she designed for her master's degree at Shenkar University last year. This collection challenged the way that we're used to do fashion. 3D fashion is low-emission and set to democratize the fashion industry. Peleg believes that traditional sewing skills are not needed to make clothing in the future.
Helsinki Design Weekly met Peleg when Aalto University invited the young fashion designer to lecture and lead a workshop on 3D-printed fashion in Finland in connection with the opening of the Design School's new A:space.
Hello, Danit! You are an Israeli fashion designer. How has your background influenced you as a designer?
My home town Tel Aviv is a very innovative city with many high-tech companies. I grew in a military area in Tel Aviv, supported by a very creative family. Life in such a place has been like a gift to me.
How did you become a fashion designer?
When I was 10 years old, I participated in a fashion course taught by a student of fashion design. I was so inspired that I made my mother buy me a sewing machine. The first thing I did was to sew costumes for my brother's rock band's first stage performance. I knew quite early that I would some day work in a creative field. In time, I graduated from Shenkar University to become a fashion designer.
Why 3D?
It all started when I was attending a technology conference and didn't have a thing to wear. Because I had a 3D printer in my use, I drafted a skirt on my computer and sent it to the printer. It turned out perfect. I knew what to do because I had done my thesis about 3D-printed fashion.
What is your working method?
I love playing with new materials. I like that I don't have to go to the store to choose the same fabrics that someone has chosen before me. I start by sketching and continue with Accumark design programme. Before printing, I create a final version with a 3D-modeler.
What inspires you right now?
Eugene Delacroix's iconic revolution painting "Liberty Leading the People" has inspired and directed me since high school. Regarding prints, I always get excited with geometrical patterns, mostly in black and white. I also get kicks from working in an urban environment.
What does 3D-printing clothes mean to the fashion industry?
Think of music, for example. Before we used to buy an LP or CD in the store but now we can download digital music directly into the mobile phone. Soon our clothes, too, will be digital, so that we can print them at home from our own computers. The biggest challenge is to find a material that works for 3D printing. When I finally found the Filaflex fibre, it all fell into place. This fibre is strong enough, yet soft and flexible. 3D printing is environmentally friendly because it produces less emissions and there is no need to build a huge factory to make clothes. The materials that I use are recyclable.
What makes you happy right now?
Last year my dreams suddenly came true as the collection I created for my thesis gained plenty of exposure. I would never have imagined that my projects would be distributed so widely. I am happy that I may inspire people to create fashion in a different way. Right now the best in my daily work are my new Witbox2 3D printers. They are three times faster compared to my old printers. I am also in love and recently engaged to be married. My partner is the most important thing in my life right now.
Who do you follow on Instagram?
@ohsoarty is my favorite right now. I follow her to see and hear news about art. Her work is exhibited in several galleries in Tel Aviv.
What would you like to do in the future?
I plan to study the possibilities of 3D printing and fashion further. I would like to create my own complete collection and design for Balmain because I've always looked up to this fashion house.
Where can we see your work in the future?
In museums and exhibitions around the world. I am ecstatic about getting to travel to many countries and meet people from many cultures and share my thoughts with them. I hope life continues to be like this.
Helsinki Design Week's theme this year is Better. What ideas does it bring to you?
I think that our world is better if we consume less. People should be more independent and see the creativity around us as a chance to change the world. This is why I love 3D printing!