Weekly Bubbling: Markus Haapsaari
In the future, robots will build our houses, says architect Markus Haapsaari. The Weekly Bubbling series presents up-and-coming talents in the design world.
In the future, robots will build our houses, says architect Markus Haapsaari. The Weekly Bubbling series presents up-and-coming talents in the design world.​
Kanttia2 Architects' CEO Markus Haapsaari, what would your dream project be like?
I dream of projects that solve our wretched problems as human beings. We still have a huge number of issues to solve, for example slumification, clean energy supply, ownership, sustainable building, peaceful coexistence between peoples, and artificial intelligence. Through our small-scale work and our own resources we strive to solve these challenges.
How did you become an architect?
After secondary school I worked in construction and got the idea that building design could be my thing. I've always been interested in beautiful objects and technical challenges. I studied architecture for about five years in the University of Oulu. I went to work at Kanttia2 Architects as a student nine years ago and ended up becoming the CEO. Perhaps I'll graduate from the university in 2050.
How do you work?
I question nearly everything and often find myself deeply immersed in a topic. My concept of time is not linear, I work in a state of chaos. I need a team of people with various skills around me. Designers, for example, have plenty to give, and it is sad that traditionally they've been excluded from construction projects. In addition, I appreciate sociologists, psychologists and industrial engineers.
What projects are you working on right now?
New headquarters for a company in Oulu, a skyscraper in Egypt, a large block of flats in Kontula, a sustainable apartment house, and a shopping centre in the border of Finland and Sweden. We also work on many other versatile projects.
Who are your idols?
Of architects, Bjarke Ingels's creative solutions speak to me, and despite young age, Alejandro Aravena was awarded with the Pritzker prize. I admire David Chipperfield's elegant and most simple solutions.
Which one of your designs has been the most meaningful to you?
The SMARTTI concept that we designed for YIT. It kicks off a development project during which we intend to make poetry of industrial construction. Industrial construction is important because it helps us design the parts of buildings tens of times more accurately and better compared to traditional methods. It improves their quality and notably reduces costs. Many other fields, such as the automotive, electronics and design furniture industries, have realized this.
What will future architecture look like in Finland and around the world?
Pursuit for beauty will remain important, and in addition, architecture will foster more awareness. It will assume a more pivotal role in building a better world. This is what I hope at least. By questioning and believing in the impossible we can leave a more beautiful and poetic world to future generations.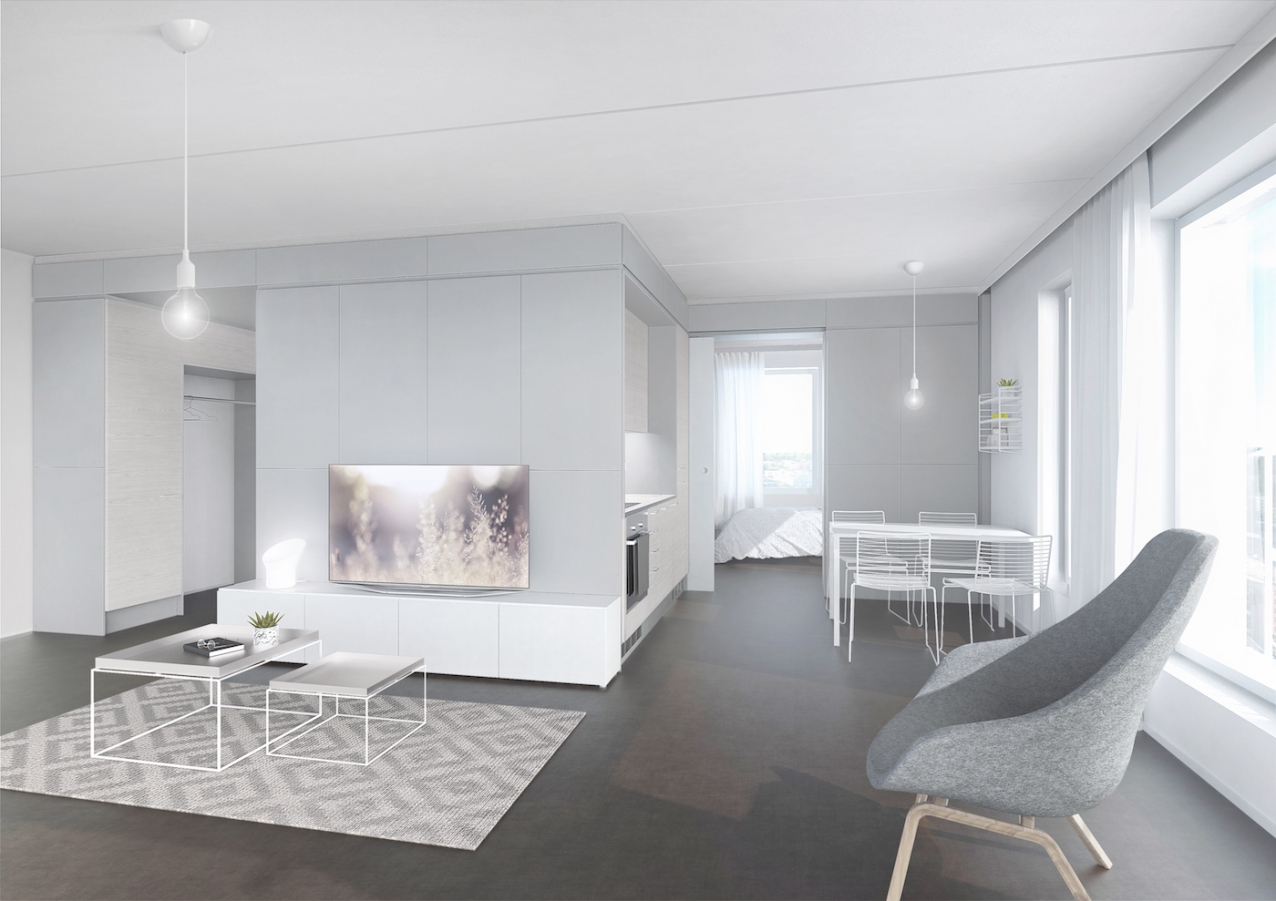 What is your opinion about building technology in the future?
Not long ago, the humankind was blessed with the power saw. Now tools communicate with design software using noughts and ones. This means that soon we can remove the work phase called human being because it is unnecessary, and this will significantly improve the quality of construction. In the future, buildings will be built by robots instead of people, and designers' creativity can take on new dimensions.
If you met a tourist who wanted to learn about Finnish design and architecture, where would you tell them to go?
If I have to choose just one place, it could be Kulttuurisauna ("Culture Sauna") in Merihaka, Helsinki. It is heated with pellets and has a great location by the sea. Their chill-out terrace is embraced by the sea, out of reach of the noisy city. Amazing peace prevails there.
Another place worth mentioning is Gallen-Kallela's studio in Tarvaspää, Espoo. The building is located in a park of natural beauty, on the highest hill of the area. Tarvaspää encompasses a wonderful spirit that influences me every time I visit the place. I love to be there alone, and I feel as if something larger than me is constantly present.