Weekly Studio: Helsinki Design Week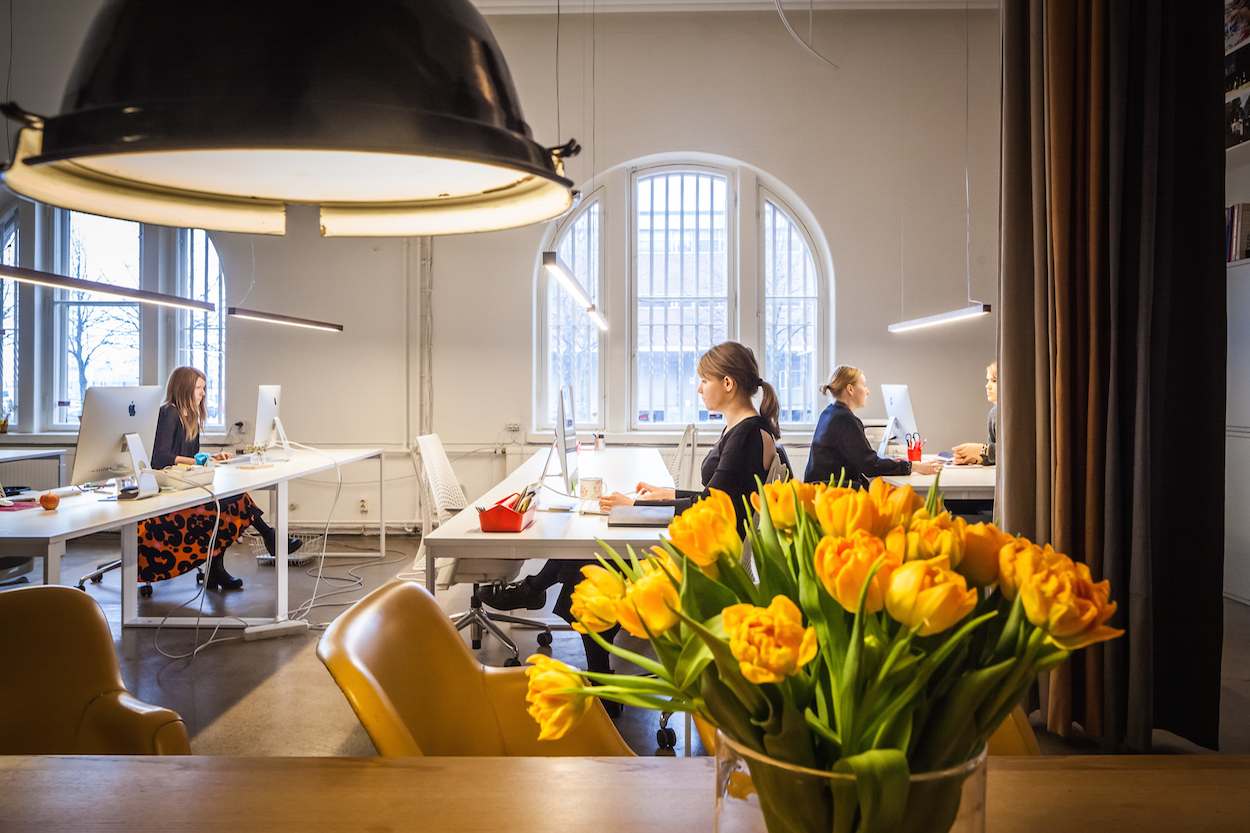 In an unusual twist, this month Weekly Studio visits the office of Helsinki Design Week.
In an unusual twist, this month Weekly Studio visits the office of Helsinki Design Week.
Helsinki Design Week's bright and beautiful office is located in the Old Customs Warehouse in the Katajanokka district of Hesinki. Designed by Gustaf Nyström (1856-1917), the building was completed in the spring of 1901. Nyström, one of the leading architects of his time, also designed The Old Market Hall and The National Archive in Helsinki.
Helsinki Design Week moved to the buildin in 2013 together with design agency Kokoro & Moi.
Founded in 2005 by Kari Korkman, today HDW comprises ten people. Below, we talk about planning Helsinki Design Week, the importance of design in Helsinki and dealing with stray tourists in the office with Executive Producer, Martina Wuoristo-Huhta; Producers Reetta Turtiainen and Helena Fernström; and Communications Coordinator Roosa Murto.
In addition, the team includes Marketing Director Petra Majander, Producers Anni Korkman and Karoliina Helkkula who both live in London, Producer Jutta Ylä-Mononen and Graphic Designer Elli Rustholkarhu.
Because Helsinki Design Week is only eleven days, people must wonder what you actually do the other 354 days of the year.
Martina: We get asked that often! The planning period for organising the festival is very long. We have to organise all the funding, and marketing for the new festival begins again each April.
Reetta: As soon as one Design Week ends, we start thinking about next year's theme. There's also the matter of getting the venues organised and booked since they change every year.
Helena: We also have some other events that we produce during the year. And Helsinki Design Weekly, of course.
Can you introduce yourselves and how you came to work for HDW?
Martina: My background is in economics and marketing, and I originally wanted to organise music festivals. I ended up working for the design festival instead, but I'm happy it worked out that way. I started in 2010.
Reetta: I originally studied dressmaking before realising that I didn't want to be a designer and going to study cultural management. During my studies, I knew I wanted to work at HDW so I joined in 2013.
Helena: My background is in French philology and art history, but I previously worked as a French teacher and sales coordinator before coming back to culture and joining HDW last year.
Roosa: After working as a journalist at Helsingin Sanomat and travelling a lot, I saw an ad about HDW and came back from my travels to start in 2016.
The gender balance is remarkable, because apart from Kari, the entire team is female. What kind of office atmosphere does that produce?
Reetta: The office is very democratic. We're very supportive of each other and that makes it a pleasure to work here.
Do you think there's a direct link between HDW and the importance of design culture in Helsinki?
Reetta: I think it's actually very difficult to see a direct connection at the level of public discussion. Finland has such a strong historical tradition of design and there are always ongoing discussions around design. And the city of Helsinki is strongly focused on design in its own organisation, so it can be difficult to figure out what the exact relationship is between what we do and the impact at that level.
So, it's more that there already exists a strong relationship and HDW is part of strengthening that existing culture?
Reetta: Yes, you could say that. But HDW is also about building new connections, not only among designers but across other fields and industries as well.
The first HDW was in 2005, which makes more than 10 years of design festivals in Helsinki? Has HDW changed much since then?
Martina: I think the DNA is the same, even if the scale has expanded and the audience has changed from being mostly professional to include the general public. When Kari first started HDW, he wanted to do something different and try new things. We still take risks, and sometimes those risks are worth it, but sometimes they don't work and then we just don't talk about it.
[everybody laughs]
Can you give an example of a risk that didn't work?
Martina: For example, individual event concepts which didn't really have the impact we hoped for. Or venues which were too difficult to reach.
Reetta: There have been times where we've been the only people sat in the audience at discussions, but in a festival which hosts 250 events in 11 days, sometimes that happens. It's normal.
How do you view the balance between HDW as a festival for Finnish design professionals and an event to engage the public in design?
Martina: Firstly, how credible we are as a festival comes from the strong event programming for professionals. People travel to Helsinki from abroad, and they expect us to show them something new and innovative.
Reetta: It's an important platform for local design professionals, as we invite various people from abroad and it's a useful space for them to show their work. But on the other hand, we also organise the city-wide festival for a public audience.
Martina: Our main goal is simply to promote design, and that promotion is expressed on a very large scale.
Then, not only do you have the public/professional balance to get right, but also a kind of local/international balance as well?
Martina: HDW isn't trying to be a window of Finnish design abroad, It's much more about building connections at different levels.
Reetta: We call it interactive internationalisation – designers doing things together and building networks.
Roosa: You see this through the organisational structure of the festival. We have our main events and professional programme, which are about building professional networks and connections on an international scale.
Helena: HDW is also about enabling at all levels. Essentially, HDW is a platform for helping people do their own design-related events.
Let's talk a bit about Helsinki Design Weekly, which is a year-round extension of the festival? Has it been a successful experiment so far?
Roosa: I think Weekly is very important for the future of what we're working on with the festival. Since design can be so many things, it's important for people in the design field here to have a single media outlet. We try new things with Weekly and make it more communal. We want all the time try new forms and keep developing.
On a day-to-day level, what's office life like in Tulli–ja Pakkahuone?
Martina: I remind myself almost every day to appreciate the office. It's very rare to have this kind of work space.
Helena: We have huge windows which let in so much daylight, and in a place like Finland where you rarely see the light, it's important to get as much as you can.
Martina: And you can see the sea!
Roosa: And the ferry terminal with tourists coming and going.
Reetta: The tourists are funny. We have a sign outside the building and in the summer, they walk by, see the sign and think that the festival's happening. People wander inside asking where to find the festival.
Do you think that the open-plan space affects the way you work as a team?
Martina: Completely, but in a good way.
Helena: It's very nice that we can just shout at each other, "Hey, can you help me with this?" We're not hidden away in our own little spaces.
Roosa: It's a really lovely place to work. I think we're so lucky.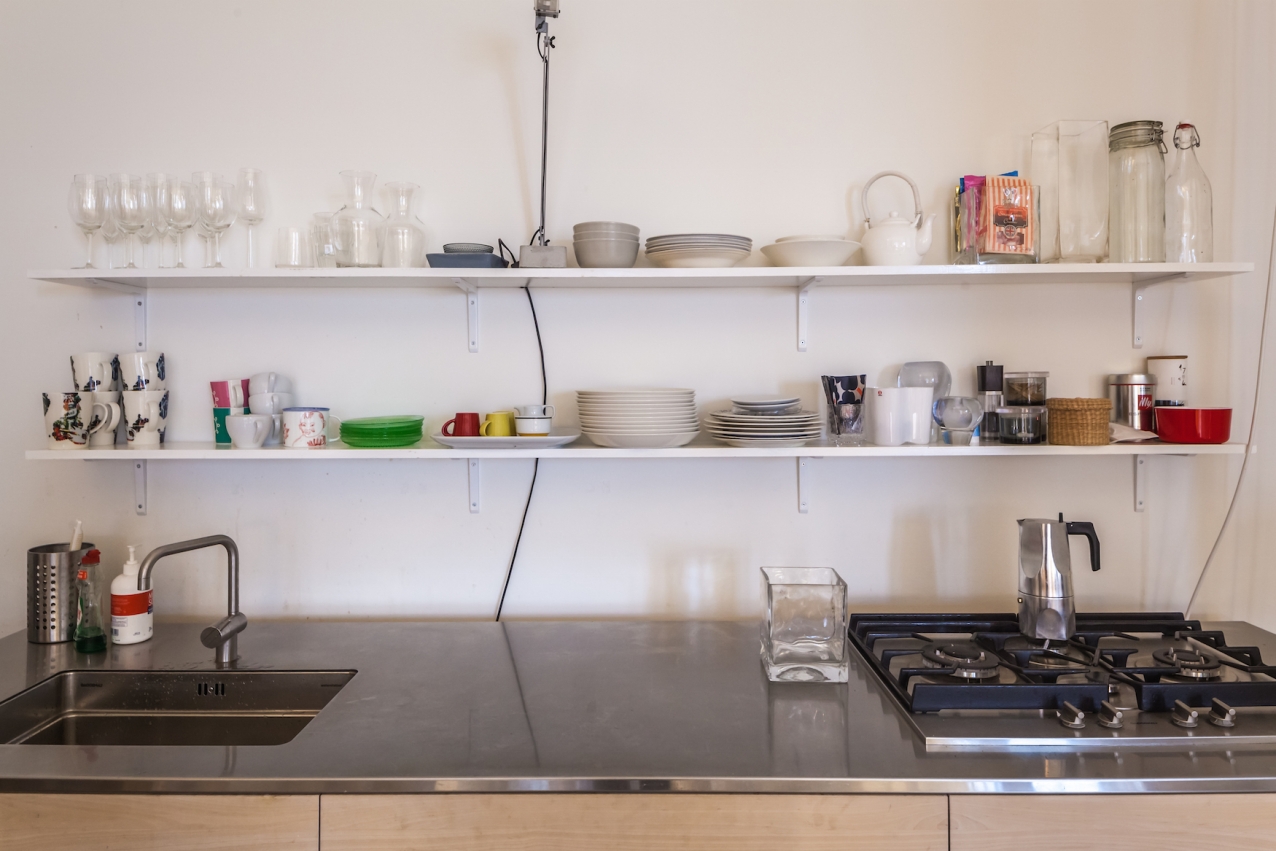 How do you decide on the theme for each year?
Martina: Generally, it's quite broad. We try to choose a theme that combines questions we want to discuss with more topical issues.
Roosa: The theme actually has many functions. It helps the 150 event organisers plan, but it's also relevant for our marketing campaigns and communication. Of course, it is the focal point for what we want to talk about and pay attention to.
Reetta: We discuss the theme among the entire team and typically choose something general for HDW with more specific topics in the programme which we want to focus on, like urbanisation or unlocking the city environment.
Roosa: For 2017, we've just announced that the theme will be Questions & Answers.
Given themes are things like BETTER and Q&A, is it important to you as a team or as individuals that the festival has an impact on the city?
Martina: This is something we talk about a lot. It's what motivates us to do the work, the idea that HDW can have an impact on design and on the city.
Reetta: It's also important to remember that even though HDW happens only once per year, we try to use the festival to draw attention to design and the thinking behind design so that people are more aware of its impact on their everyday lives, their living environments and how the city functions.
What is the working relationship like between HDW and the city of Helsinki? Do you get the impression that the city values your work?
Helena: As we mentioned earlier, we're a festival for the citizens, so it's natural that we also work collaboratively with the city. They are very supportive and it's a pleasure to work with them.
Martina: They're interested in the content…
Reetta: …and they also create content themselves. We work together and there's a strong connection between the two organisations.
Helena: In addition, Helsinki is making a stronger effort to focus on design, for example with the appointment of a Chief Design Officer.
To take a step back from HDW and look at the bigger picture, why do you think that design resonates so strongly in Helsinki?
Martina: Things just work here. So the perspective of design as a tool to improve services is one that people are increasingly comfortable with.
Roosa: Design in Helsinki is so practical. You can see its effects in your everyday life. It's not just a buzzword, but it actually makes life better. There are also great companies and education around design in Helsinki, which has a huge impact on how people think about design. It also means that there are great opportunities.