Here are Helsinki Design Week's tips for design-lovers visiting Tallinn.
Here are Helsinki Design Week's tips for design-lovers visiting Tallinn.
If you are visiting Tallinn soon, be sure not to miss these lovely design spots. See also our tips to Helsinki.
FRANK
FRANK is formed from two restaurants – Frank Bistro serves food and Frank Underground focuses on cocktails. The owners, artist and filmmaker Mary Jordan and DJ Priit Juurmann were missing food and interior influences from abroad and decided to open a restaurant. The interior has been inspired by New York, London, and Mumbai.
Address: Sauna 2
Opening hours: Sun-Thu 12-24, Fri-Sun 12-01
www.frankbistro.ee
Leib Resto & Aed
Leib Resto & Aed uses seasonal products from local farmers. The restaurant is situated between old houses, and during the summer time, tables are set in the backyard garden.
Address: Uus 31
Opening hours: Tue-Fri 18-23, Sat 12-23
www.leibresto.ee/en
Reede
Reede sells Scandinavian fashion for women and men. A good selection of clothes and accessories from, for example, Wood Wood, Nike, Henrik Vibskov and Makia. The store has a funny name – Reede means Friday in Estonian.
Address: Rotermanni 5
Opening hours: Mon-Sat 10-19, Sun 12-17
www.reede.ee
Hilton Tallinn Park Hotel
Tallinn's newest hotel and the first Hilton hotel was opened last summer. The interior design is designed by Finnish design studio Vertti Kivi, which has also designed the new Tallink Megastar cruising between Helsinki and Tallinn.
Address: Fr.R. Kreutzwaldi 23
www3.hilton.com/en/hotels/estonia/hilton-tallinn-park-TLLHIHI/index.html
Kohvik Nohik
Nohik Cafe is located in the former library of the Tallinn University of Technology. The menu is filled with a large coffee selection and fresh smoothies.
Address: Ehitajate tee 5 (TUT Student House), Tallinn
Opening hours: Mon 10-18, Tue-Fri 9-18
www.kohviknohik.ee/eng
Tallinn Art Hall
The Tallinn Art Hall Foundation has three galleries around the Tallinn Freedom Square. The main building is one of the most known buildings by Estonian architect Edgar Johan Kuusik. The original building, built in 1934, was damaged in the 60s during the renovation. In addition to changing exhibitions, the programme includes lots of performances, talks, and a programme for children.
Address: Vabaduse väljak 6
Opening hours: Wed-Sun 12-18
www.kunstihoone.ee/en
Puänt
Puänt is a small and sympathetic book store with a well-curated selection of books, magazines and stationery. Buy a cup of coffee and relax to read on the sofa.
Address: Pärnu mnt 4
Opening hours: Tue-Fri 11-19, Sat-Sun 12-18
www.facebook.com/puantbooks
Zizi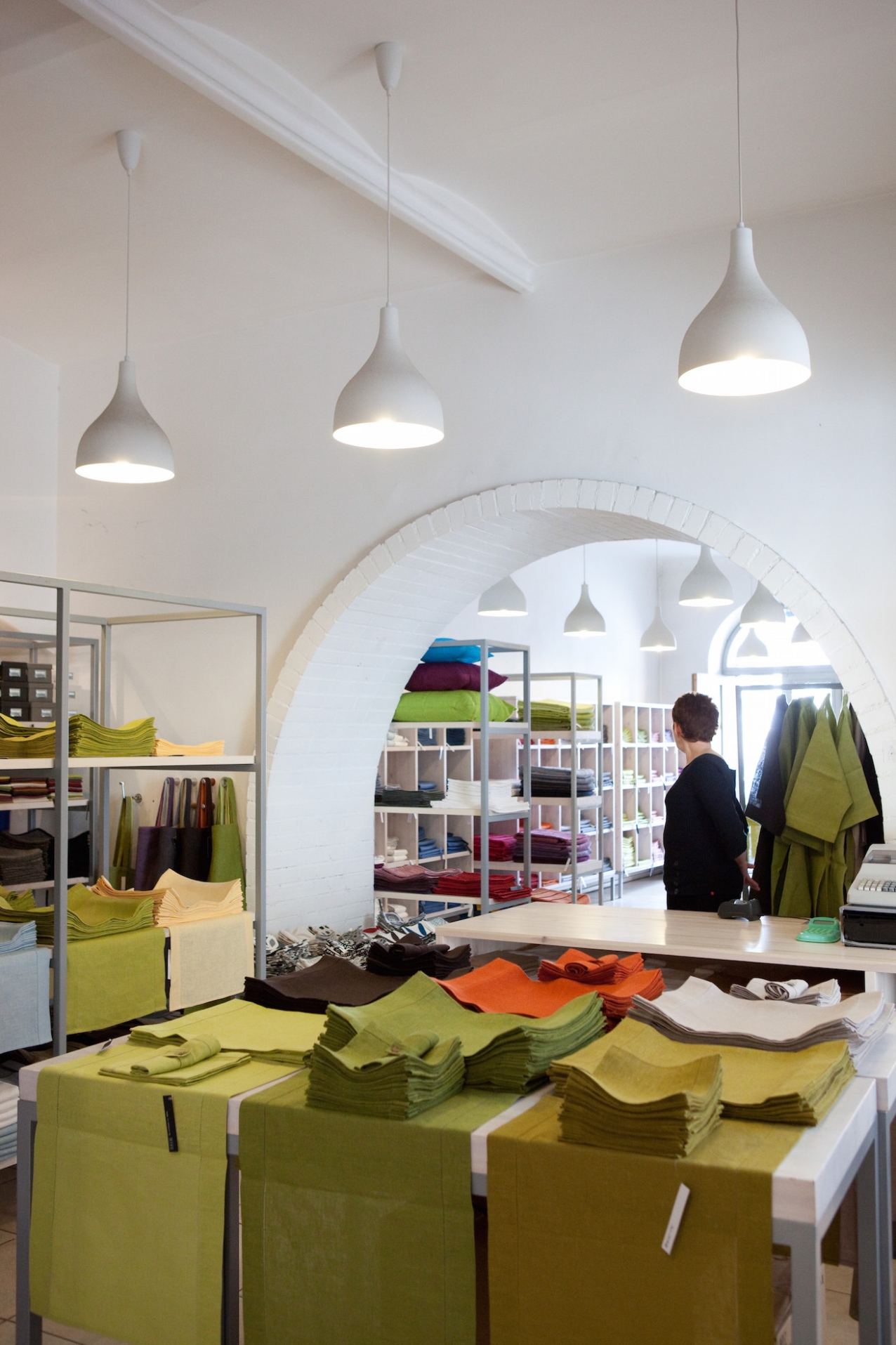 Zizi is a small Estonian family business that focuses on linen fabrics and home textiles. All products are designed and manufactured in Estonia, where linen production has a long tradition. The products are minimalist and Scandinavian souvenirs.
Address: Vene 12
Opening hours: Mon-Sat 10-18, Sun 10-16
www.zizi.ee
Kau
Manor and boutique hotel Kau is situated a 40-minute drive from Tallinn. The first details of the building are from the 13th century, and over the years it has been used as a private home and a school, among other things. In 2007 filmmaker and artist Mary Jordan saw its potential, and Kau was opened after a renovation in 2012. The hotel has 20 gorgeous rooms, a spa and a restaurant. The hotel can be booked also for private events. Jordan works as the creative director of the venue.
Address: Triigi 75019, Kose Parish, Harjumaa
www.kau.ee
HOP Galerii
HOP Galerii focuses on applied art and design. Changing exhibitions showcase designers from Estonia and abroad, including professional and young and upcoming talents.
Address: Hobusepea 2
Opening hours: Thu-Tue 11-18, Wed closed
www.eaa.ee/hop