Meet the PechaKucha Night speakers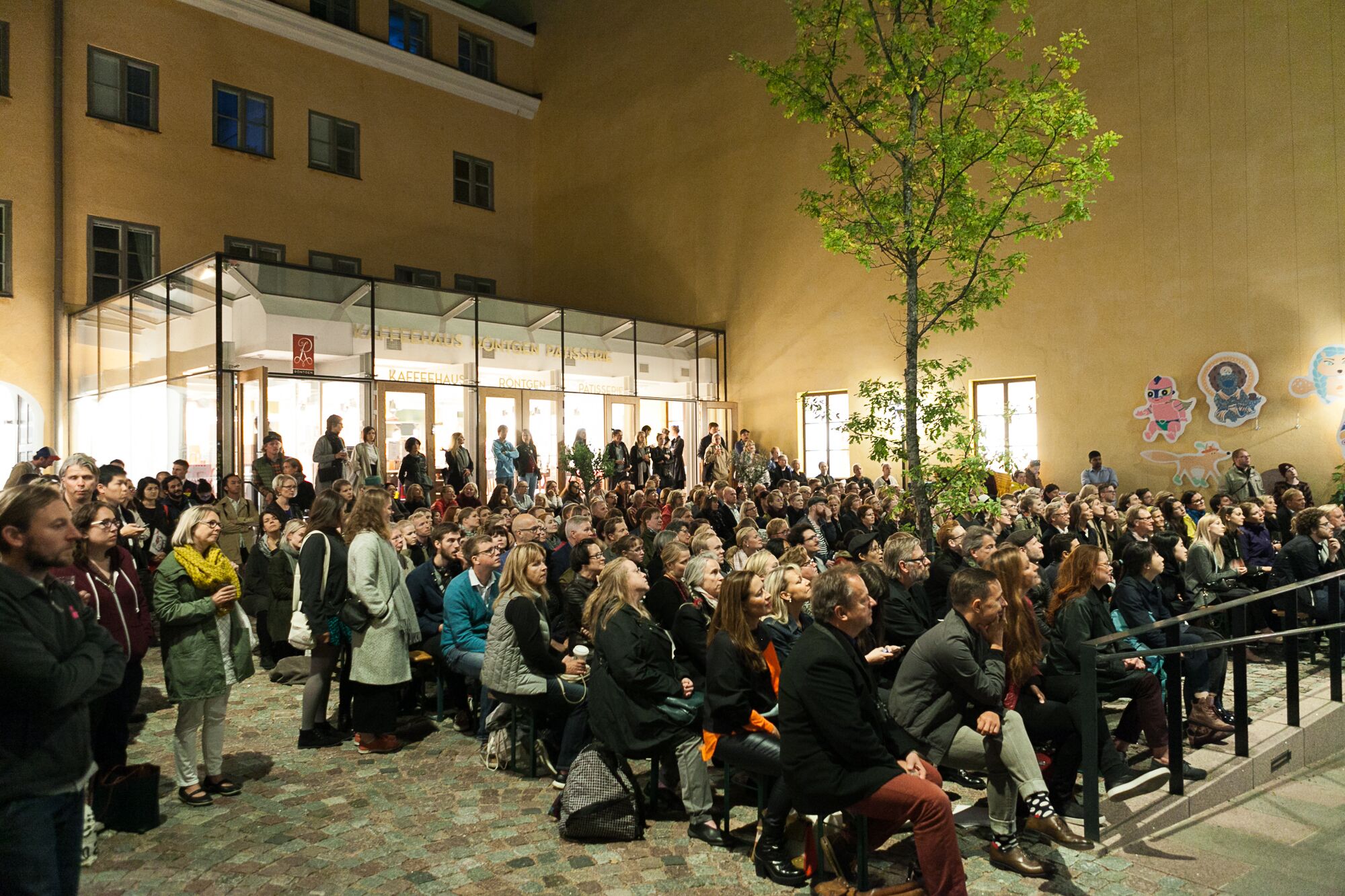 The next PechaKucha Night is just around the corner, so it's time to introduce the stars of the stage.
Helsinki Design Week will hold the ever-popular PechaKucha Night on Tuesday 12.9. The event is in english. Get your tickets here.
Helsinki Design Week hosts the fast-tempoed Pecha Kucha Night to brighten the darkening nights of autumn. During this evening, speakers have 20 seconds to talk about 20 slides, speaking freely and broadly about topics in their fields.
Here are the speakers:
Laura Väinölä
Concepts. Events. Spatial design. Style. These are Laura Väinölä's (born 1982) bread and butter. The Young Designer of the Year 2016 is a multitasker:  Creative Director of Photography (and Beyond) Company Duotone, Brand Leader of Fashion Organization Pre Helsinki — And have you heard of her project Flora & Laura, a flower shop that doesn't exist — Um, say what? Here, an arbitrary list of some of Laura's delightful deeds: Interactive children's stool that works as a seat as well as an art activity. Festival for flying kites. Sleep music concert where it's actually okay to fall asleep. Floral shrine where festival goers can chillax and communicate with their chosen deity. Dig?
Emilia Lahti
Emilia Lahti is passionate about action research, social justice and unearthing new, innovative ways to apply scientific knowledge to solve humanity's grand challenges. Emilia holds master's degrees in social psychology (University of Tampere, Finland) and applied positive psychology (MAPP, University of Pennsylvania) and is an alumna of the Singularity University Global Solutions Program located at NASA Ames Research Park in California. She completed her master's thesis on the Finnish construct of 'sisu' under the mentorship of professor Angela Duckworth. Emilia is an outspoken activist for nonviolence and a curious explorer of ideas that help elevate our collective experience of life. She is currently training to run 2400 km across the length of New Zealand in order to break the silence around interpersonal violence and support individuals who have suffered from it. You can read more about the campaign at www.sisunotsilence.com.
Helena Sandman
Helena Sandman is a founding partner of Hollmén Reuter Sandman Architects and Ukumbi NGO. Currently she is a doctoral candidate at Aalto University, Helsinki as part of the New Global research group. The main part of her work since 1995 has been for low resource communities in Africa. Their work or Hollmén Reuter Sandman Architects was exhibited for the third time at the Venice Architecture Biennale last year. Her PhD subject is housing in fast growing cities in the developing world with the focus on the meaning of home and the participation of the people involved in the process of change. She investigates the paradox of attaching a project locally while spreading a good concept globally.
Julius Haukkasalo
Julius Haukkasalo is one of the co-founders of Evermade, a Helsinki-based digital agency founded in 2011. The 28-year-old designer-come-entrepreneur has had the opportynity to follow firsthand the rise of startup successes like Supercell, Slush & Wolt and the people behind these phenomena.
Cameron Murphy
Cameron is a business professional, circus artist and musician. Born in the Southwest of Ireland, Cameron moved to the continent during the financial crisis of 2008. Since then he has worked with start ups in Berlin, Malta and Canada. Now working with Audiodraft, an audio branding start up in Helsinki, he has found a company and industry where his 14 years of creative and professional experience can be put to use helping companies use sound in a strategic and consistent way.
FRAUD̸ Audrey Samson & Francisco Gallardo
FRAUD̸ is a duo of artist-researchers (Audrey Samson & Francisco Gallardo). Their backgrounds include computational and software culture, environmental history, postcolonial feminism, cultural studies, performance and space systems engineering. The duo focuses on exploring forms of slow violence and necropolitics that are embedded in the entanglement of archiving practices and technical objects, and erasure as a disruptive technology in knowledge production.
Nicolay Boyadjiev
Nicolay Boyadjiev is an architect and design strategist based in Moscow. He is currently the Design & Education tutor of The New Normal programme at the Strelka Institute for Media Architecture and Design. His work has received multiple awards and has been published in Volume, Moinopolis, Fast Company, and Architect Magazine. He is working at the intersection of architecture and "platform urbanism", with his recent project GoogleUrbanism naming him one of the HIVE 50 Innovators for Housing Innovation, Vision & Economics. GoogleUrbanism was also featured among the finalists of the Fast Company 2017 "World Changing Ideas Awards".
Sonja Siikanen
Sonja Siikanen is a 23-year-old photographer, journalism student and queer-feminist who lives in Turku. She gets her inspiration from people and urban life.
'100' is a photography project, where Siikanen photograph's people from all aspects of life, without filters – without make up or photo manipulation, bare, beautiful and ordinary. She hopes that every single one of the pictures will make the viewer and the model believe in beauty and the fact that we are all here together, equal and working together for a common goal.
Marcos Gois
Marcos Gois is a 25 year old young entrepreneur and cook. He runs restaurant Fat Ramen and Ruoto Catering. When off duties you can see him jogging, foraging in the woods or travelling the globe.
Jan Belon
Jan Belon is co-founder of design agency Afdeling Buitengewone Zaken. He graduated as MSc. Industrial Design at the TU Eindhoven. He has a passion for service design, startups and social innovation. As a designer, entrepreneur and researcher he co-founded several initiatives, such as IoT startup Openr and Just Things Foundation.
Sonja Heikkilä
Sonja Heikkilä works at OP Financial Group, where she is in charge of OP's strategy for mobility. Sonja is one of the key innovators behind the concept of Mobility as a Service (MaaS). She has given multiple public speeches and gained widespread recognition for visioning and studying the future of mobility. In 2014, Heikkilä was selected as one of the 100 leading global thinkers by Foreign Policy.
Tallenna
Tallenna
Tallenna
Tallenna
Tallenna
Tallenna
Tallenna
Tallenna