HDW HOP 2017: Enter brings people under one roof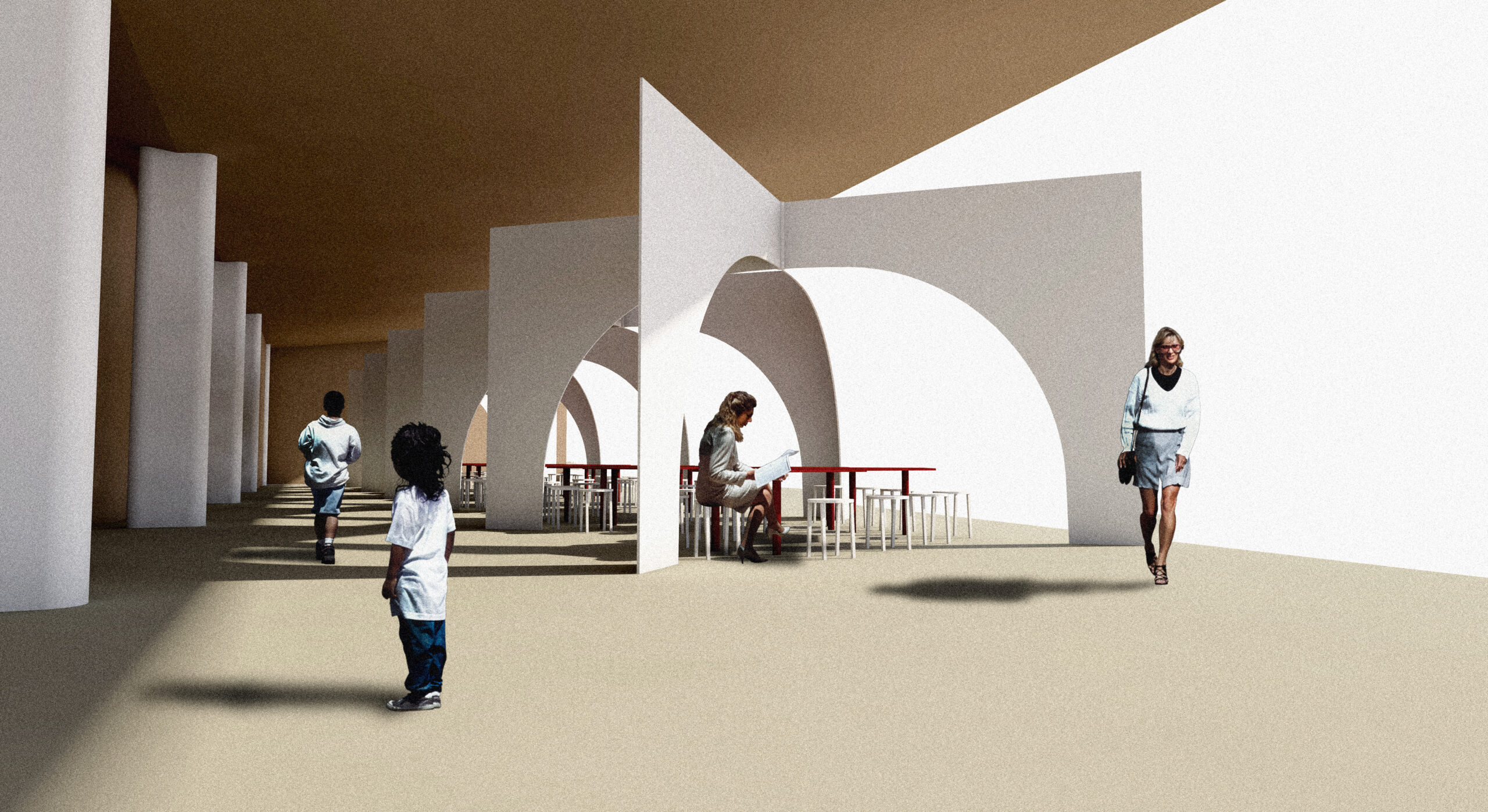 The HDW HOP series presents installations enlivening the city centreduring Helsinki Design Week from 7 to 17 September 2017.
Major urban installations take over the city for the second time during Helsinki Design Week. The installation series consists of works by Finnish and international designers and architects, addressing the theme of 'developing city'.
All installations and their designers are presented in Helsinki Design Weekly. We'll celebrate the opening of the HDW HOP installation series together with all Helsinki people on the 7th of September. An opening parade organized by the We Jazz festival starts at Kaartin maneesi at 7 pm and passes through the installations to Keskuskatu in the city centre. The opening ceremony is open to the public.
Introducing Enter, an installation designed in cooperation by Architects Virkkala de Vocht, architect Petri Herrala and graphic artist Marja Tikka. Located by an old manege building, Kaartin Maneesi, it consists of a long table and a spacious veneer vault around it. With the patterns included in the installation, the designers want to explore the impact of new residents on a built environment.
During Helsinki Design Week, Enter brings citizens together in the manege by providing versatile programme. There'll be outdoor cinema on Sunday 10 September and discussions about design all week long. The city and its spaces are very much in the focus of the discussions planned by Fira. The programme is carried out by Fira, Grafia, Ellun Kanat, Design Club and Design District Helsinki. See all the programme taking place at Kaartin maneesi here. Installation Enter encourages citizens to bunch up with friends and spend time on location, also outside the official programme. Bassoradio is playing, providing entertainment for the visitors all week.
See entire programme here.
The installation is enabled by construction company Fira. The company says that cities are places for the thoughts of different people to cross and enrich each other, so there is a need for common spaces.
"The Enter installation combines several themes important to us at Fira. It brings people together to have fun, exchange ideas and perhaps create something new. This is our objective, too: to help people meet and build a better city together. We want to start a building movement," says Fira's communications and marketing manager Essi Huotari.
Q&A: Enter
Who are you and of which existing works are you particularly proud?
Virkkala de Vocht is a young Helsinki-based architects' office founded by Inari Virkkala and Sofia de Vocht in 2016. Virkkala de Vocht Architects are one of the ten members of the Uusi Kaupunki Architecture Collective. This installation was designed in cooperation with architect Petri Herrala and graphic artist Marja Tikka.
Together we want to provide ecologically and socially sustainable architecture and urban planning. Sofia has designed summer houses completely reliant on renewable energy, and Inari built an eco youth centre in Cambodia together with KOMITU architects and organized workshops around the world, for example in Johannesburg, South Africa.
How did you come up with the idea of the installation?
Its name, Enter, portrays the process of moving from one space, country and culture to another. Its vault is formed by a series of consecutive gates. The gates include patterns by which we want to study the impact of new residents in a built environment. To create the illustrations, we organized a workshop in the nearby reception centre.
All installations study the development of cities. What do you think about the theme and how does your work express it?
Our installation is located in the Kaartinkaupunki district of Helsinki, under the protruding roof of an old manege building. Built in the early 1950s, its canopy creates an entrance to a space that has been used by the military and as a parking garage. At the moment, the building is unoccupied. The installation consists of a long table and a spacious veneer vault around it.
We are particularly interested in the factors that hide behind urban growth, such as migration. Where do new residents come from? What kind of places do they leave behind? How can they participate in the development of their new cities?
Why should people see your installation?
During the HDW festival, our installation creates a venue for discussions, meetings and events.
What is the city of the future like? What must be remembered when developing cities?
Future Helsinki is increasingly interesting and attractive, a dynamic complex in continuous development. More than the sum of its built environment, a city is the sum of its current residents and their activity.
Tallenna
Tallenna
Tallenna
Tallenna
Tallenna
Tallenna
Tallenna