Weekly Pics: Marimekko Designathon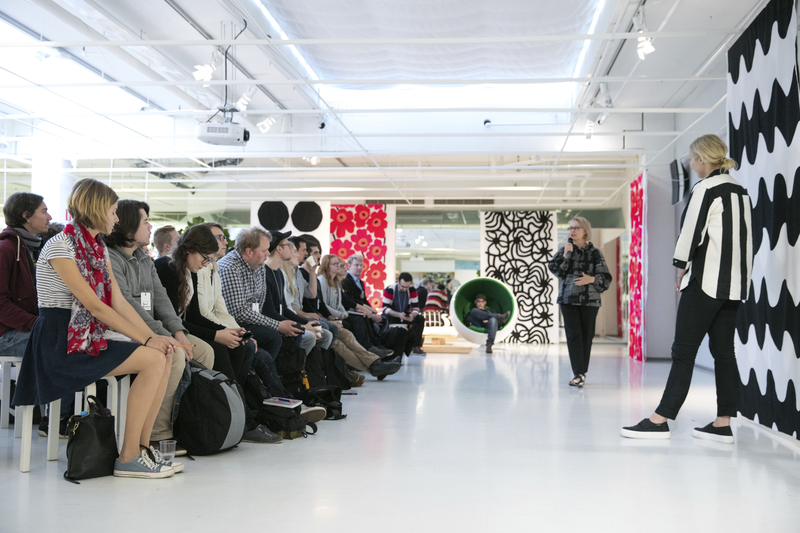 Weekly Pics is a peek into the visual diaries of designers and design professionals. This time we travel to the Marimekko Designathon, which was organized at 15.-17.9.

Marimekko's theme for the 100th anniversary of Finland's independence focuses on bold patterns and doing things together open-mindedly. In collaboration with Slush, Europe's leading event for technology and start-ups, and Junction, the largest hackathon in Europe, Marimekko organized an international competition, Marimekko Designathon, where they invited 50 younger generation creators to challenge the traditional conventions of the textile and clothing industry.
The 51 participants representing 18 different nationalities were selected among hundreds of applicants to take part in the Marimekko Designathon competition.
The members of the jury included Arni Aromaa, Juho Kastemaa, Kari Korkman, Linda Liukas, and Tiina Alahuhta-Kasko, chairman of the jury.
The jury composed of experts and the organizers of the competition has selected the top four ideas from the entries of 13 teams. The finalists will have the opportunity to present their ideas to an audience of investors and startups at Slush 2017, 30 November – 1 December.
The finalists are: Team Kuosi – Ivan Rzhanoi, Yan He, Christian Anttonen, Sanna Naapuri, Team Kukko – Rauno Huttunen, Petja Kärki, Sona Brabencova, Team Nano Spark – Jussi Koskimäki, Samuli Rouvinen, Sami-Pekka Ollila, Minna Salonen and Team Wi-Finally – Eduardo Solorzano Tejeda, Mikaela Hallenberg, Emil Lindfors, Soheum Hwang, Linda Ukkonen
Tallenna
Tallenna
Tallenna
Tallenna
Tallenna
Tallenna
Tallenna
Tallenna
Tallenna
Tallenna