Tips for the 'Lähiöfest2017'
See our tips for the Lähiöfest2017 25.9.–1.10. 'Lähiöfest2017' – festival of neighbourhoods – is a new event and platform for discussion of the future of cities.

'Lähiöfest2017' will take place in the last week of September – 25/9–1/10 – in ten different suburbs and neighbourhoods in Helsinki, Finland.
'People-Driven City' -seminaari
The seminar presents different intiatives that represent both grassroots work and more traditional structures. We look how and where 'bottom-up' and 'top-down' initiatives can meet. What creates value and identity in a place? What kind of new catalyst roles could the civil servants and research institutes such as universities and larger entreprises take? How does social entrepreneurship work in neighbourhoods? What can we learn from other cities and each others' experiences?
10:00-18:00
29.9.
University of Helsinki, main hall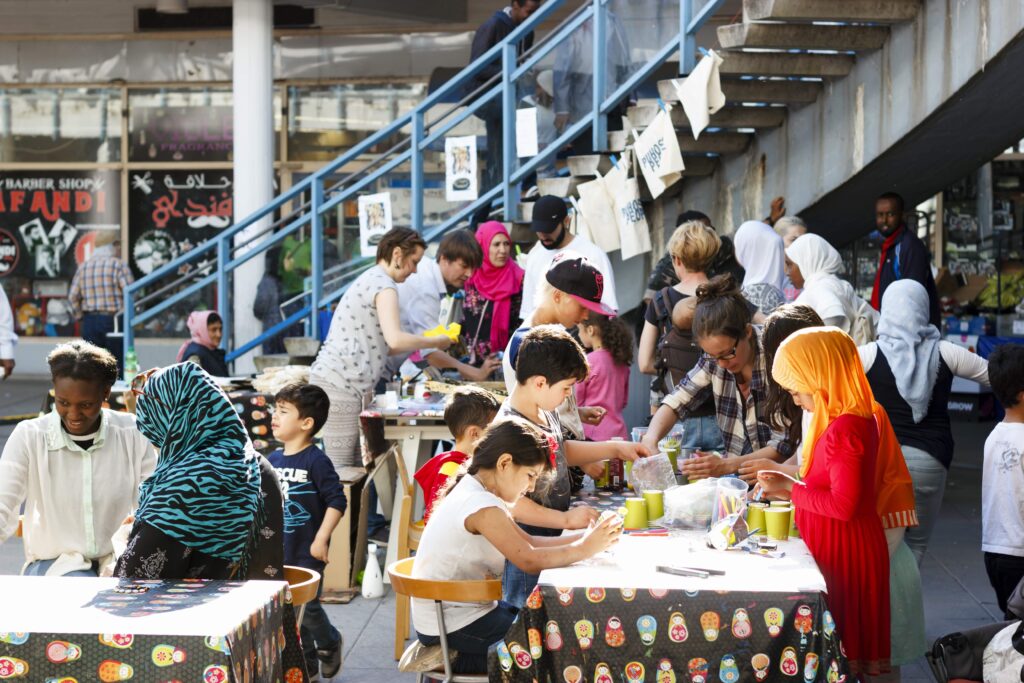 MiniDome Pavilion & Lähi(ö)tori Exhibition by architectural students of Aalto University
NCC is opening a Dome of Visions concept pavilion to function as the hub of the festival outside Teurastamo in Kalasatama. The MiniDome is open daily. It features an exhibition by Aalto University students of architecture called Lähi(ö)tori ("Local Market") to study suburban squares and how to revitalize them. Moreover, the pavilion features 100 Sustainable Deeds by Sitra and a Tree of Promises, to which each of us can add our own resource-intelligent solution.
25.9.-1.10.
MiniDome, Teurastamo
Työpajankatu 2
Vahanen Theme Day i.e. Lähiöjamit
Lähiöjamit ("Suburban Jamming") is a new kind of interactive seminar. It provides a comprehensive look into the most topical question regarding the suburbs: they are being renewed per plot by the housing companies when renovating the houses. As a whole, the keynotes, guided tours and mini workshops allow us to study new suburbia in a multisensory way. Speakers include deputy mayor of Helsinki Anni Sinnemäki, Aalto University professor Jarmo Suominen, CEO of Setlementtiasunnot Oy Kimmo Rönkä, CEO of the Finnish Real Estate Management Federation Tero Heikkilä and executive director of the Finnish Landlord Association Mia Koro-Kanerva. This event is hosted by design director Katja Soini of Vahanen, a technical consulting organization in the construction and property branch. Participants include the design students of Aalto University.
09:00-16:00
26.9.
Pop up building, Kontula, Keinutie 5
Restaurant Safka
K-Market is the main partner of the Lähiöfest2017 festival, organizing a pop-up restaurant at the Vuosaari secondary school on Friday and Saturday. Its menu has been designed by chef Harri Syrjänen by utilizing tasty tips from nearby merchants and other entrepreneurs. The profits from the restaurant will be donated to benefit the youth in Helsinki.
19:00-22:00
29.9.
Vuosaaren lukio
Vuosaarentie 7
"Talk in a Bubble" by Image Magazine
Talking about bubbles and breaking them, Image Magazine and Lähiöfest will co-organize two debates about where the city is going: to one direction or many different directions? Who is involved and who are left outside, and who should answer the question? The first debate will feature former Libera CEO Heikki Pursiainen and poverty researcher and vice chair of the Green party Maria Ohisalo. The second debate will introduce journalist, entrepreneur and eastern suburb specialist Reetta Räty, the director of youth affairs for the city of Helsinki Tommi Laitio and Atomirotta aka Mikko Sarjanen. The discussions are facilitated by editor in chief of Image Magazine Niklas Thesslund.
19:00-20:00
28.9.
MiniDome, Teurastamo
Työpajankatu 2
Tallenna
Tallenna