Weekly Mix: Maija Puoskari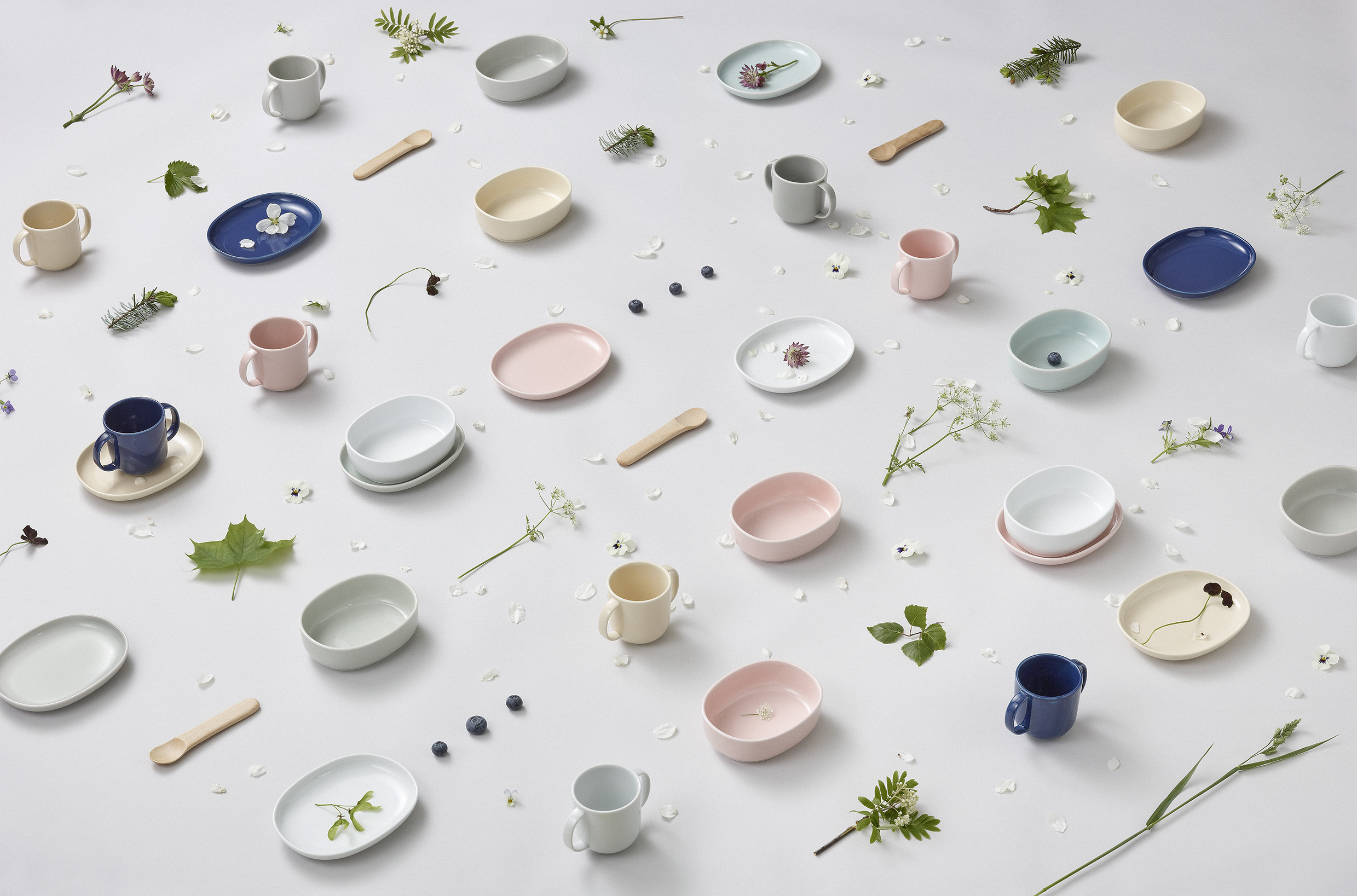 Maija Puoskari finds inspiration and patterns for her products in the nature. She has picked music related to major life events to October Weekly Mix playlist.
Hello Maija, how are you?
Very well, thank you! It was really hectic for a couple of weeks as my latest Nuppu product series was launched at the Habitare fair. And then I made unique Hiippa lighting fixtures for the Fungus Figura event held at the Cable Factory. I am also Mother to a three-month-old baby girl. This week I'm thinking to take parental leave.
Can you describe your new collection?
It was created per order for a Japanese company called Tokyo Saikai. Nuppu is a porcelain table service for 0–3-year-olds consisting of a plate, bowl, mug, wooden spoon and bib. The plate fits the bowl as a lid because kids don't always finish their meals. As your child grows up, you can use the items as serving dishes or containers.
Usually kids' tableware is just like adults' plus a fun print, but I wanted to design a series that fits the hand and motor skill of a child and is not made of plastic. Because it's made of porcelain, Tokyo Saikai guarantees to replace broken items used for less than three years.
You have designed lots of lighting fixtures, and you were born in the north of Finland, in Tornio. Did the northern phenomena, like the midnight sun and the polar night, make you interested in light?
I don't know. I think I've been more influenced by the connection to the nature and all the trekking.
Which skill of your parents do you envy?
My father can repair many things – cars, radios, amplifiers, bicycles.
Where do you get the ideas for your products?
From many different things. Near our house grows an oak, and my son picks the acorns. I was emptying his pockets and found the cup parts and thought that they would make nice lamp shades. That was the beginning of my Terho series.
What did you last buy for your home?
A pink knotted pillow.
What object do your dream about?
I dream of a grey Mademoiselle chair by Tapiovaara even though we have no space for it at the moment.
In addition to your Master of Arts degree in glass and ceramic design from the Helsinki School of Arts, Design and Architecture, you are also a trained florist. Are you a flower girl who listens to hippie music?
No I'm not! [laughs].
What is your first memory related to music?
This is rather embarrassing. There is not much in the north where I used to live. So we went to a bigger city, Kemi, to see Neon 2 [a band from the 1990s, laughs].
Do you play an instrument?
I have played the transverse flute and saxophone. I still have them in my closet.
Do you listen to music while you work?
Yes, mostly Radio Helsinki.
What kind of a playlist have you put together for us and why?
It includes the sound track of my favourite film and music related to various life situations. When I was pregnant with my firstborn, I was sure that it's a girl and decided to name her Amélie after my favourite film. It was a boy, so I named him Tatu to paraphrase the name of the actress, Audrey Tautou. My lastborn is called Taimi Amélie.
Tallenna
Tallenna
Tallenna
Tallenna
Tallenna
Tallenna