Introducing Wildkind Kids, a new kid's clothing brand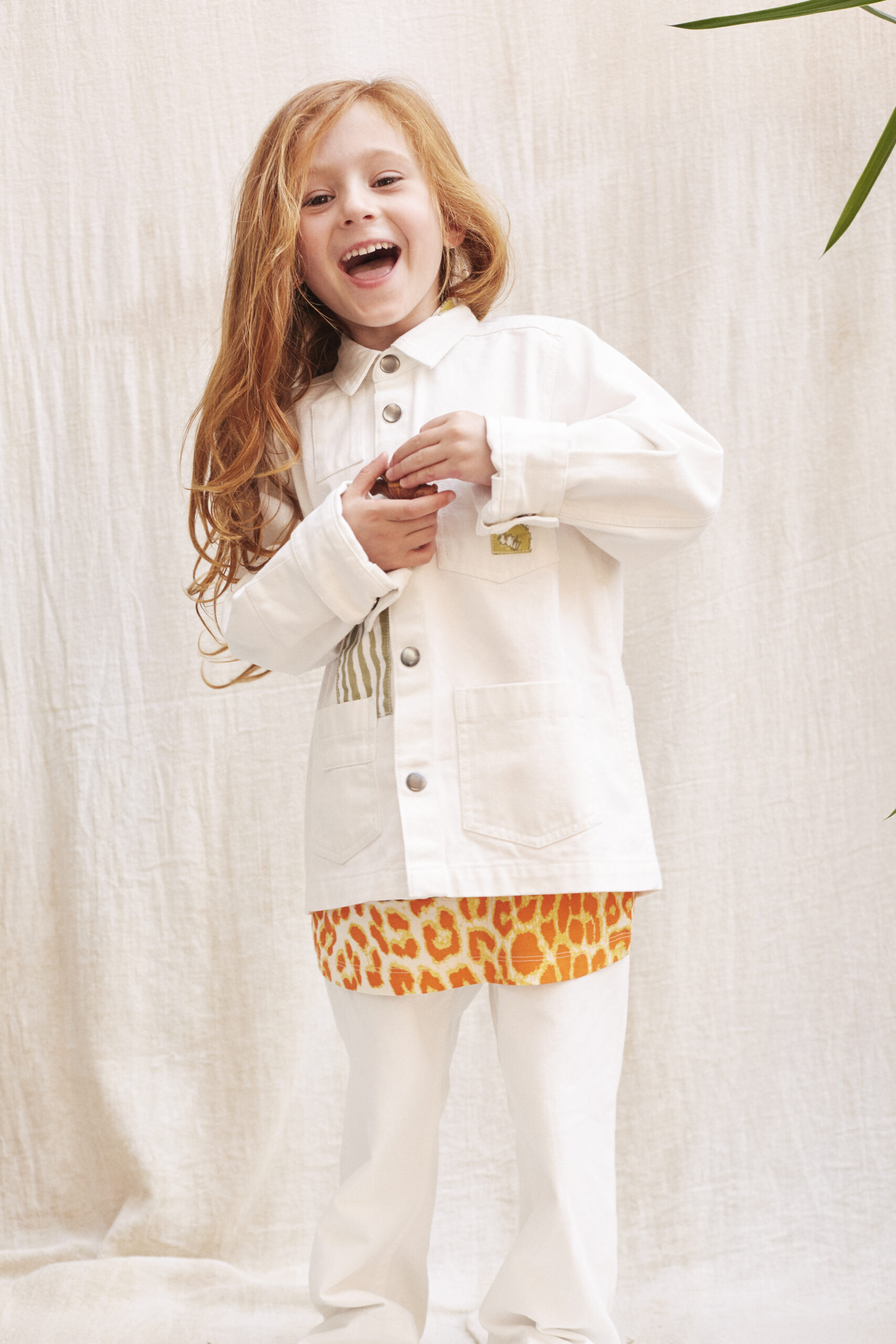 Wildkind Kids is a new Finnish unisex kids' clothing brand. Their first collection will be launched in February. The brand got started as two sisters established in the fashion field – photographer Johanna Laitanen and fashion editor Emilia Laitanen – joined forces to realize their long-term dream of a shared company. 
Johanna Laitanen has operated in the fashion field for ten years already. She has created a men's clothing brand together with her spouse Heikki Salonen. Emilia has worked as a fashion editor for several magazines, Elle being one of her latest clients. The sisters studied fashion, visual arts and photography in England.
How did you come up with the idea to start your own kids' clothing brand?
Emilia: I suggested founding our own brand after my daughter Niki was born. It felt natural to focus on a kids' brand after becoming a mother and starting to see kids' clothing from a new angle. I'm still contributing to Elle magazine and styling for fashion magazines and advertising. I have an enormous urge to learn new things and challenge myself every day. This has pushed me forward in my career. I've always worked together with my sister. I can't imagine starting a big project like this without her! Moreover, there is such enormous talent in our family and among our circle of friends that the team was easy to put together. The best part is juggling ideas between us. My husband Anssi Nordberg is an endless source of inspiration.
Johanna: Besides photography, I've worked on our own fashion brand with my husband for a long time, so in a way nothing has changed in my daily life. I'm a "Jill of all trades" in the creative field and a restless soul, and I need to tackle versatile tasks and start new projects. Clothes and fashion have been part of my life for as long as I can remember. My sister being a stylist and my husband a designer, our circle of friends is a mix of creative people and entrepreneurs, with whom we always have something going on. There's no difference between work and leisure. We're all passionate about our work!
What is the story behind the Wildkind Kids brand?
Sisters: We wanted to use the brand to enforce unisex thinking and emphasize that kids can be kids; wild souls who are free to roam and monkey around! In addition we wanted the brand to connect with nature and animals on a deep level.
As a child I used to wear…
Sisters: We've gone through hippie, punk, grunge and princess times, and of course, the toad phase!
Several kids' clothing brands have been created in Finland during recent years. How do you stand out in Finland and around the world?
Sisters: Our strength is to create a world that is subtly unique. Not radical in any way but just a set of products that looks like us! We've received feedback saying that our aesthetics speak to people and that our approach is different than that of others. Internationally we're strong in versatile gender-neutral prints and rich colours. Our unisex prints are yummy and playful, yet they don't look overly childish. We want our prints to work in adult clothing, too, but we'll never be boring or serious. Our print designer is wonderful James Bosley who is always able to provide a surprising angle from his endless archive of inspiration. Our collection includes workwear classics for kids like jeans jackets and dust coats.
What is your role in Wildkind Kids?
Emilia: We always design the collections together. In addition, I'm in charge of styling, sales and marketing. I also take care of the administrative side of our company.
Johanna: Photography and branding.
Unisex…
Sisters: It's the core idea of Wildkind. It feels really topical and important now. Gender-biased products feel old-fashioned. Maybe it's a truly Nordic thing not to steer behaviour into traditional roles.
What does being Finnish or 'made/designed in Finland' mean?
Emilia: Finnish sisu is needed in this business. We must have perseverance and listen to our hearts. We face obstacles and challenges every day. Being an entrepreneur means pushing through no matter what. We must have thick skins, like Teflon-coated.
Johanna: I've thought about this a lot while living in London. Finns have a very special understanding of aesthetics and design. Perhaps its due to the characteristic of bareness in Finnish culture. Being Finnish is a fine and unique thing. There's a large and close Finnish community in London, and we treasure our origins. The latest craze is a company called Proper Piirakka making Karelian pasties.
My favourite pastime is…
Emilia: Tennis. I take tennis lessons with my friends on Monday mornings. It's unbelievably energizing to start the week by doing sports with friends.
Johanna: Horses and dogs. Horses have the power to reset me. The presence of a large animal is so strong it forces one to live completely in the moment and not think about anything else.
What kind of patterns fascinate you?
Johanna: The stripes of old wartime mattress covers.
What is your favourite brand in your own clothing? And Emilia, how do you dress your kids?
Emilia: My daughter wears Wildkind, flea market finds and items recycled from friends. People in our family are skilled knitters so there's always plenty of knits to choose from. We're thinking to design knits into the future collections of Wildkind Kids. Anssi's mother Riitta can knit the samples.
Johanna: Vintage is always the best! In addition I'm a fan of Heikki Salonen, Vyner Articles and Chimala.
On my desk I have…
Emilia: A large pile of paperwork. I like my work best on the move. I do all the bills and receipts on one day. When I was working for Olivia magazine, my colleague had a note next to the computer. It said in very large letters: "Do one thing at a time". I try to follow this advice when I feel overwhelmed by work. My days vary a lot. Sometimes I spend the whole day doing photoshoots or looking for outfits for the shoots. Other times I plan future projects and run between meetings. At Wildkind, I've taken responsibility of production, which is why I'm constantly in contact with our production manager. Thank goodness for WhatsApp!
Johanna: Chaos!
What will Wildkind Kids be like in 10 years?
Johanna: International yet rather a niche brand. I live one day at a time, so a 10-year plan is hard to imagine, but I hope that the world would somehow wake up to understand that clothes production needs to match true need within the limits of ethics and sustainable development.
@wildkindkids_official