Weekly Works: Teamwork is the foundation for success at Reaktor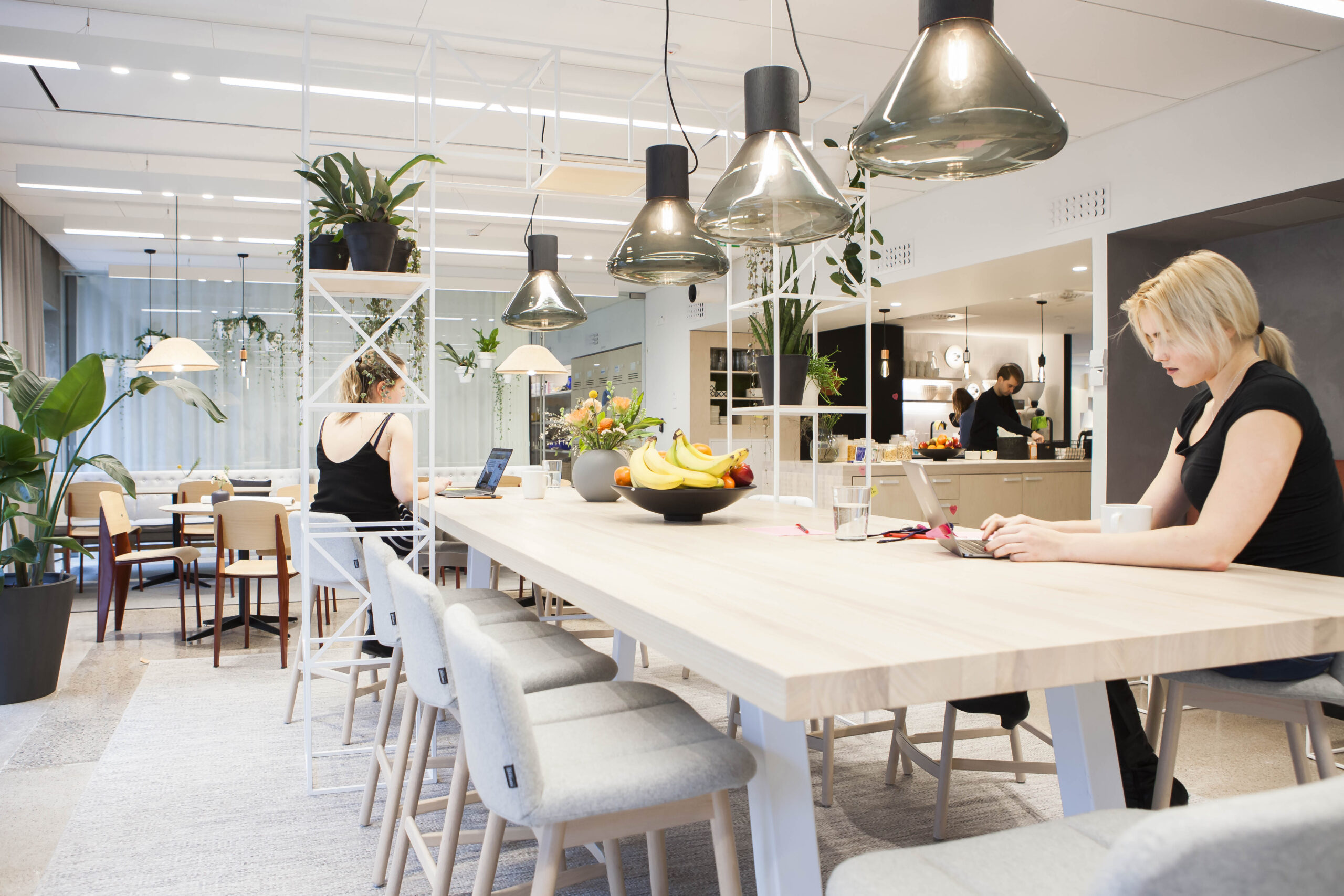 Weekly Works series presents creative communities on the lookout for new talents. Weekly visits the office of Reaktor, where sky is the limit for design and teamwork the foundation for success.
Designers Minttu Paukkunen and Vesa-Matti Mäkinen lead me through the stylish office space at Reaktor. All around, people are sitting with laptops on their knees, one in a swing, another in a classic lounge chair. The kitchenettes on all floors are buzzing with people. A spiral staircase bordered by plants ascends to the sixth floor, overlooking the roofs of Yliopistonkatu. There's a gorgeous view of the white dome of Tuomiokirkko from the top floor. There's no doubt that this is a place where creativity and technology vigorously shake hands.
The Reaktor experience starts from your very first moment in the office. Guests are personally picked up from the ground floor lifts, greeted cheerfully, and briskly taken up to the Reaktor premises. The company's designers bear a natural ease that is also present in their chatty conversation.
"Actually, we don't have set titles, but we pick our own. Lead UX Designer and lately Lead Product Designer seem to be popular," Minttu Paukkunen and Vesa-Matti Mäkinen explain, laughing.
It is soon evident Reaktor designers rarely limit their work to just design. Even titles can vary from project to project because the teams are always put together for the specific client or assignment. In the beginning of its operations Reaktor focused on technical implementations; the expansion to include design came a few years later. Vesa-Matti Mäkinen, who started at Reaktor in 2005, remembers the early days well:
"When I took the job, Reaktor only had fifty employees, and the role design was way more modest when compared to what we do today. Today, Reaktor has grown tenfold and manages challenging, internationally recognized projects. This motivates our work and encourages us to continuously improve our skills."
Minttu Paukkunen started as a designer in 2009. She has a background in programming.
"I was originally a software developer. I did that for a couple of years at Reaktor, too, but during a project I noticed I was more interested in designing functionality and user interfaces. From those I moved on to product and concept design. I've found my technical background to be very useful in design work – it often allows me to spot potential obstacles as well as the opportunities in good time and to design improved services. The best part is that Reaktor encourages and enables learning in whatever area you're interested in."
Being multi-talented is clearly a must: Reaktor's way of working is largely based on teams where each individual member's skills support the others to make a complete whole.
"Previously we'd start design once the project was closer to implementation, but now we have expanded ours skills palette to include the early phases of concept design, product design and strategic planning. We create solutions based on well-founded argumentation, and communication plays a large role in this process. People concretize and justify, provide and receive feedback," Mäkinen says.
Minttu Paukkunen nods. Learning and creating new things seems important to designers at Reaktor. And new challenging, high-profile projects motivate Reaktorians to perform better each time.
"We're currently very focused on healthcare. I've been part of a team developing Mehiläinen's customer application and related remote appointment services. A remote appointment can provide immediate help with typical health problems without having to visit a doctor in person. The service has gained positive feedback, and our own employees also use it," Paukkunen says.
Vesa-Matti Mäkinen continues with an example from the world of aviation. He was part of a team created the mobile app for Finnair as well as the the entertainment system used onboard the airplanes. Mäkinen is happy to say that he has has been able to utilize his experience in this project to create more comprehensive services in other projects.
Both designers talk about the many good aspects that their work involves. The environment is caring and human. Colleagues form a tight community. And of course, when working on long-term projects with clients, designers can help solve some of the meatier, complex processes in the background. This means that it's possible to design comprehensive services.
Being part of the development. Evolving. Teamwork. Communication, debate and feedback. It seems that the traditional career path advancement or formal project management are not important to Reaktor's employees. On the contrary, the designers prefer to work and make decisions together.
"We first and foremost work as teams of designers, technical people and other project participants. The primary unit is a team. We want everyone to have a strong opinion and no one to have formal power," Paukkunen explains.
This sounds refreshing – and a whole lot like the work culture of the future. At Reaktor, it's already here today. 
Reaktor is a strategy, design and technology company established in 2000. In addition to Helsinki, Reaktor has offices in Turku, Amsterdam, New York, Dubai and Tokyo. The company currently employs more than 500 specialists from various fields. They are currently looking for experienced designers. For more information, please visit reaktor.com.