HDW HOP 2018: Chatroulette (IRL) has been created in collaboration with students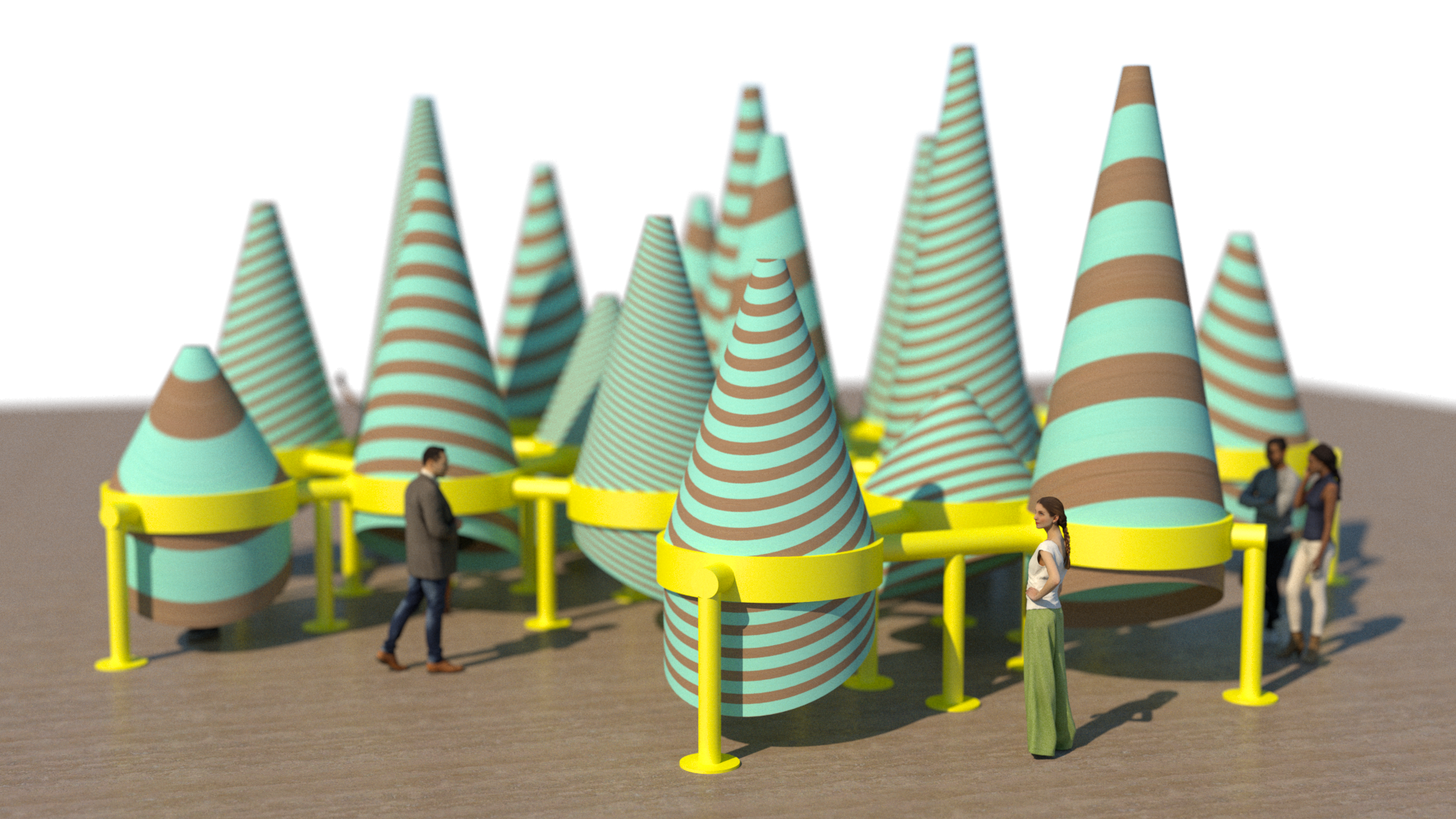 The HDW HOP series will introduce the installations that will make the center of Helsinki even more lively during Helsinki Design Week, 6‒16 September 2018.
During Helsinki Design Week, a set of urban installations will once again take over the city. The series will consist of works by international designers and architects, and each work will have something to say about Helsinki Design Week's theme for 2018: TRUST. The installations and their designers will be introduced in Helsinki Design Weekly.
Who is behind this installation and which other works has the group done before?
We are Mark Nixon a British architect and Viliina Koivisto a Finnish artist, and we run a studio called NEON. NEON is an award winning design practice that seeks to explore new territories between architecture, design and art. Our work is often designed to initiate an emotional response, to stop people in their tracks and to break the monotony of the everyday. NEON operate worldwide on outcomes that vary in scale and typology. Last year we developed a wide range of projects including a shoe collection in Korea, a pavilion in London and a large scale artwork in the French mountains. NEON have delivered 2 projects in Finland of which one – Shiver House, is still on display and due to be renovated this year as part of Barfotastigen in Korpo.
Where did the idea for the installation come from?
Each of our projects emerge out of a strong research process, sometimes we do this in collaboration with groups of people. This is really useful as it allows us to expand our understanding of a topic or place and hear views outside of our own. For this project we were delighted to be offered the opportunity by Helsinki Design Week to work with a group of students from Arabia School in Helsinki.
With the students we spent 2 days exploring the theme of trust through discussion, exercises and a design project. The group felt that trust can be built with interaction (laughter, discussion, eye contact) therefor the students were tasked with devising "mechanisms" to create these moments.
Following this research process NEON consolidated all of the findings and ideas into a single piece. The piece takes its inspiration from Chatroulette which is an online platform that pairs people at random via webcam. The intention of Chatroulette was similar to the aim of this installation as it is designed to create interaction between strangers.
All of the HDW HOP installations will comment on our theme TRUST. How does your installation embody this theme?
Our installation is a series of shell like structures, each of which can fit a single person. All of the shells are interconnected with viewing tubes. Inside the user will be expected to rotate a section that allows a view into a single tube at one time – a bit like a window. When two shells have windows that are aligned the users will see each other and may interact. This continues until one moves their section. Through this simple activity we hope to create countless new interactions between strangers that otherwise would not have taken place. These interactions in some small way will create a sense of trust between the participants.
Why is it worth seeing this installation?
Rather being something that you merely observe, this installation will be highly interactive and participatory. The experience of using the piece should be fun but also provocative as it challenges normal behaviour in public spaces. Like many of our works the piece will also be highly sculptural and colourful so we hope to see lots of pictures on Instagram!
How can design add trust and openness?
The increasing concern about safety in the public realm means that it might be hard to trust strangers we encounter. We feel that design can be a means by which people can start conversations and empathise with others. Good examples have emerged from Danish group Super flex who installed a public space in Copenhagen that uses elements from all over the world within the landscape, this builds understanding of others cultures and supports a multi-cultural society. Another different example, also by Super flex currently in the Tate Modern Turbine Hall, is an installation that uses many 3 person swings. This encourages collaboration and interaction to build momentum on the swing. We hope our piece at Helsinki Design Week will build on these types of design projects.