The Helsinki Design Week 2018 programme has been published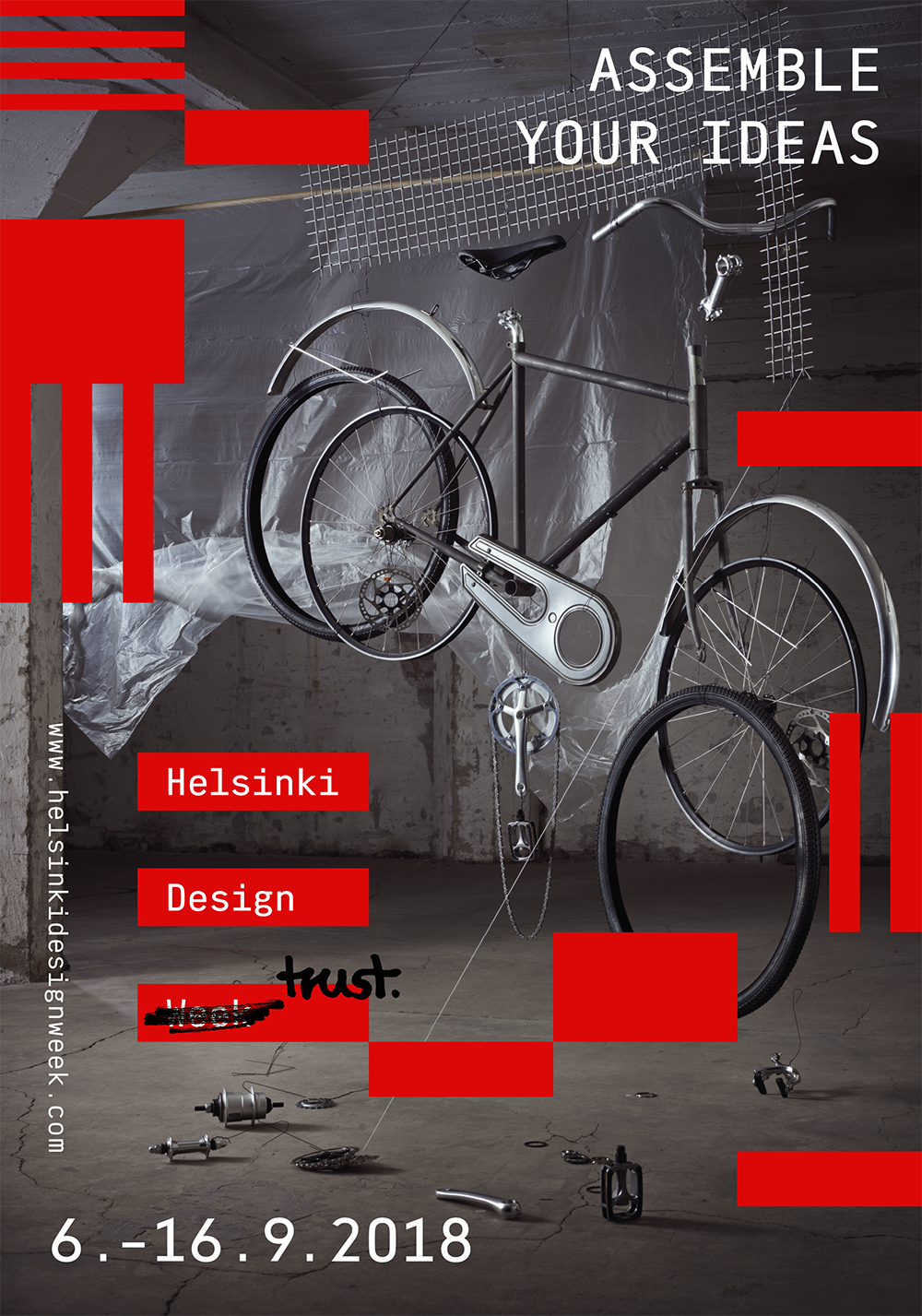 The largest design event in the Nordics will host more than 200 events targeted at design fans and professionals in Helsinki from 6 to 16 September 2018.  The whole programme is out now!
The year's theme TRUST is addressed throughout the programme – from impressive installations to events that describe the design process that are presented at various events, lectures and discussions.
Trust in various forms
The theme of Helsinki Design Week in 2018, TRUST, has inspired many of the events organized during the festival. Trust is also addressed in relation to our future ways of working – what if our colleagues in the future are robots? Can we trust artificial intelligence to understand and take into account the wishes and needs of the humankind as well as to actively create better operational models for the future? The feeling of trust is essentially connected to physical space, too, the impact of which can be evaluated from, for example, an educational angle.
Workshops, exhibitions and discussions help perceive how trust is experienced in the different phases of the design process and how it eventually transfers between a service or product and their users. How does trust change over time as a city develops? The main venue this year is the Helsinki City Hall that is going through a renovation. Helsinki Design Week takes over the lobby, filling it with seminar, discussion-based activity. Unfortunately, the seminar has been cancelled. Luckily our programme is full of other events!
City installations based on trust
The HDW HOP city installations have impressed the festival-goers for several years now, and this year they are once again built on the most central streets of Helsinki to explore trust in our urban environment. With whom do we share the city space? How can we trust strangers in our daily lives? Are we ready to face a stranger and share a moment with them?
This year the HDW HOP installations that have previously inspired large audiences ponder the meaning of trust between the city and its residents. For example, sculptor Man Yau creates an altar of ten elements to her beloved ones within the busy bustle of the Stockmann department store. The City Cradle invites citizens into a large, wooden cradle in the center of the city to feel trusted and lulled. Peace can also be found at Balder's yard, where the Fire Garden's crackling flames remind us of past conversations and negotiations that have been had around the bonfire.
Programme for children and childlike during the whole festival
The new Children's Design Week provides kids with creative programme to promote design education and knowledge of the built environment. Events are organized during Helsinki Design Week from 6 to 16 September 2018. The main venues of Children's Design Week include Helsinki City Museum, City Hall and Kattilahalli in Suvilahti. In addition, kids will have things to do all over Helsinki thanks to joint events organized with kids' event organizers.
At the City Museum, school children gather to brainstorm how city spaces advance diverse ways of life in urban communities. Through phenomenon-based learning, they'll also explore the history, and especially the future, of free school lunches. The City Hall provides design education and discussions about related phenomena: an open panel for teachers is moderated by Mari Savio of SuoMu, the Finnish Association of Design Learning.
Children's Design Week ends in Children's Weekend which is organized 15 and 16 September at Kattilahalli, Suvilahti.
The most popular events to continue
The festival programme includes events that have proved very popular during the past years, such as Open Studios that present architecture and design through work spaces 13 and 14 September. Graphic Concrete and Helsinki Design Week will organize a HDW Architecture Day celebratory seminar on 13 September. Exciting, fast-paced presentation concept PechaKucha and the Design Diplomacy discussions at ambassadors' residencies also continue this year. Data-Driven Design Day – organized for the second time by Helsinki Design Week this year – continues to give listeners practical tips on how to utilize data in design processes under the theme Seamless Experience.
The largest stock sale in the Nordics, Design Market on 8 and 9 September, now provides a novelty: Vinyl Market produced by We Jazz. In addition to shopping LP records we can listen to some DJ'ing throughout the weekend. The Vinyl Market goes well with Print Market that gathers all print vendors to display their products. This year the New Market brands and products have to do with food design, nourishment trends and Nordic ingredients. New Market is carried out in cooperation with Ruokatieto Yhdistys ry, an association that promotes Finnish food culture.
In addition, the Helsinki Design Week programme includes more than 150 events by independent organizers that will populate the city streets, galleries and stores with design, architecture, fashion and urban planning. There will be discussions, exhibitions, product launches, and parties. In 2017, the festival gathered more than 161 000 visitors.
Our commercial partners in 2018 include Clarion Hotels, Grano, Silja Line, Stockmann, Evermade, Basso, Kuudes and the City of Helsinki.
See the complete programme here!