The Design Market to expand again – This year's event presents music on vinyl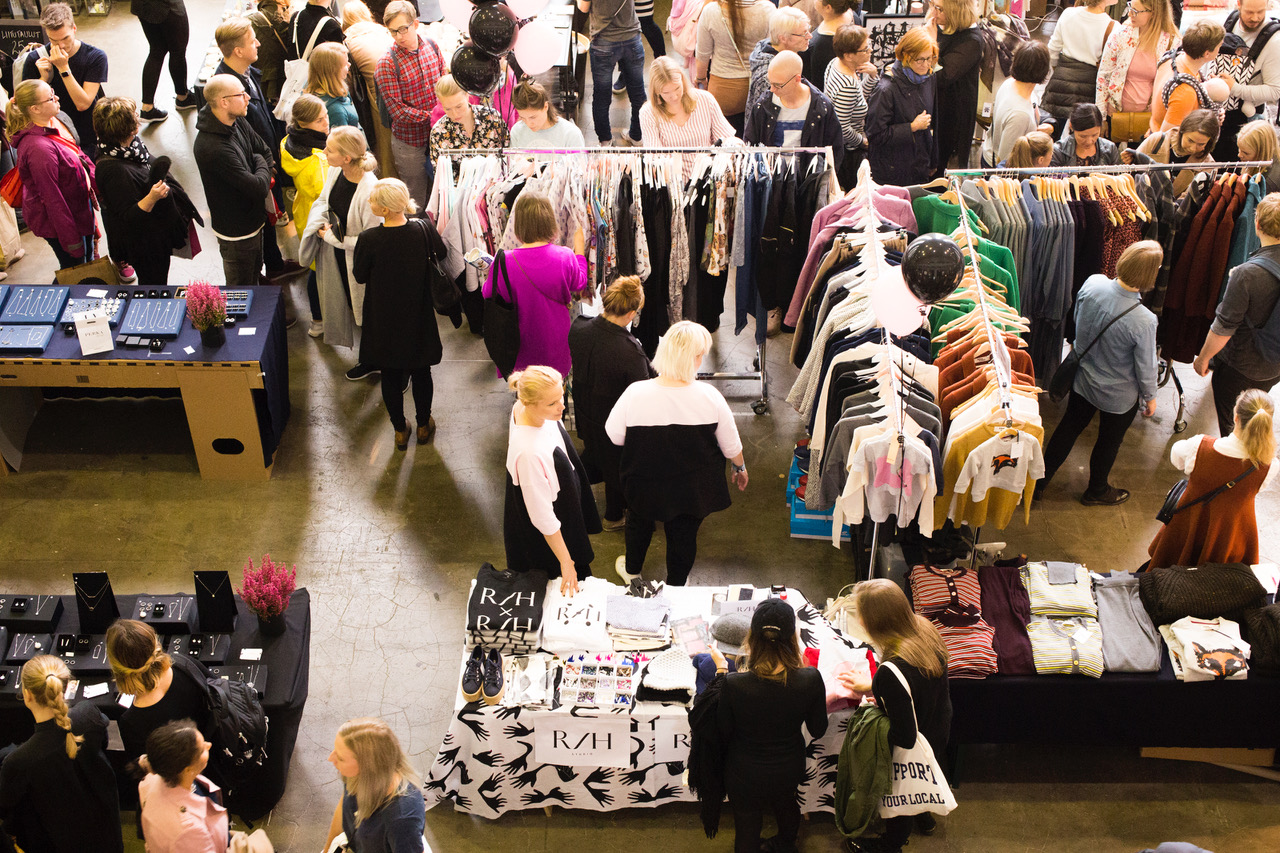 The ever-popular HDW Design Market will be for the first time joined by the Vinyl Market for music lovers. Moreover, there are all kinds of treasures to discover for fans of design, fashion, art and Finnish food.
This year's Design Market, the biggest stock sale event in the Nordic countries, features a larger-than-ever selection of design items now that it's expanding its offering to include vinyl records.
Produced by We Jazz, the Vinyl Market is an opportunity to browse LP treasures in an awesome atmosphere accompanied by a DJ all through the weekend. This haven for vinyl lovers will be built in the Turbine Hall and will also feature discussions curated by We Jazz to find the common denominators of music, vinyl records and design.
"The discussions will address topical themes related to live music, album releases and event arrangements," says We Jazz Executive Director Katariina Uusitupa. The participants of the programme will be revealed closer to the event.
The We Jazz collective has cooperated with Helsinki Design Week before, too. Last year they produced the opening parade of the festival and the music for the Muoto Gala. The expectations for this year's Vinyl Market are rather optimistic.
"We produced the same type of Vinyl Market for the Flow Festival in 2017 and 2018. We hope that people are able to find us at Design Market, too, and arrive there to enjoy the DJ as well as to explore the records," Uusitupa says.
Finnish flavours play a major role at the New Market
The New Market will renew and focus on food this year. The New Market x Food at the Cable Factory loft produced in cooperation with the Ruokatieto association will introduce twenty-some brands and products that have to do with food design, nourishment trends and Arctic ingredients. In addition, New Market will offer a food-themed programme, discussions about food design and info spots. The textile partner of the event is Finlayson.
According to Ruokatieto's project manager Eeva Heikkilä, Finns appreciate local Finnish food and its origins. When Finnish people are asked what Finnish food means, they usually mention safety, reliability, responsibility and traceability. Heikkilä says that fresh and clean are the features considered important for food in everyday life.
Most of the providers selected for the loft market produce their merchandise independently from scratch. The providers include organic chicken house Kuorttinen, field bean farm Karviainen and Arctic Superfoods, who have developed a Finnish superfood bar. There are a few surprises among the products, such as hemp grains from the Murtola farm.
"We have a fine selection of Finnish small producers onboard. Their work highlights fantastic product development, agile production methods and courage related to innovation," Heikkilä says.  
The weekend will involve 15-minute explorations of different flavours. These Hyvää Suomesta sessions by Ruokatieto promise new experiences of the five basic tastes: sweetness, sourness, saltiness, bitterness and savoriness or umami can all be found in nutritious Finnish food using all of our senses. The sessions led by a home economics specialist are organized several times during the weekend, and they are suitable for all ages.
In addition to food brands and samples, foodies will have a chance to taste authentic Syrian delicacies by Cafe Damascus at the end of Merikaapelihalli at the Cable Factory. If you are really hungry, try waste restaurant Loop's vegan meals available on the New Market loft.
And so much more
There will be plenty of auxiliary events held at the Design Market this year in addition to product sales and an enjoyable atmosphere. Visitors will have an opportunity to buy selected flowers at the Freda flower market and make bouquets of them at the Arteflos workshop led by a professional florist. At MUM's pin workshop, you can make your own pin using various designer prints.
The Print Market is an opportunity to browse skilfully fabricated print products. This time, it offers posters, city maps and Helsinki-themed textiles in addition to other products.
The Design Market and the connected Vinyl, Print and New Markets are organized once again at the Cable Factory during the first weekend of Helsinki Design Week on 8 and 9 September 2018.