The main venue of Helsinki Design Week 2018 is the City Hall of Helsinki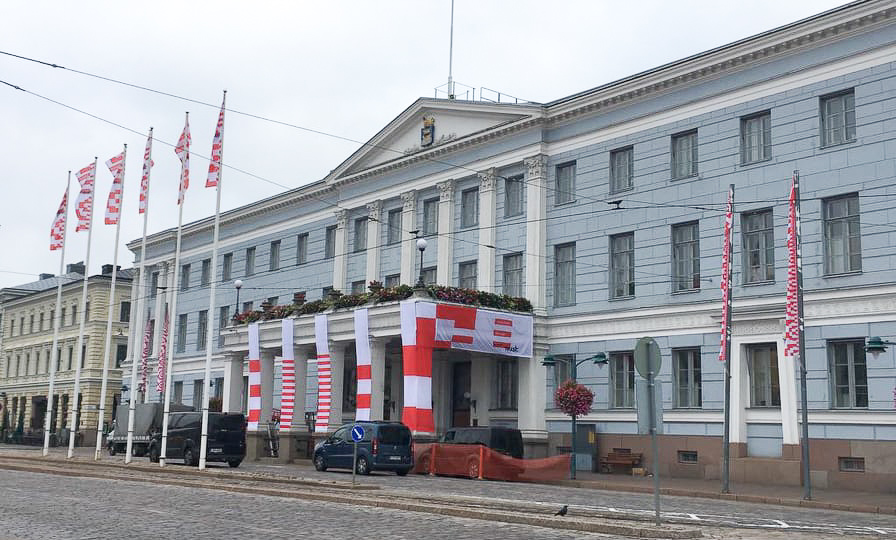 How does trust show between the city and its residents? What do Helsinki people have trust in? How can we use design to build trust? We seek answers to these questions as Helsinki Design Week takes over the lobby of the City Hall, filling it with exhibitions, discussions and workshops. 
During the week, the City Hall will be used to explore how different urban spaces produce different ways of life, to celebrate the 75 years of free school lunches, to produce social innovation and to solve problems by design methods.
Get to know the programme at the City Hall lobby below:
50 Years Later Solves Wicked Problems
6.9. 10:00-15:00
The 50 Years Later Workshop is solving wicked problems: Technology affects our identity. Okay — or not.  50 years later is a set of co-design and cross-disciplinary workshops, inviting experts from various disciplines to interact with both experienced design professionals and young design students.
Toimiva Helsinki – pelaa ideasi budjettiin
6.9. 15:00-16:30 / 7.9. 09:00-10:30
Toimiva Helsinki on ongelmanratkaisupeli, jonka tavoitteena on keksiä ideoita kaupungin osallistuvan budjetoinnin ehdotuksiksi.
Osallistuvan budjetoinnin Toimiva Helsinki -peli on kokeiluvaiheessa, ja Helsinki Design Week -viikolla pääset mukaan kokeilemaan ja kehittämään sitä. Peliä ohjaavat stadiluotsit.
Helsinki School Meals: 75 years
7.9.-16.9. 
School meals for 75 years in Helsinki as a phenomenon.  The lobby of the City Hall will have a new theme every day for the workshop during 10–16 September. You'll get to know the past, present and future of school meals in Helsinki. The week is organized by Service Centre Helsinki and the City of Helsinki Childhood and Education Branch. At the end of week the school meal party will be organized with the biggest school meal jury in the world.
Yhdenvertaisuus kilpailuedun lähteenä – Asiakaslähtöisyys puheista tekoihin huomioimalla erityisryhmät ja ikääntyvä väestö
7.9. 15:00-17:00
Laurea University of Applied Sciences and a group of organizations representing special interest groups have co-developed a new type of Design for All model that helps any organization develop their products or services together with experience experts representing special interests. In addition, the event introduces regulatory requirements and demonstrates practical service experiences from the point of view of different interest groups' users.
Children's Design Week at the City Hall: City as a Designer ​–​ Children's Urban Research Lab (CURL)
10.9.-14.9. 09:00-15:00
6t​ h​ grade students of Yhtenäiskoulu in Käpylä will leave their classroom for a week and conduct experimental research in downtown Helsinki. During the Helsinki Design Week, CURL has its base camp at the Helsinki City Hall. This will provide both a meeting point to the children and an ongoing exhibition to fellow urban dwellers, as children gather there in the afternoons to work on an installation of their 'Own Helsinki'.
10.9. 13:00-15:00
At the seminar, the Finnish Design Education Association will launch a new teaching package MUTKU, a guide that provides ideas for creative learning in lessons. During the first hour of the seminar, five experts and teachers in design education will give concise information sessions. In the second part of the seminar, the field's pioneers and makers discuss design education opportunities, pitfalls and practical experiences.
Aalto Design Research: Fasttalk Superday10.9. 16:00-18:00
The event consist of tens of three-minute fast talks by Aalto design researchers on what they research, punctuated by one or two short comments and other interactions with the audience after each talk.
What Kind of City? – The Launch of the Helsinki Design Manual11.9. 15:00-18:00
The new City of Helsinki Design Manual will be published during Helsinki Design Week. It is a handbook of procurement, design, construction and maintenance in an urban environment. The manual helps to aim for high-quality and cosy urban spaces by sharing information on reliable solutions.
13.9. 08:30-11:00
This event is co-organized by 'Julkis-muotoilijat', an active network of designers and design-minded civil servants in government and Aalto's "Design for Government" program.
12.-14.9.
Helsinki's participatory budgeting will start in the fall of 2018. The city will open its budget of about EUR 4.4 million, and the residents of Helsinki are invited to propose and vote how the money should be spent. Register for admission to the OSBU Design Jam event to develop participatory budgeting. OSBU Design Jam is a three-day ideation workshop, which welcomes all citizens, designers and city officials to work together. A total of 30 participants will be selected.
Trust in Urban Nature  Mannahatta 1609 Manhattan 2019 -2409
13.9. 16:30-17:30
A lecture by Eric W. Sanderson, Ph.D., director of the Mannahatta-project at Helsinki City Hall.
Future Learning Environments and Participatory Design – Lecture and Cocktails14.9. 15:00-17:00
Teaching changes, so learning environments need to change too. With the new curriculum, learning spaces must adapt to the diverse needs of schools and day care centers.
Speakers: Mikko Kyrö, Development Manager and Stiina Kiuru Interior Architect SIO, Lekolar